From a flat stomach to a flawless skin, from a sharp brain to eyesight, from strong joints to strong memory, hyper local fruits play a role in everything, said Rujuta Diwekar.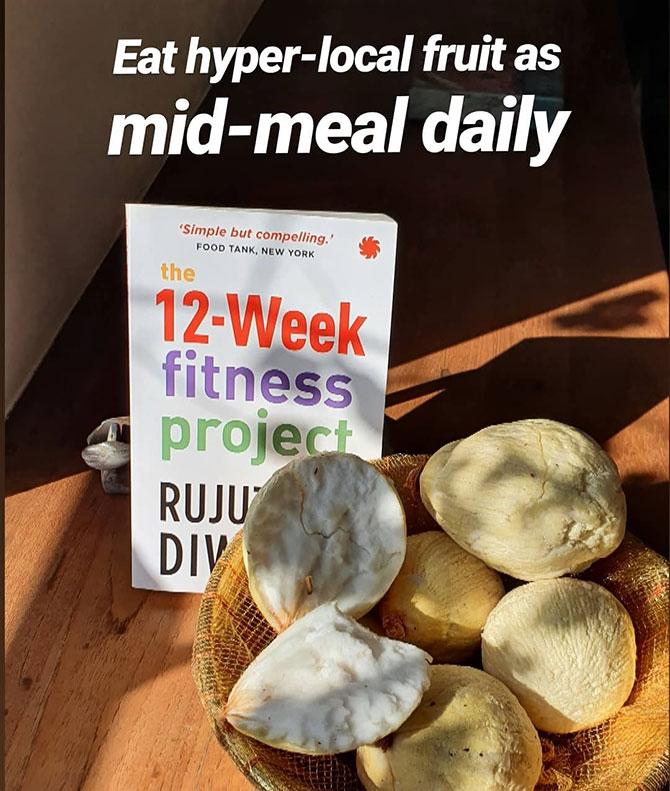 Nutritionist and bestselling author Rujuta Diwekar is always sharing tips on eating clean and healthy.
Recently, she talked about the importance of eating a hyper-local fruit as a mid-meal every day.
According to Rujuta, here are a few tips to recognise a hyper-local fruit:
'1. It doesn't have a name in English or has a name you don't easily recognize -- may have folklores, songs and festivals around it, and - was sold outside schools and at railway stations while you were growing up.
'2. It is about eating the fresh fruit, not drinking its juice or smoothies, etc., as we lose many nutrients that way.
'3. A good time to eat this fruit is as a mid-meal between breakfast and lunch or between lunch and dinner.'
The nutritionist also explained how hyper local fruits can contribute to your health and serve a bigger cause:
'Nutrition science has now recognized a definite link between micronutrient deficiencies (like vit d, b12, iron, folic acid, etc) and non-communicable diseases like Diabetes, BP, PCOD, etc. Not just NCDs, but many other conditions like allergies, low immunity, IBS, loss of fertility, unexplained flus, etc., are all linked to micro-nutrient deficiencies.
'So, what can you do about it? The answer lies in embracing our hyper-local fruits.
'They are rich sources of vitamins, minerals, fibre and a host of bioactive compounds that are at work as co-factors and signalling agents for thyroid, insulin, sex hormones, etc.
'They are good prebiotics that will allow for diversity in probiotic bacteria.
'From a flat stomach to a flawless skin, from a sharp brain to eyesight, from strong joints to strong memory, they play a role in everything.
'They contribute to the soil health of your region and allow for a healthier ecosystem and income for small farmers'
According to Rujuta, you must include at least 12 of these hyper-local fruits in your diet year around:
Bora (ber), Maran (coconut flower), Phalsa (local berry), Shehtooth (mulberry), Karvanda , Ranjana, Jamun, Bel, Cashew fruit, Dhurchuk (Seabuckthorn), Tadgola, Fresh dates, Nimboli (neem fruit), Kamrakh (star fruit), Ramphal.
For the next month, include Bora (ber) or maran (coconut flower) as a mid-meal.
You can continue having the common local fruits of the season in addition to the hyper local ones. E.g. Peru (guava) right now.