The time-tested traditional foods that our grandparents relied on may not be very popular. But their nutritional diversity is indisputable, says Ameve Sharma.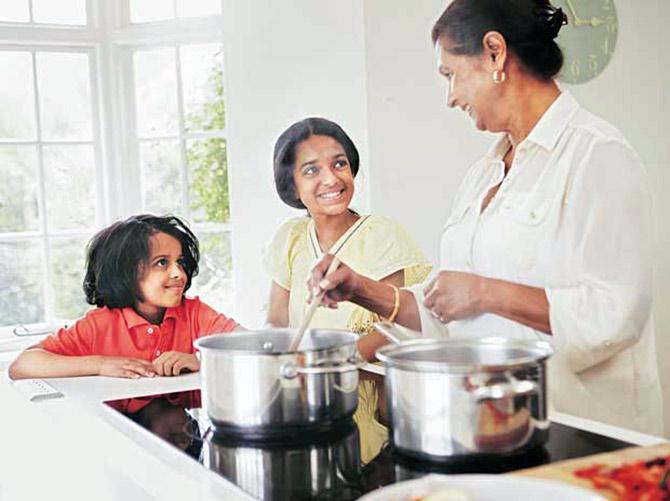 The yearning for health and wellness is giving to rise to the popularity of superfoods in India.
Nutritionally rich and low on calories, superfoods offer vitamins, minerals, antioxidants, etc.
Principally, there is nothing wrong in taking to superfoods and making them a part of fitness, wellness and dietary goals.
The problem arises when the fascination for superfoods is fuelled mostly by social media fads and takes one away from age-old natural superfoods.
The time-tested traditional foods that our grandparents relied on may not be very popular.
But their nutritional diversity is indisputable.
Here are some foods your grandmother would recommend.
1. Amla (Indian gooseberry)
You can count on amla for reducing blood sugar, strengthening immunity system and preventing the risk of heart disease.
Rich with vitamin C and antioxidants, it nourishes skins and takes care of the eyes.
2. Ghee
Every time your favourite gajar ka halwa or besan laddu melt in your mouth, you realise how ghee makes them taste like heaven.
Desi ghee is a staple ingredient of an Indian kitchen and comes with myriad health benefits.
3.Turmeric
Turmeric offers innumerable health benefits.
Rich with vital nutrients like calcium, copper, iron, magnesium, manganese, potassium and zinc, it boosts the health of the heart and improves brain function.
Turmeric mixed with hot milk is a well-known remedy for cold or throat infection.
4. Makhanas (Lotus Seeds)
Apart from curing insomnia, it helps in controlling blood pressure and improving cardio-vascular health.
In addition, it improves appetite and slows down ageing to make look you younger.
5. Ragi (Finger Millet)
An age-old staple food, ragi is known as a non-dairy source of calcium.
Although its presence is somehow overshadowed by new-age superfoods, its role in keeping your bones and teeth strong can't be ignored.
The presence of magnesium and potassium in ragi makes it ideal for a healthy heart.
6. Dalia
Dalia should be your trusted breakfast companion if you are on a 'lose-weight' mission.
Being a high-fibre food, it gives you energy and keeps your stomach full and doesn't allow you to binge. Being a rich source of protein, it helps in gaining muscle mass.
7. Honey
One can have it raw or use it in salad as salad dressing and in desserts.
To cite a few of many benefits -- honey is phenomenal in boosting immunity, lowering cholesterol, nourishing skin and curing cough.
8. Jau (Barley)
Poor man's wheat, the king of cereal -- jau has acquired such monikers because of its immense nutritious values.
Although wheat or oats still dominate the Indian dietary regimen, including jau will help in reducing blood pressure and cholesterol as well as boosting immunity.
9. Yogurt
Yogurt is versatile. It could be your breakfast buddy or post-work-out snack.
It's high in protein, calcium and Vitamin B. The protein generates the necessary amino acids so that your muscles gain strength.
In addition, yogurt improves digestive health and strengthens your immune system.
10. Jackfruit
It's a grossly undervalued fruit in India. But its health values are outstanding.
Low in calories and rich in fibre, jackfruit helps you in keeping your weight under check.
It has potassium which helps in lowering blood pressure.
What's more, raw jackfruit is a vegan substitute for meat, as it contains protein.
Even jackfruit seeds come with umpteen benefits as they prevent anaemia, indigestion, curing skin diseases, to name a few.
It's time to get back to our roots. Let's make Indian superfoods an integral part of our daily diets.
Ameve Sharma is founder, Kapiva Ayurveda.