Satish Bodas and Anita Aikara/Rediff.com stroll down the streets of Mumbai's Khetwadi and discover some unusual Ganeshas.
---
>> Tulsi Building Shri Sarvajanik Ganesh Utsav Mandal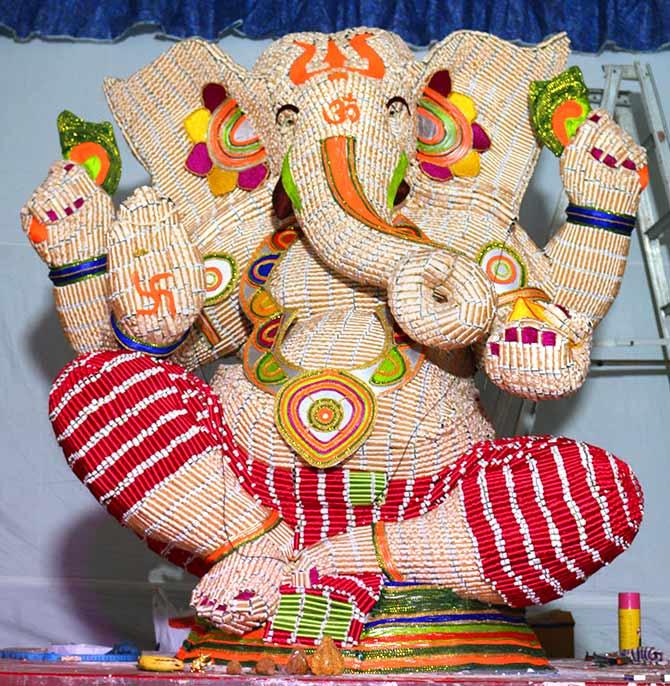 Made with 9,900 cream and red "sui dhaaga", as they called these thread reels, it took around 10-11 days to complete this 7-feet Ganesh idol.
"Six months ago, we selected 5-6 themes and then shortlisted this one," says Sachin Jyotilal Pitroda of the mandal.
A life-size sewing machine adorns the entrance to the lane.
This mandal, which has entered its 76th year, is known for its unusual moortis.
"For the last 16 years, we have been making idols out of chocolate, stationery, garam masala, diamonds and chalks," says Sachin.
---
>> Khetwadi, 9th lane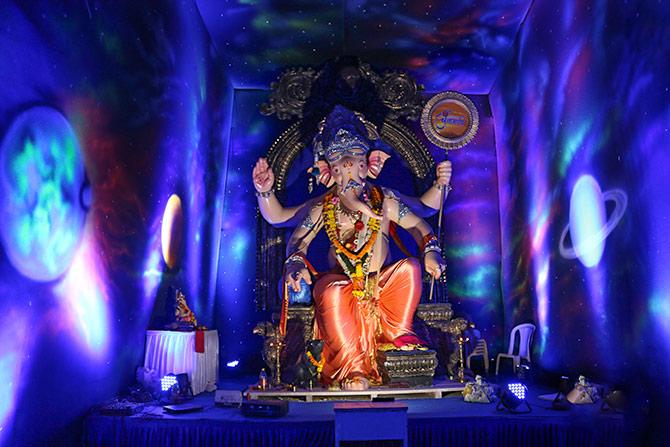 Swapnil Katalkar, secretary of the mandal, says, "We always get a moorti that looks like a raja (king).
"Like year, we had a Rajasthani palace. This year, our theme is 'galaxy world'. We have been planning it since the last 2-3 months," he adds.
"Earlier, we used to get an eco-friendly idol. But we couldn't sustain that idea."
---
>> Khetwadi Moti Baug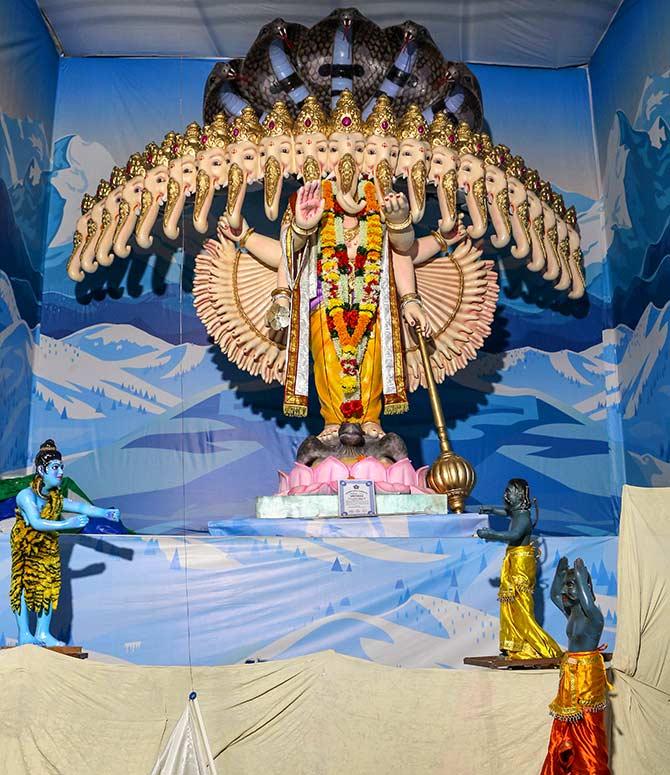 For the last five years, the mandal, which was established in 1979, haven't immersed this 21 mukhi (faced) idol.
They just paint it with fresh colours and give it a new theme.
The idol was also featured in Amitabh Bachchan-starrer Sarkar 3.
---
>> Khetwadicha Ganraj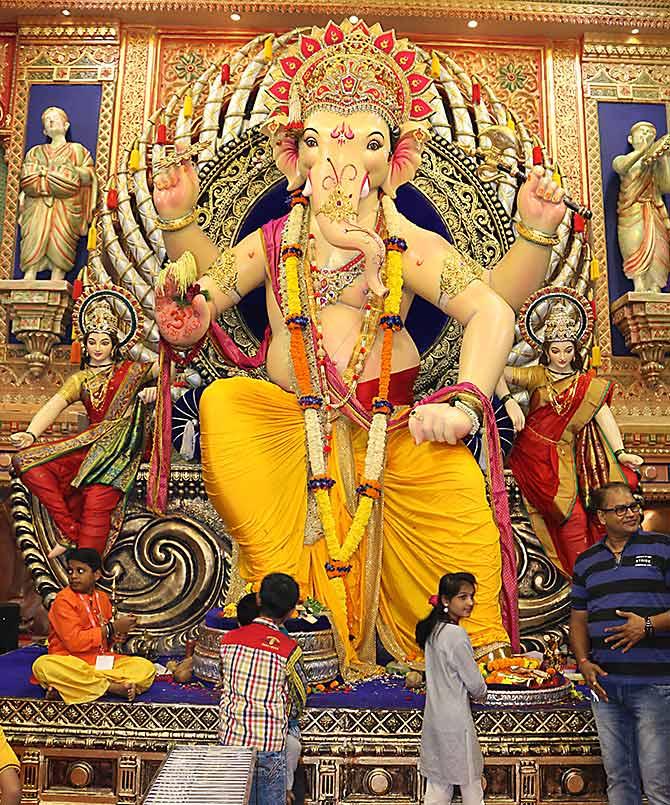 It is one of the most spectacular idols in Khetwadi.
This year, the mandal is a replica of Delhi's Swaminarayan Akshardham temple.
The idol, which is around 14 feet, is also known as Mannat Ka Raja (the one who fulfills wishes).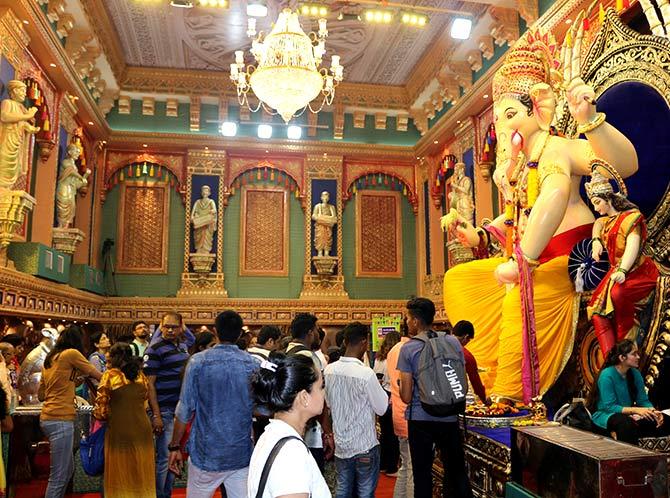 ---
>> Mumbaicha Anant, 13th Lane Khetwadi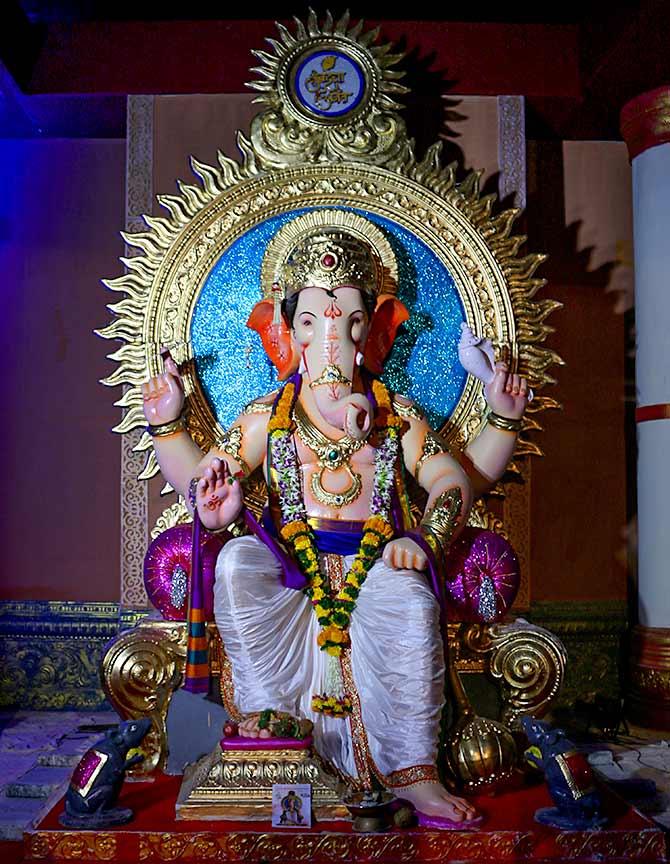 The mandal decided to go with a royal theme and built a simple mahal (palace) for their 12-feet Ganesha idol.
Next year, they'll celebrate their 50th year.
---
>> Bappa Khetwadicha, Lane 10, Bal Gopal Sarvajanik Ganpati Mandal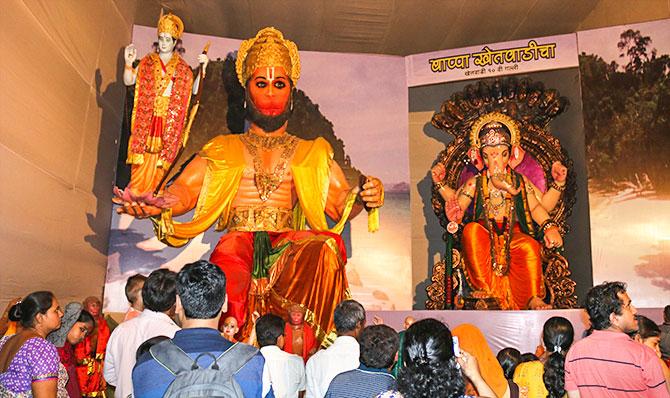 While the Ganesha moorti of Bappa Khetwadi looked magnificent, the highlight of this mandal was a huge rotating Hanuman idol.
The crowd just couldn't take their eyes off the Hanuman idol every time it moved.