Wishal Soni talks about his eco-friendly, pocket-happy model to save the environment.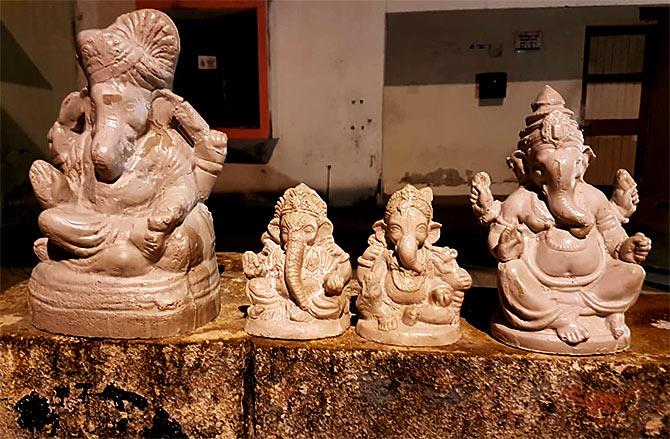 Every year, we read inspiring stories of youngsters coming up with innovative ways to celebrate Ganeshotsav without harming the environment.
From seed-based clay idols you can plant in a pot to edible idols made from chocolate and fruits you can eat and distribute, there are plenty of options to choose from.
Despite the awareness and means to switch to eco-friendly celebrations, every year, hundreds of artificial tanks are set up in different cities to help meet the growing needs of idol immersion.
According to Wishal Soni, a resident of Baroda, Gujarat, Rs 25 lakhs is the approximate amount spent to build an artificial immersion tank in Baroda, Gujarat.
"This is tax payers' money," fumes Soni, a 30-year-old post graduate engineer and in-charge, Feeding Vadodara, a non-profit social organisation based out of Baroda.
"The idols made from plaster of Paris and mud make these tanks dirty. There are flowers, sweets and pooja items that are dumped in these tanks which pollute the water further," he tells Rediff.com's Divya Nair over the telephone.
At a time when the country is facing a water shortage in several states, Wishal felt it was unfair to abuse natural resources for the sake of a festival.
Can we celebrate the festival without harming our nature or polluting the nature? Can we give back to Mother Nature in some way, he thought.
In 2017, Wishal had read a news item in which he had seen a man holding an idol of alum-based Ganpati that would dissolve in water.
When he researched further, he realised that it was a great alternative to celebrate the festival in an eco-friendly manner.
"In college, we had a chapter on fitkari or aluminium sulphate. It is soluble in water and acts as a purifier. I thought it would be a good idea to make eco-friendly idols that don't harm the environment," Wishal says.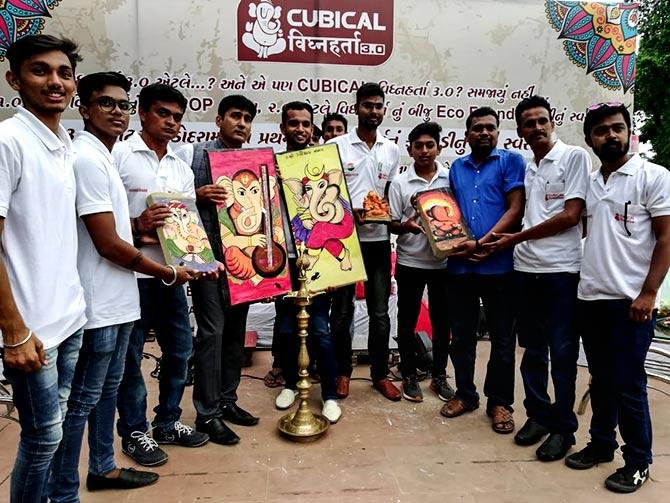 On August 2, 2018, Wishal along with members of Feeding Vadodara and help from the Sangharsh Group (a Baroda-based real estate company) started working on rectangular alum slabs which were painted to be replaced with PoP idols.
The team named this project Cubical Vighnaharta.
When he approached people to buy the idols, he realised they weren't interested in buying them.
"People told us they cannot worship or immerse these rectangular slabs. They needed proper idols."
After three weeks of research, Wishal and his group of friends came up with a solution.
"We found an artist who offered to make a Ganesha mould from fibre. After melting and moulding the alum, we handpainted each of these idols with eco-friendly colours that will dissolve in water."
Between August 20 and 30, 2018 the team of 15 assembled at the terrace of the NGO's office and divided the work between them.
"Our primary goal was to distribute 200 idols and spread awareness among people. But we are short of time."
"This year, we intend to send out 100 idols in and around Baroda at zero transportation/shipping cost. Hopefully, we can reach out to more people next year," he says.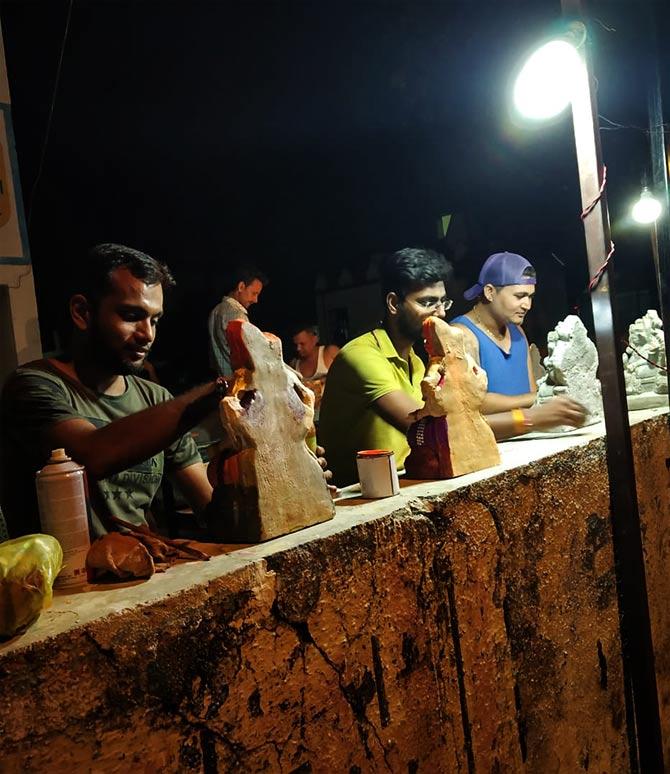 The smallest idol is 1.2 feet and the tallest -- a work-in-progress idol stands a little over 4 feet.
The team is currently selling the smaller idols for Rs 401 with zero profit.
"The aim is not to make profit. We raise funds through sponsorship and donation drives at the NGO. We want to create awareness among the underprivileged sections to adopt eco-friendly celebrations," says Wishal.
The challenge with the taller idol was the weight, which is why the team couldn't approach the bigger pandals.
The 4 feet idol weighs over 130 kg, which makes it heavier for transportation and immersion.
Wishal and his team have so far completed distributing over 80 idols of the 100 orders they received so far.
"By September 13, we'd have shipped them all," he says with optimism.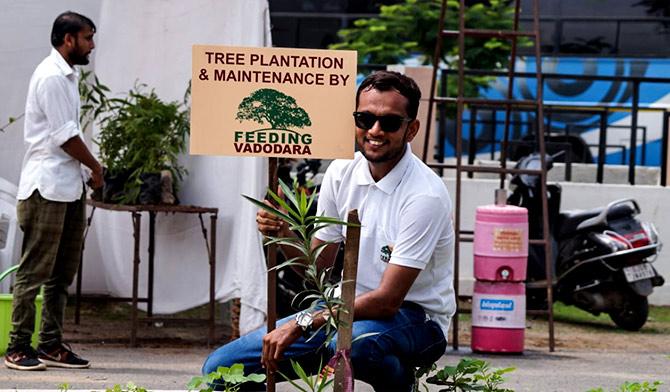 Among Wishal's other innovations is an earth-friendly tree guard, which he believes should be implemented in other states as well.
"The iron and metal-based tree-guards used by the (municipal) corporation costs between Rs 850 to Rs 1,000. We have created these reusable, pocket-friendly tree guards for as less as Rs 200," Wishal says.
"Celebrating festivals is good, but not at the cost of taxpayers' money and causing damage to the environment."
"In Baroda, trees are being cut to make bandobast for Ganesh celebrations. A DJ is being called and security has been beefed up."
"Why harm nature to celebrate a festival? We have to find alternatives and adopt nature-friendly habits."