In photos: The events that led up to this moment.
From suffragettes of the 20th century to the bra burners of the women's liberation movement of the 1960s and 1970s to last year's women's march after the Donald Trump's rise to the American presidency, women have a long history of using fashion as a tool pf protest.
Adding another chapter to this story today, Hollywood actresses are turning up on the Golden Globes red carpet in black to stand in solidarity with victims of sexual abuse and announce to the industry that they will not let the movement against sexual predators among them lose momentum.
We look back at the history of actors and actresses using the red carpet for protests that has led up to this moment.
Model-actress Padma Lakshmi added a blue ribbon to her gown at the Emmys last year to show her support to the American Civil Liberties Union, which was at the heart of the legal proceedings needed to stop US President Donald Trump's discriminatory actions -- like the travel ban -- soon after taking office.
The blue ribbon popped up at all major 2017 red carpets, including the Oscars, where even Barry Jenkins, the Oscar-nominated director of Moonlight, wore one.
Photograph: Mike Blake/Reuters.
Actor Kerry Washington added a safety pin to the gown she wore to the Screen Actors Guild Awards in January 2017. It was in solidarity with the marginalised who were affected by Trump's actions since he became President.
Photograph: Frazer Harrison/Getty Images.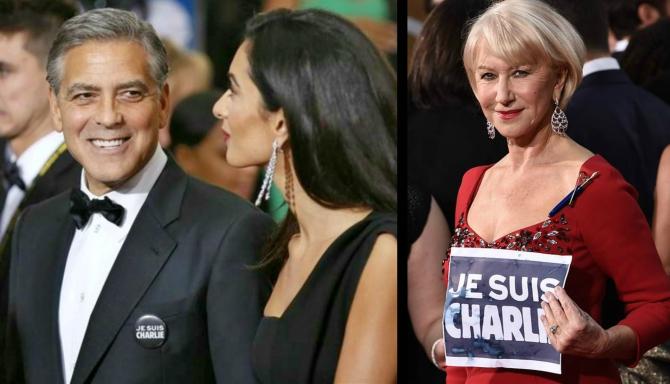 Actor George Clooney wore a 'Je Suis Charlie' button on his suit while his wife Amal pinned one to her handbag at the Golden Globe Awards in 2015.
Others like actress Helen Mirren and Diane Kruger flashed posters. Mirren also wore a pen as a brooch to symbolise freedom of the press and freedom of speech.
The event that year took place days after extremist gunmen attacked the Charlie Hebdo newspaper office in France and killed 12.
Photograph: Danny Moloshok/Reuters and Jason Merritt/Getty Images.
Best actress winner Nicole Kidman (left) and best supporting actress winner Catherine Zeta-Jones at the Oscars in 2003.
There was a call for the award ceremony to be cancelled that year due to the Iraq War. It wasn't, and many of the guests showed up in black.
Photograph: Andy Clark/Reuters.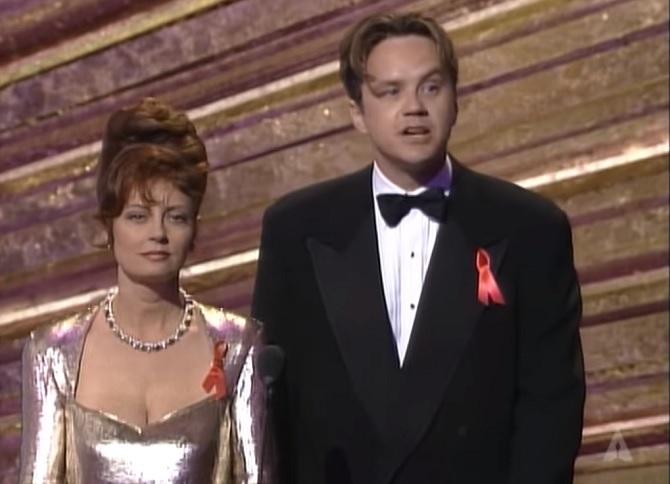 Many stars, including Al Pacino and Morgan Freeman, added a red ribbon -- a symbol for AIDS awareness -- to their outfits at the Oscars in 1993.
But the standout moment was this one: Presenters Susan Sarandon and Tim Robbins both wore red ribbons and spoke up about the 200 Haitians who were being held in Guantanamo Bay because they were HIV positive.
Photograph: Video grab courtesy Oscars/YouTube.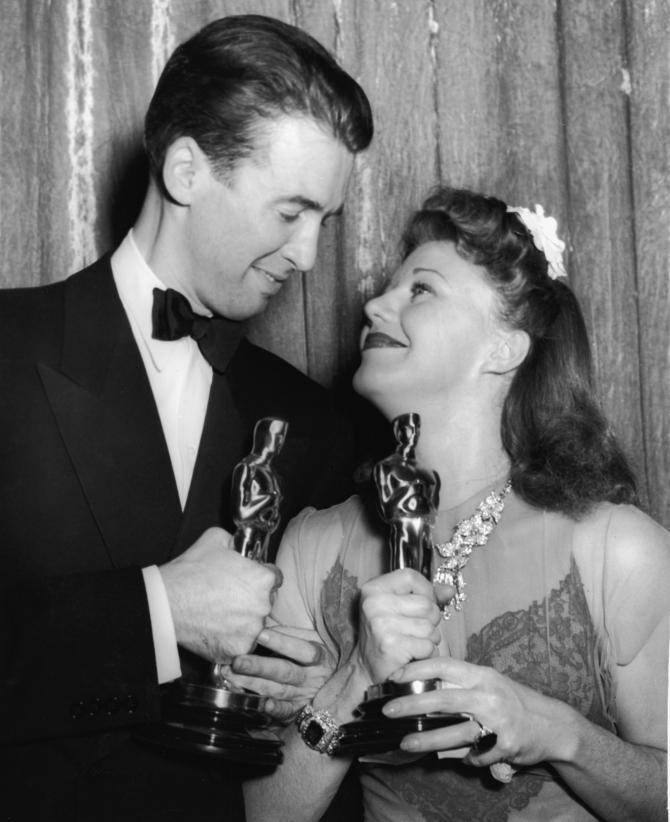 Oscar winners Ginger Rogers and James Stewart in 1941.
The guests that year were asked to wear sombre tones as the event was held in the midst of World War II, and Rogers', the Telegraph said, wore an 'American-made grey lace dress' that used 'a minimum of fabric -- a gesture of solidarity in a time of austerity.'
Photograph: Hulton Archive/Getty Images.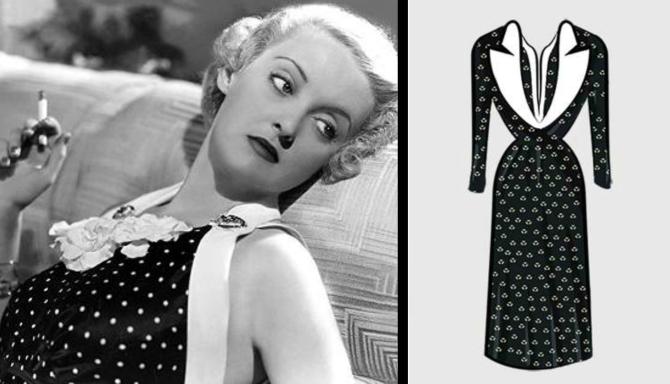 Bette Davis in Dangerous (left), which won her an Oscar in 1936.
One of the earliest awards protests was a solo one by Davis. According to Shrimpton Couture, 'It is said that she was thumbing her nose at Warner Brother's by dressing like the hired help [an Orry-Kelly design, right], as this is what she felt like while under contract with the production house at the time.'