Zareen Khan reveals what it means to stay confident in an industry which labels you as a 'plus-size' person.
"I'm not your typical size zero actress or model," Zareen Khan reveals candidly.
The actress, who spoke about gaining acceptance in Bollywood, was a judge at the Lakme Fashion Week (LFW) plus-size model auditions held in St Regis, Mumbai.
"I am a big built girl," she says. "However, I'd not call myself a plus-size right now."
Since the time Zareen made her Bollywood debut, back in 2016, she has been labelled 'plus-size'.
"Somehow in this industry (Bollywood), I'm treated like a plus-size person. The reasons are still unknown to me," she says with a hint of amazement.
Often people's confidence takes a hit after being labelled 'plus-size', but that was not the case with Zareen.
The actress admits that she is very comfortable and confident in her skin.
And it was this confidence that Zareen was on the look out for at the auditions.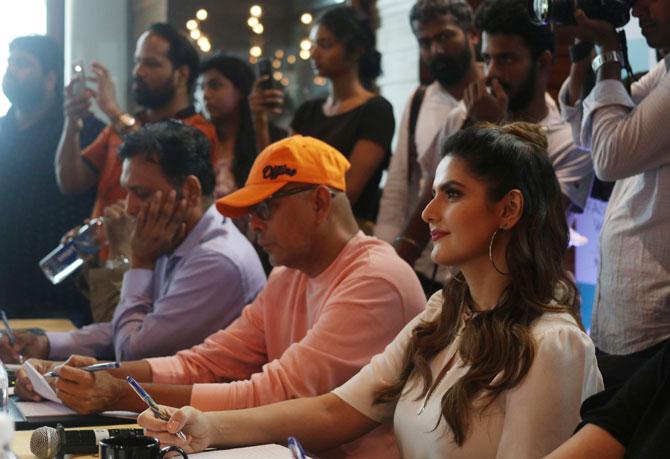 "When you are big in size, society pressure and the things people have already told you, affects your confidence.
"But on platform like this, you can't let your confidence drop. You are here because you are confident."
What does being plus-size mean in Bollywood?
"People here do not understand the difference between curvy and over-weight. In our industry, even if a girl is fit yet curvy, they tend to call them overweight."
"(For years) Indians have blindly followed the West. When they had stick thin models, our actress and models started becoming stick thin too.
"Now they have changed the fashion and curvy women are getting acceptance. Thanks to them, we are going in that direction."
"There are several people who talk about body positivity/shaming," says Zareen. "However, even today people tell me to lose weight for a role."
"(I understand) for different characters, you don different looks.
"But if you are just playing the girl-next-door, why should you look like a size-zero model!" she questions.
"When I walk on the street, I see people looking like me and not stick thin."
Video: Afsar Dayatar/Rediff.com
Zareen's advice for aspiring plus-size models
"Don't let anyone make you feel inferior, because you are great," she says. "Be comfortable and confident in you skin.
"There are people out taking help from doctors to enhance their curves. You're naturally blessed. So enjoy every bit of it.
She's got a simple style mantra in life which she follows religiously.
"You wear the clothes and the clothes don't wear you. Don't follow trends blindly. Keep it simple."