Was it a deliberate mistake? Fans on Twitter wanted to know where Kendall and Gigi's knees are!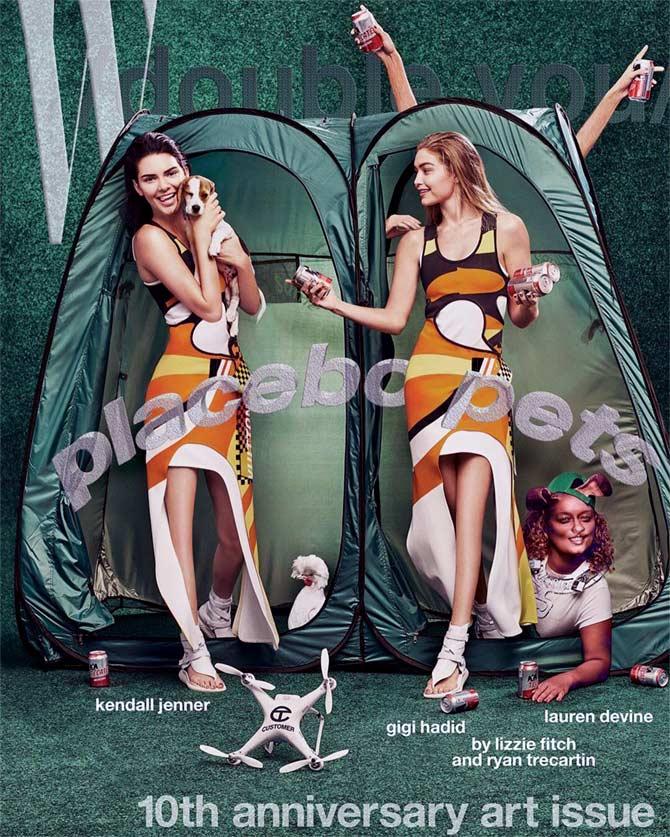 Twitter is abuzz with the news of models Kendall Jenner and Gigi Hadid's missing knees on the latest cover of W Magazine.
The tenth anniversary art edition of the magazine has supermodels Gigi and Kendall wearing identical dresses on the cover.
Now, if you take a closer look at them, you will notice that their legs have been retouched to look slimmer!
In the bargain, the knees have been airbrushed off, making both the models look knee-less.
That's not all! Another Photoshop fail which Kendall's followers on Twitter also noticed was that the model's teeth on the cover didn't have gaps.
Truth be told, the Photoshop fail is a deliberate attempt to grab eyeballs. According to the magazine it was done for art's sake!
The shoot was photographed by Jason Kibbler and edited by artists Lizzie Fitch and Ryan Trecartin to explore how cameras, social media, and reality TV have changed the way we engage with the world and with one another.
In the past, Priyanka Chopra too was a victim of Photoshop. Her armpits went missing on the cover of Maxim due to a bizarre Photoshop fail.
Earlier, tennis star Serena Williams released her cover shoot for People magazine, which fans discovered was photoshopped.
Dear Readers, tell us what you think of W Magazine's Photoshop fail? Did it work or did the idea bomb?