Get your weekly dose of gossip from the world of glamour and entertainment!
From Taylor Swift's steamy kiss with her new boyfriend to Rihanna's new perfume, here's all you need to know.
Read on!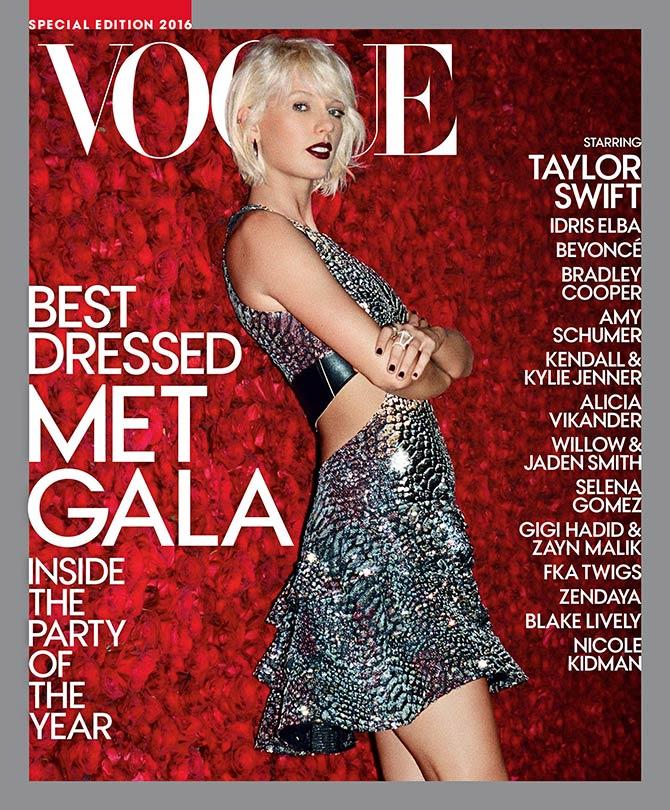 IMAGE: Taylor Swift Photograph: Kind courtesy Vogue magazine
Looks like Taylor Swift has found new love in British actor Tom Hiddleston just weeks after ending her 15-month-old loveship with Calvin Harris as the two were pictured sharing a kiss.
The pictures, published by The Sun, show the 26-year-old singer and the 35-year-old actor kissing and cuddling while taking a romantic stroll on a beach in Rhode Island in the US, News.com.au reports.
Ever since Swift and Hiddleston's kissing snaps went public, it is being said that Harris has not only unfollowed the 'Bad Blood' hit-maker on the social media but also deleted the pictures of them together.
According to an eyewitness, the singer and the 'Thor: The Dark World' star did not even try to hide their affection for each other as they canoodled in front of other beach-goers.
Furthermore, it was reported that the two bonded really well at the 2016 Met Gala in New York last month.
Khloe K's message to ex-stylists: F*** you!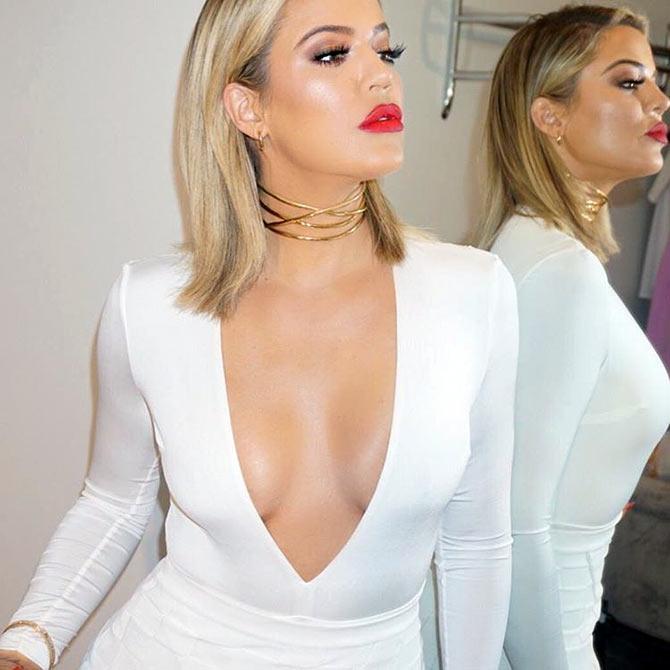 IMAGE: Khloe K Photograph: Kind Courtesy Khloe Kardashian/Instagram
All Khloe Kardashian wants to say to the stylists who blew her off during her plus size days is "F**k you."
The 31-year-old reality star, who is flaunting her "slimmer" self in recent months said, "I'm not going to reward your bad behaviour! I'm just like, 'F**k you'," reports News.com.au.
Kardashian even added that the fashion industry and even "people in general" now look at her in a much different light as she has "lost the weight."
"Even on shoots, I would never have options for clothing. There would always be this attention on Kourtney (Kardashian) and Kim (Kardashian), but I was too much work for [ stylists] or they had nothing in my size. I wasn't even that crazy big!" she said.
Rihanna launches new perfume
IMAGE: Rihanna launches new perfume 'Crush'. Photograph: Kind courtesy rihannadaily/Instagram
R&B star Rihanna has unveiled her fragrance Crush, which is an empowering scent.
The 28-year-old "Umbrella" singer's perfume is the second in her namesake RiRi Collection, reported MTV online.
The star's latest fragrance is "undeniably fun" with a "feminine twist" according to an official statement, and includes sensual woody notes which have been paired with red fruits and pink musks to create a perfume which "feels empowering, strong, confident, and unapologetic".
The hands-on star also designed the bottle in which her latest fragrance comes.
Rihanna released her last fragrance, Riri by Rihanna, a year ago, four years after her debut fragrance, Reb'l Fleur.
Crush by Rihanna will be available from August.
Ariana Grande goes pink for Viva Glam
IMAGE: Ariana for MAC Viva Glam. Photograph: Kind courtesy MAC
To be the face of MAC's Viva Glam is a dream for any girl.
From Lady Gaga to Madonna, Nicki Minaj and Miley Cyrus, the brand has featured them all.
The latest to join is Ariana Grande, who paints it glamorously pink in the latest campaign.
The poster shows Grande all crammed up like a school girl biting her finger (pink lips, pink lipstick). She's wearing a cutesy pink dress and has her hair tied up with a huge satin bow.
Too much drama, in one frame.
For those who don't know, the cost of every MAC Viva Glam product is fully donated to the MAC AIDS Fund.
So, Ariana Grande, we're proud of what you're doing!