What do you think of this version of the sari the model is showing off?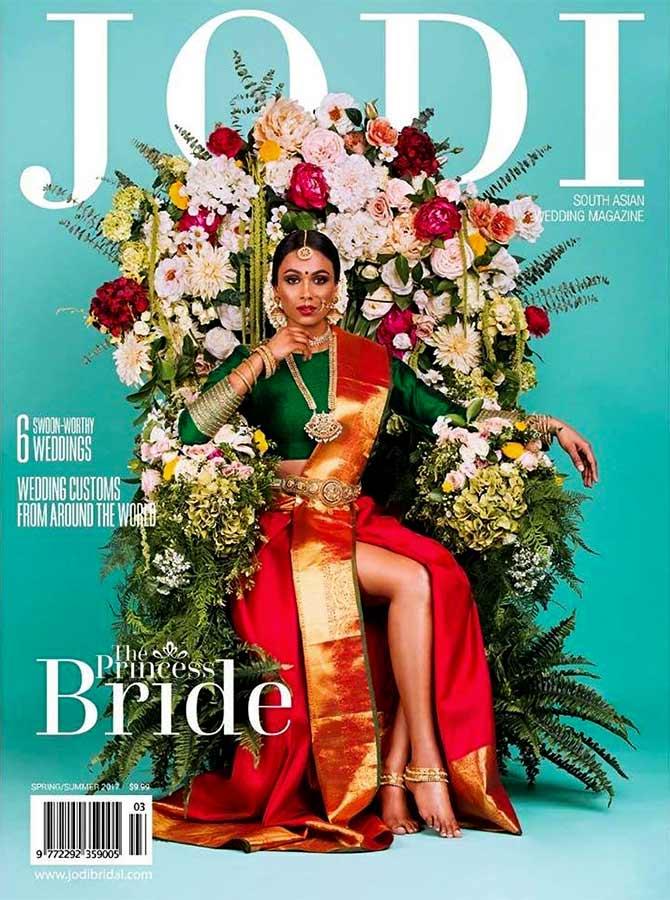 IMAGE: Thanuska Subramaniam poses in a bridal sari for Jodi magazine's Spring Summer issue.
Photograph: Kind courtesy Jodi magazine
Ever since Toronto-based South Asian wedding magazine Jodi released its spring/summer cover, the internet is divided.
The cover, released on Facebook by the magazine March 13, features model Thanuska Subramaniam dressed as a traditional Tamil bride.
She is wearing a red silk sari and green blouse and is seated on an elaborate floral embellished chair revealing her toned legs.
The cover -- shot by photographer Vipoositha Gnanenthra of Ovyian Photography and Thadsiga Jayaseleen, creative director of the magazine -- has since attracted both positive and negative feedback.
Vasa Nathan, a Toronto-based user posted on Facebook: 'This not a Tamil Bride, this is too much! Yes in olden days ladies did not wear blouse, did they expose themselves like this?! We have come far away, keeping your culture is one of the way to show your identity!!! This not how a Tamil Bride dress(es)'
Athursh Vaithilingam, another FB user, described it as 'mockery of our culture.'
In its defense, the magazine shared the idea behind the cover on its Facebook page:
'Be bold. Be the change.'
That was this year's theme for Women's Independence Day.
When a group of women got together to style the 2017 Jodi Fashion Bridal Magazine, this theme was imminent in everything they did. This cover stands for more than beauty and Tamil culture. Not only is it art, it's an expression of feminism.
A princess bride can be bold, regal, whimsical or romantic. In other words, there are no cookie-cutter brides. If baring your legs in a sari is a cultural juxtaposition, then so be it.
We're happy to see a conversation develop as a result of the cover. We know it's bold and it's a change.
We respect and welcome everyone's opinion. Please remember bullying or cyber bulling is not okay.
Thank you for your love and support.'
Dear readers, what do you think of this cover?
Is it stylish? Or too bold?
Do you find it tasteless? Why? Tell us.
Share your views in the poll below. You may also post your comments in the messageboard below.