'If you tell me that you do not know how to wear a saree, I would say shame on you,' he said at the Harvard India Conference.
After massive backlash, the designer explains his statement.
Bollywood star Deepika Padukone features in designer Sabyasachi's latest campaign Nilaya.
Photograph: @sabyasachiofficial/Instagram.
Renowned fashion designer Sabyasachi Mukherjee's speech at Harvard University's India Conference 2018 snowballed into a controversy when he said, "I think, if you tell me that you do not know how to wear a sari, I would say shame on you. It's a part of your culture, (you) need to stand up for it."
"Women and men are trying very hard to be something that they are not. Your clothing should be a part of who you are and connect you to your roots," he had added.
In one of his comments at the event, the couturier had then credited Indian women for keeping the sari alive, but declared that the "dhoti is dead".
Following backlash over the comments, the Kolkata-based designer apologised.
In an open letter posted on Instagram, he said, "...Allow me to sincerely apologise for the words that I used while answering impromptu questions at a conference at Harvard. I am sorry that I used the word 'shame' in reference to some women's inability to wear a sari. I truly regret that the way in which I tried to make a point about the sari enabled it to be interpreted as misogynistic, patriarchal, and non-inclusive -- this was certainly not my intention."
Putting what happened into context, Sabyasachi said a woman had asked him to comment on the cultural taboo of young women wearing saris because society tells them that it "makes them look older".
He explained, "The ubiquity of such sentiments in our culture, evidenced by the fact that this question was posed to me at Harvard, of all places, was hard-hitting and triggered an unfortunate series of reactions on my part."
Sabyasachi, who said he had "worked with the sari for 16 years", also wrote about how some women were body shamed for choosing to wear the traditional drape and added that it was this "constant barrage of negativity" that mushroomed into the comments he made: "Yet another question of ageism and the sari at Harvard triggered a lot of pent-up frustration that I have accrued for that segment of our society which constantly expresses disdain for this piece of Indian heritage."
Many women, young and old, are scared to have an outing in a sari because it is shrouded in so many layers of taboo and controversy, often citing inability to correctly drape a sari as an exit point, he wrote. "It is this frustration that I unfortunately generalised to Indian women in response to the question, when I now see that I should have framed it as a call to stop shaming the sari and whomever chooses to wear it."
The designer said he was passionate about textiles and Indian heritage but admitted he had used the wrong words to express his point of view: "... I am sorry that in the heat of that moment, I allowed this passion to be misplaced. I take full responsibility for this. Body shaming, attaching connotations of 'Auntie Ji', calling them sloppy; these are all ways that some men and women alike belittle the sari (and, more accurately, the wearer of the sari)."
He also noted that majority of his staff at Sabyasachi Couture were women: "I have always, and will continue to love and respect women irrespective of the labels recently assigned to me. It was in this spirit that I started my brand, and that is how it shall remain till the day we decide to shut its doors."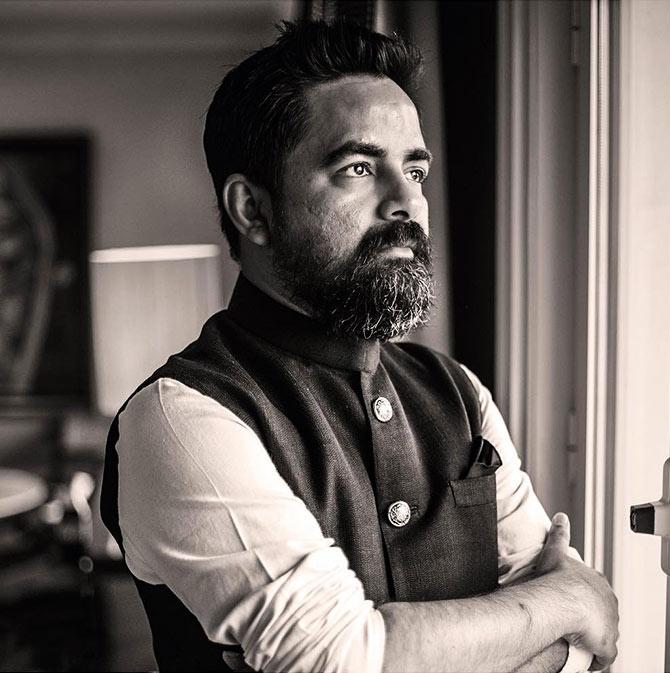 Just a day before issuing the apology, Sabyasachi had said the matter had turned into an unintended "gender issue".
In an e-mail exchange from Boston, he had elaborated, "What was intended to be a comment on celebration of our clothing history and heritage became a debate on feminism. This is not a gender issue. Since the question was about the sari, women were involved.
"I would take the same stand on men's national clothing too. I have not made any statement on a woman's choice on what she wishes to wear, which is always her own prerogative."
The designer had added, "My observation came from the fact that I often meet those who say it with a hint of pride on how they don't know how to wear a sari and I find it very dismissive of our heritage. It's a personal point of view. You don't need to live your culture all the time, but you can merely acknowledge it and celebrate it."
Sabyasachi's comments had created a furore on social media with some calling them patriarchal and others making jibes at the cost of his saris.
'Bye bye @sabya_mukherjee - not that I could ever afford you. What a shallow thing to say. For the record I don't know how to wear a saree,' tweeted one user.
Another tweeted, 'Shame on you @sabya_mukherjee. Another man all set to put women down on the name of culture. Seriously? Is wearing Saree is all that matters for a women now?'
A third user noted, 'Khaled Hosseini said and he said it right, "Like a compass needle that points north, a man's accusing finger always finds a woman." Sabyasachi Mukherjee shame on me and you! I agree that we all must know our culture well but you can't shame them if they don't.'
Comedian Tanmay Bhat tweeted, 'Maybe fewer young women are not wearing sarees because you're selling em for 80K bro.'
Sabyasachi, however, took the censure on the Internet in his stride, noting, "What social media does is that it brings forward a democratic debate and that is always healthy."
© Copyright 2022 PTI. All rights reserved. Republication or redistribution of PTI content, including by framing or similar means, is expressly prohibited without the prior written consent.