Ten acid attack survivors came together to raise awareness and funds against a social crime.
Photographs by Hitesh Harisinghani/Rediff.com
They belonged to different parts of India but shared a common enemy -- a potent liquid that changed their lives forever.
Some were attacked by their own kin. Some scarred for life. Some struggling to survive.
On Sunday, April 2, event management firm Iktara Group and Acid Survivors Saahas Foundation (ASSF), a city-based NGO, organised a fashion show at Lokhandwala Gardens, Mumbai, to highlight their spirit and raise funds for their future.
Daulat Khan, 36, president, Acid Survivors Saahas Foundation (ASSF) was attacked six years ago. Having survived six reconstructive surgeries amounting to lakhs, she shared her inspiration behind the fundraiser.
"Log hamare chehre ko lekar publicity zaroor karte hai par madad nahi karte. Hamara chehra dikhakar fund lete hai, par hume fund dete nahi hai." (People seek publicity from our faces, but don't help us. They seek funds, but don't pass it on to us.)
That's how Khan realised that perhaps she should organise a show herself. "Hum kisise bheek kyu maange?" (Why should we beg?) she says.
The proceeds from the fundraiser, Khan said, would facilitate victims pursue medical treatment and legal action against offenders.
Some pics from the show: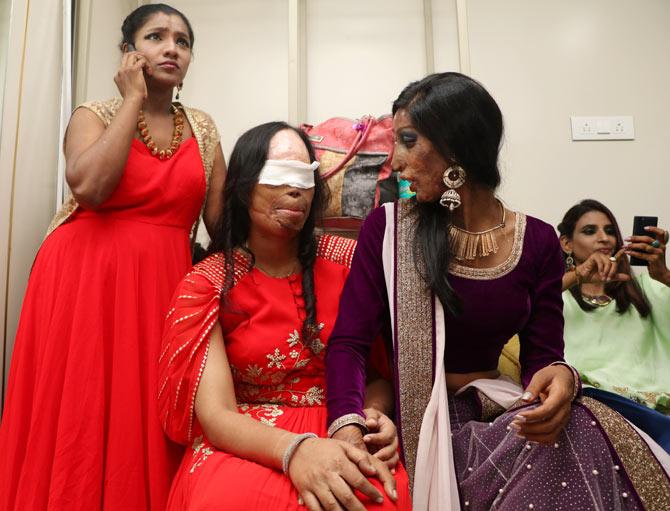 IMAGE: Mabiya Bishwas, 23, sitting left, who lost her vision following an acid attack, chats with Lalita Bansi, 23, another survivor, ahead of the show.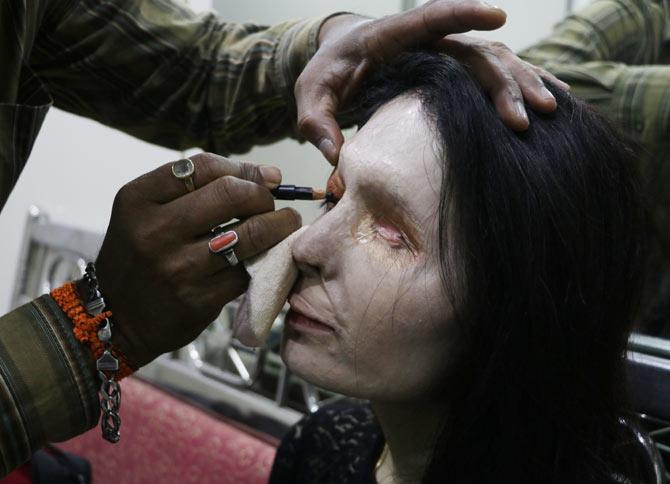 IMAGE: Reshma Qureshi gets ready. She's walked for Archana Kochhar at New York Fashion Week before.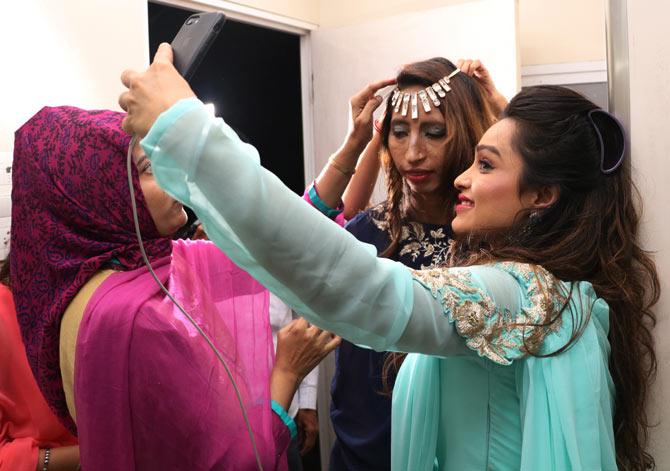 IMAGE: Trupti Vora, Maharashtra President of International Human Right Protection Bureau, India clicks a picture with Daulat Khan backstage.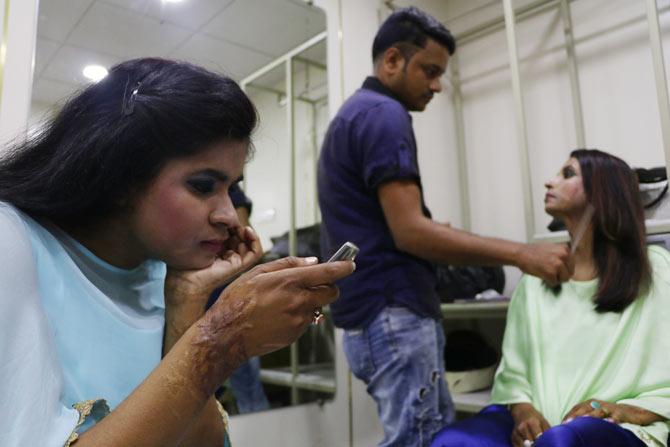 IMAGE: Aarti Thakur, left, who was attacked at Goregaon railway station in 2012, checks her phone as she awaits her turn.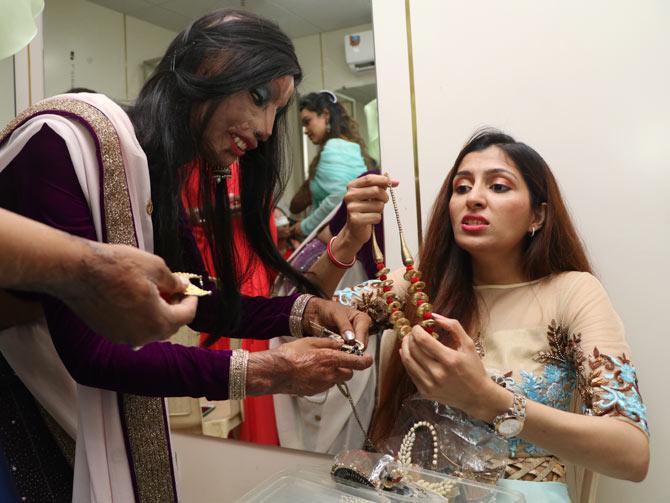 IMAGE: Designer Richa Ranavat helps Lalita put on some jewellery.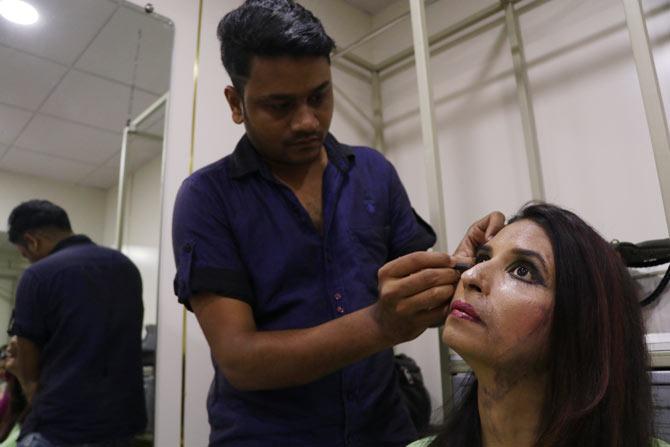 IMAGE: Reshma Sheikh gets her make-up done.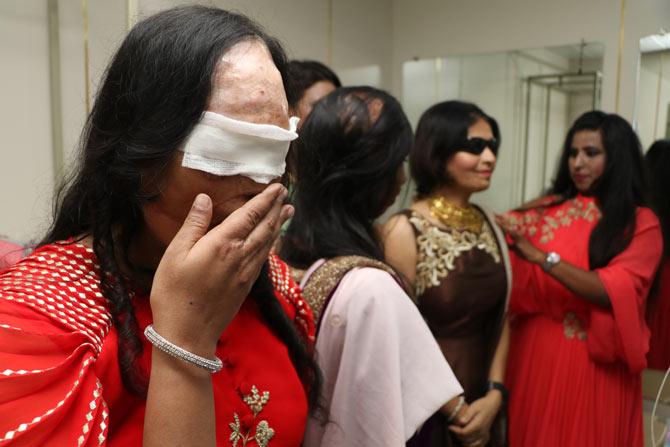 IMAGE: Mabiya Bishwas stifles a yawn.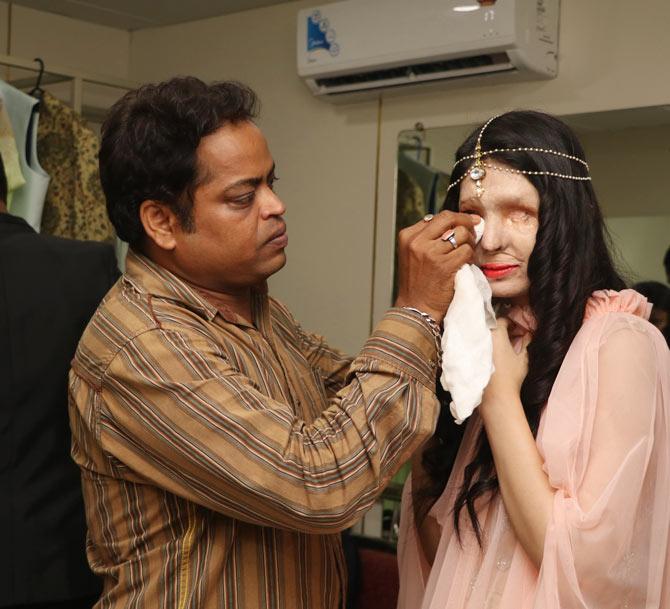 IMAGE: Reshma co-operates with her make-up artist.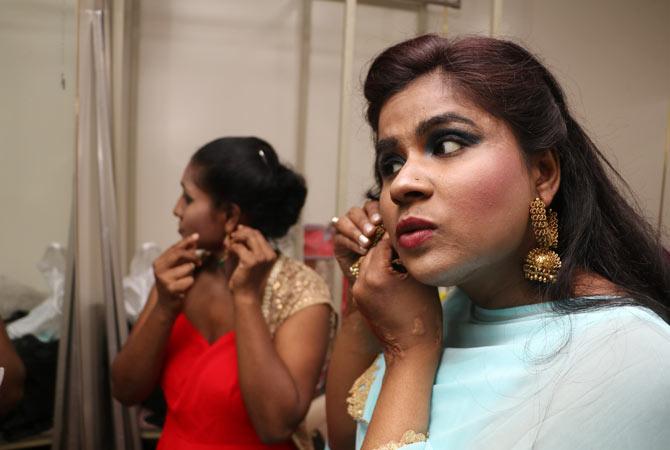 IMAGE: Aarti puts on her jewellery.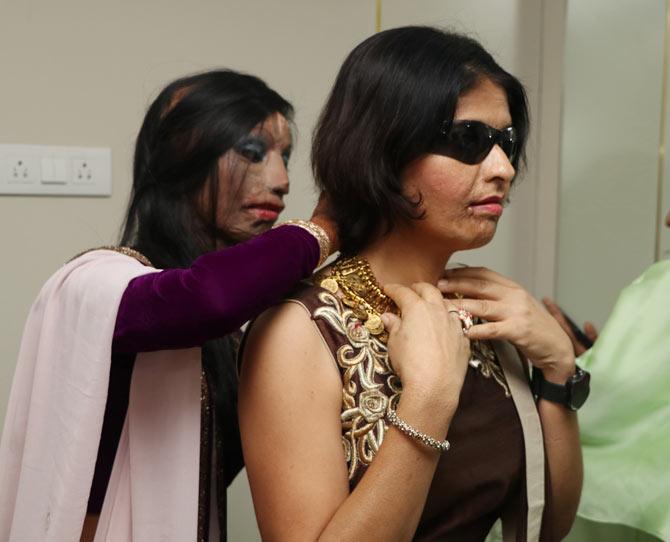 IMAGE: Lalita helps Kamal Wedekar put on her neck piece.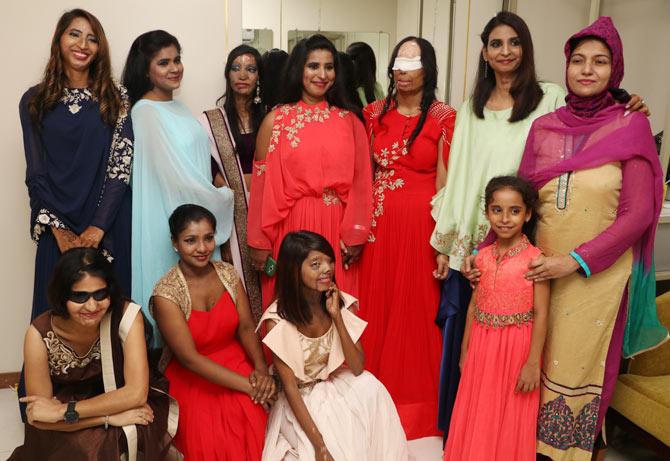 IMAGE: The faces of grit and courage smile and pose ahead of the show.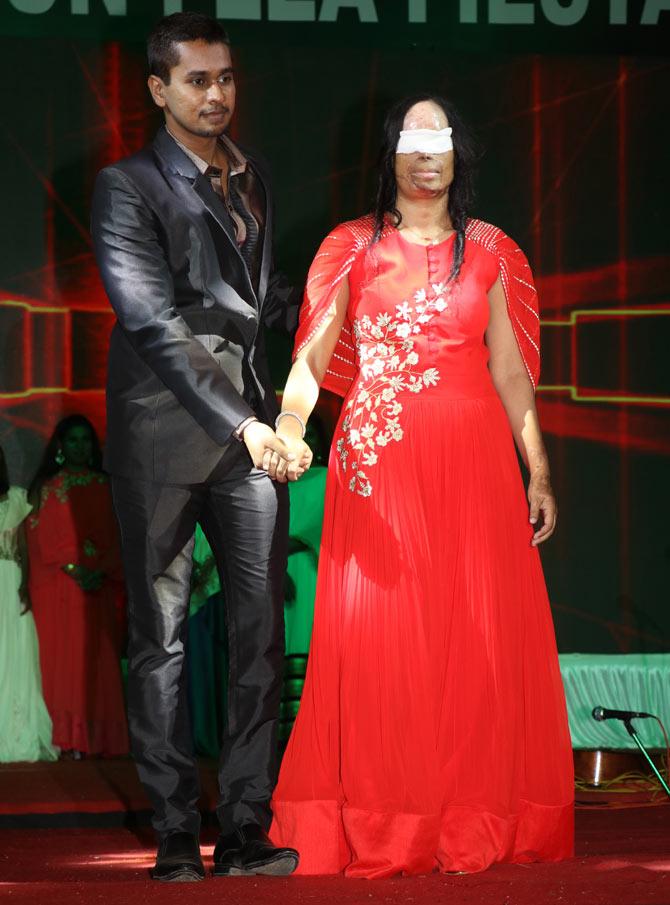 IMAGE: Lalita is helped by designer Pururava Rao who also styled the outfits for the show.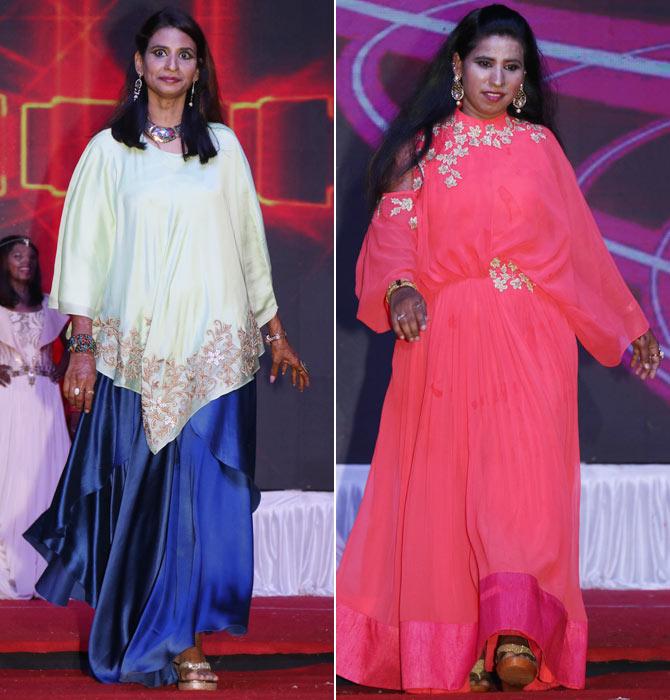 IMAGE: Reshma Shaikh, 31 and Saira Banu, 29 take to the ramp.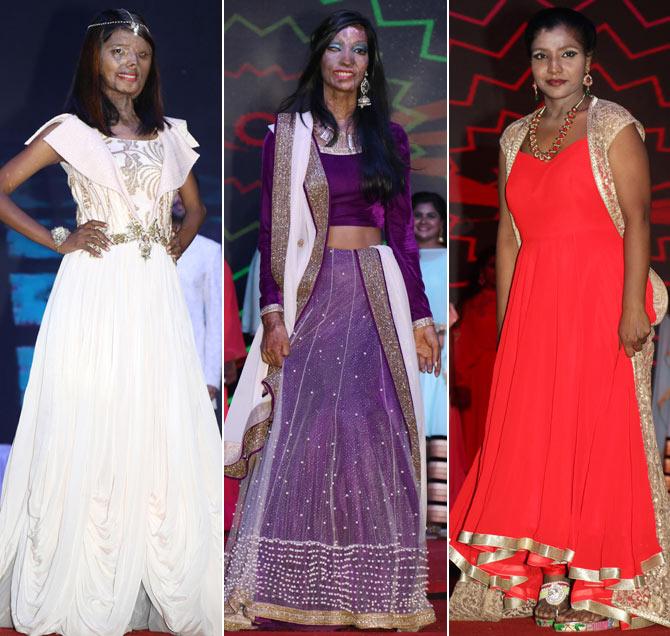 IMAGE: Shabbo Shaikh, 23, Lalita Bansi and Nisar Mariyam Shaikh, 30, strike a pose.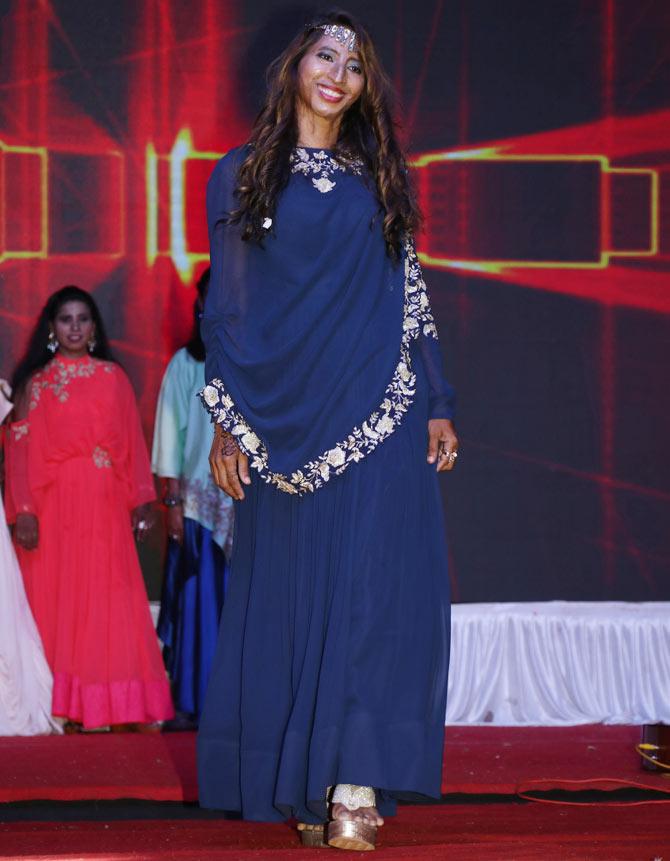 IMAGE: Daulat Khan makes a confident entry in a blue gown.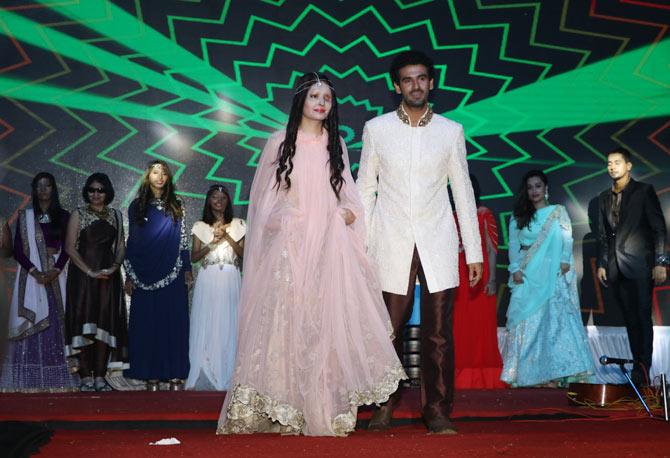 IMAGE: Reshma looks pretty in a pastel outfit.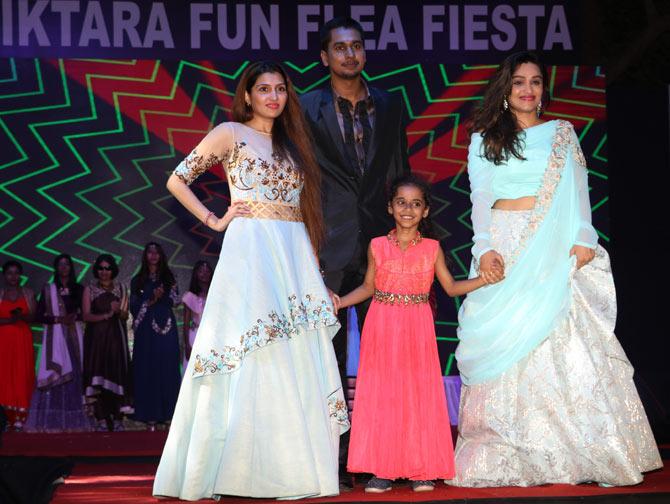 IMAGE: (LtoR)Designers Richa Ranavat and Pururava Rao pose with Trupti Vora at the end of the show.
"They are not victims, they are victors," Ranavat insisted while thanking the participants, organisers and crew members.
Kudos to the entire team for putting together a successful show in just a week's time.