As the Bollywood star makes headlines for her debut as a L'Oreal Ambassador at Cannes, Anita Aikara turns the spotlight on the woman behind her stunning red carpet looks.
On May 1, fashion critics were dismayed by Deepika Padukone's choice for the Met Gala 2017 -- an elegant but non-adventurous Tommy Hilfiger satin gown.
People argued endlessly about why Deepika Padukone, Asia's sexiest woman, didn't embrace the challenge of the 'Art of the In-Between' -- like Priyanka Chopra did -- and walked away unnoticed.
Less than a month later, and the misstep is almost forgotten. Padukone's stylist, the London-based Elizabeth Saltzman, managed to turn things around with her debut appearance as a L'Oreal Ambassador on the Cannes Film Festival red carpet.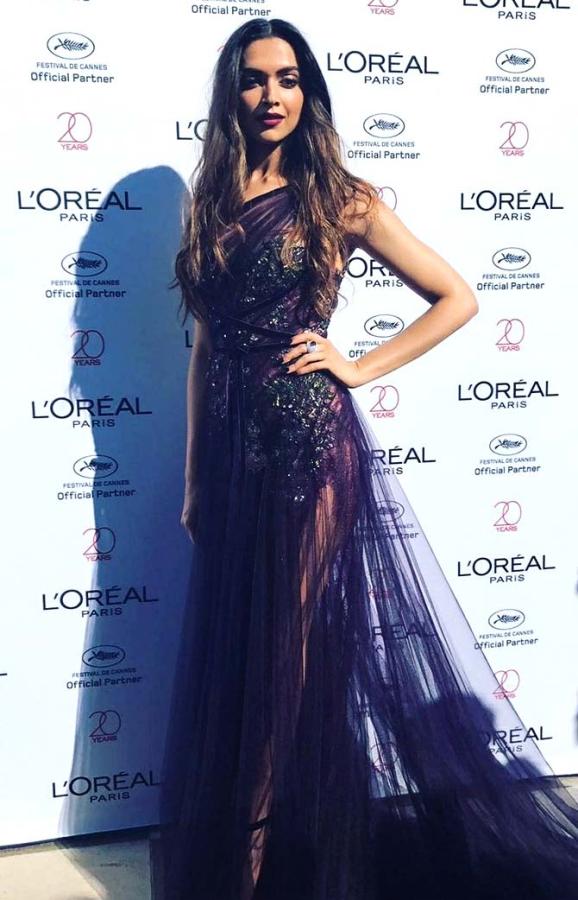 Photograph: Kind courtesy L'Oreal Paris India/Twitter
On Day One, Padukone wore a sheer one-shoulder Marchesa gown.
Saltzman gave her a polished ladylike silhouette with a flirty, youthful twist -- a teasing show of legs, and perfect beach waves. Padukone completed the look with a pair of sexy Jimmy Choos and De Grisogono jewellery.
And this time it was not just the Indian media that loved Padukone's style.
The Express Tribune wrote, 'With her tresses left open, she looked exquisite as she exuded confidence and élan in her one-shoulder floor-sweeping dress. The intricate embroidery lent a traditional touch to the ensemble, while the layering in tulle gave her a sensual look.'
The winning streak continued with the satin Galvin London sash neck cocktail dress the Bollywood star wore to a media interaction. Paired with furry Christian Louboutins, Saltzman kept Padukone's look minimalistic yet edgy.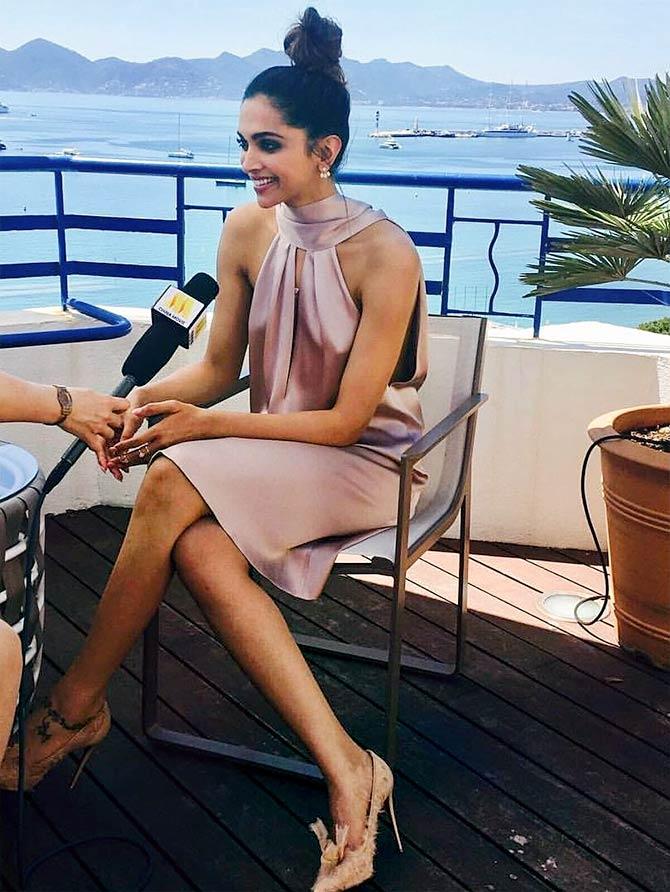 Photograph: Kind courtesy L'Oreal Paris India/Twitter
Saltzman's (pictured below) story is a rags-to-riches one -- from folding clothes at a New York store by day and working at nightclubs in the evening she has become a name to be reckoned with.
She started her fashion career in 1983 at Giorgio Armani.
Two years later, she landed a job at Vogue in New York and climbed up the ranks to become a senior fashion editor there -- a role she held for eight years.
She has also served as the fashion director at Vanity Fair.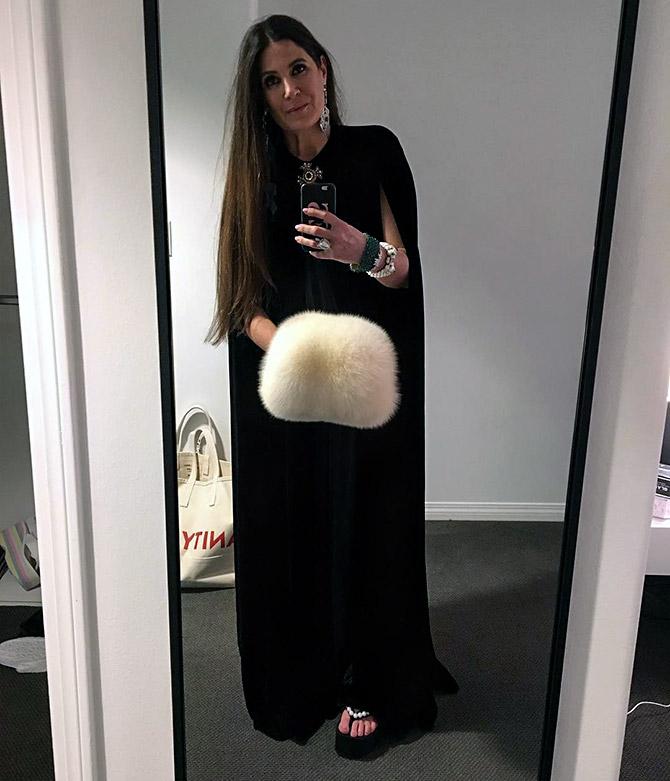 Photograph: Kind courtesy Elizabeth Saltzman/Instagram
Today, Saltzman is an A-list stylist with teams in London, New York, and Los Angeles.
When not styling celebrities like Gwyneth Paltrow and Uma Thurman or being a wife and mother -- to two sons and her pet Fred, a terrier -- she keeps herself busy as a contributing editor at Vanity Fair.
Deepika started sporting looks styled by Saltzman during the promotions of her movie xXx: The Return of the Xander Cage. Since then, the celebrity stylist has designed most of the star's looks at international events.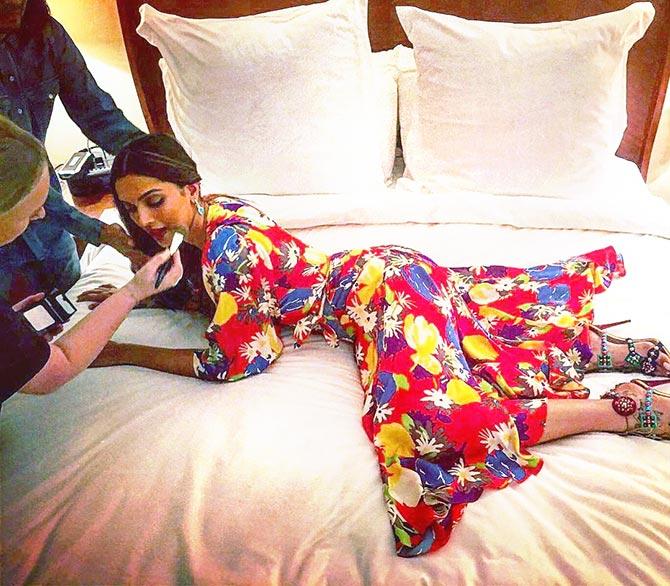 Photograph: Kind courtesy Elizabeth Saltzman/Instagram
A fan of Audrey Hepburn, Saltzman believes in simple, easy outfits. Her favourite fabrics are one that 'aren't stiff and can slide on your body'.
'I don't really mind if you go out wearing a paper bag with chiffon details on it -- if you can make it look good, I am open to everything. It's not easy in fashion to find anything new, as all we are doing is recreating and trying to break the mould,' she said in an interview.
'There simply are no rules... well, with the exception of showing panty or spanx lines,' she added in the interview. 'Rules are made to be broken, so all you have to do is feel content with yourself before you walk out the door. Allow yourself to have fun and be free. As for my thought process, being simple with a hint of sexiness and having a modern look are important.'
For her, 'style is all about personality', and she swears by the power of a smile -- '[It] will make people around you much happier than carrying a fancy clutch.'
The best advice Saltzman has heard -- and is willing to give to people -- is to 'stand tall and shine'.
And Padukone did just that.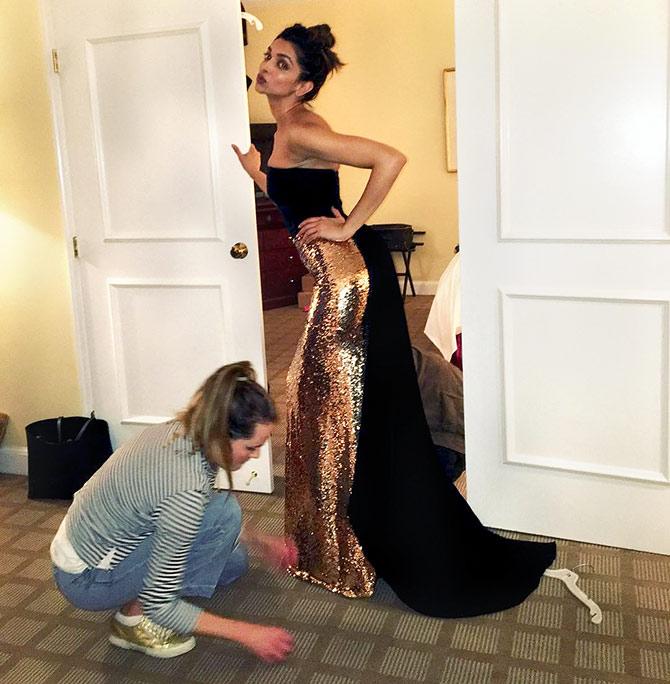 Photograph: Kind courtesy Elizabeth Saltzman/Instagram