The actor graced the March 2018 cover of Man's World.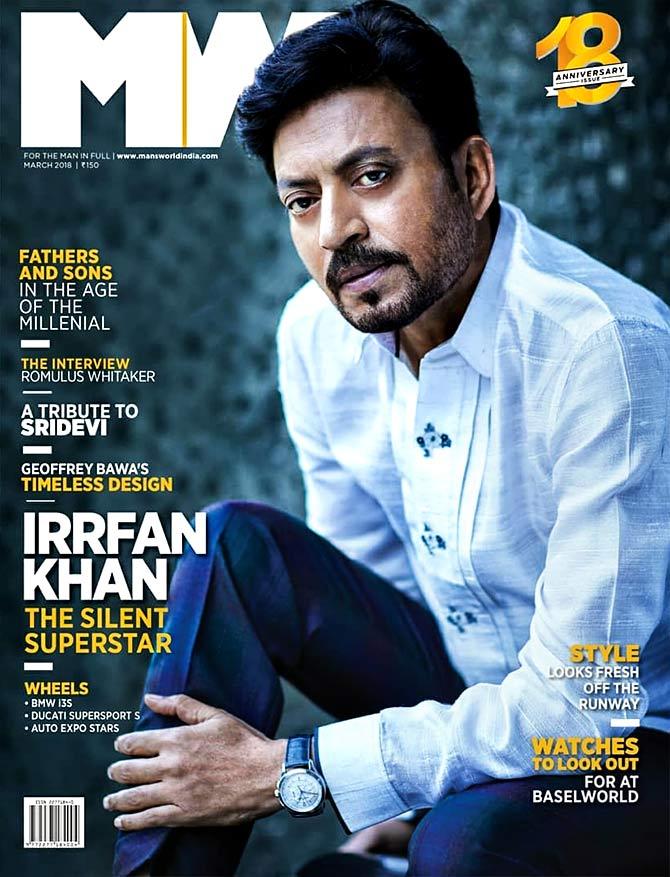 Photograph: Man's World mag cover, March 2018
As fans struggle to come to terms with the news of Irrfan Khan suffering from a 'rare disease', Man's World released a mag cover featuring the actor.
The mag uploaded the post on Instagram and wrote: 'A few weeks before he made the disturbing revelation of suffering from a 'rare disease', Irrfan Khan spent half a day with MW at an empty Mumbai restaurant for this cover story's photography session.
'He seemed perfectly healthy and was in great spirits.
'The story and the accompanying photographs came out of that session, and the print version of the magazine went to press much before he tweeted about his illness.'
Wishing him a speedy recovery, they added, 'We wish him the very best as he takes on this new challenge.'
Dressed in a linen silk shirt and classic tuxedo trousers from the House Of Sunil Mehra, the actor strikes an intense pose on the cover of Man's World's 18th Anniversary special.
He accessorised the look with a Master Control Chronograph watch by Swiss luxury watch manufacturer Jaeger-LeCoultre.
Photographed by Rohan Shrestha, the cover was shot at Su Casa, a European restaurant in Bandra, Mumbai.