The young supermodel follows in on the footsteps of Naomi Campbell.
This and more news from the world of glamour and fashion in this edition of fashion roundup!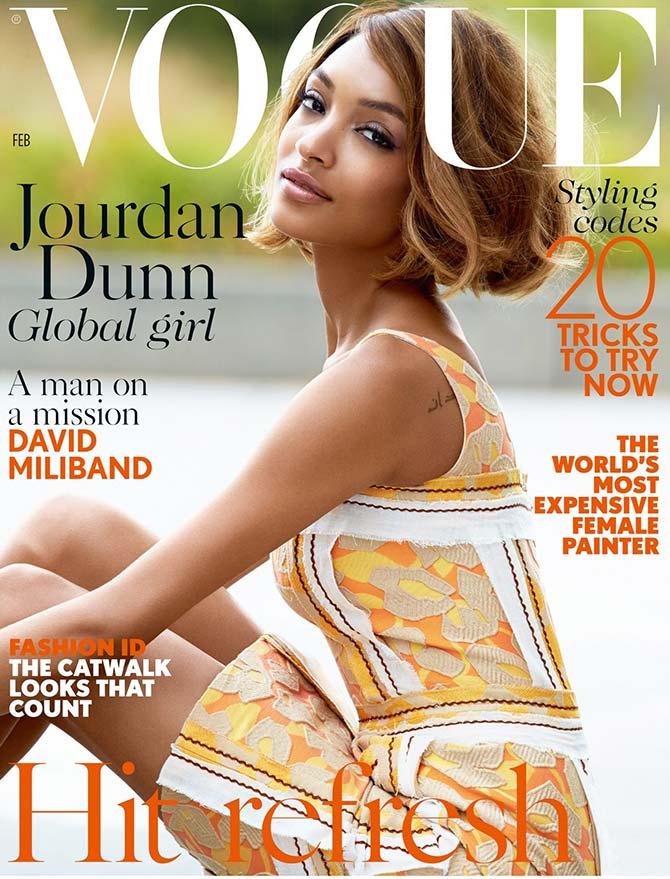 Jourdan Dunn becomes first black model to grace Vogue cover in 12 years
British fashion model Jourdan Dunn has become the first black catwalk queen to land a solo Vogue cover in 12 years.
The 24-year-old supermodel features on the front of the February 2015 issue of the British edition of Vogue, News.com.au reported.
Dunn announced the cover via her Instagram account and captioned a picture of the cover with "I'm so Happy to finally say I'M ON THE COVER OF BRITISH VOGUE!!!"
She also thanked Patrick Demarchelier and Kate Phelan for making this happen and also thanked all for the love and support.

Naomi Campbell was Vogue UK's last black solo cover girl in 2002.
Source: ANI
Photograph: Cover of Vogue
---

A few extra pounds? Eh no big deal!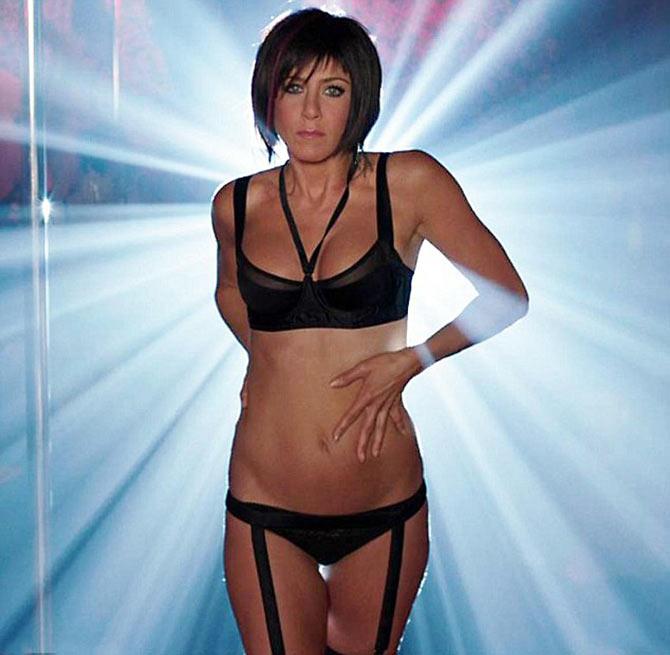 Cake actress Jennifer Aniston says she does not mind getting laser treatment for her skin but is averse to the idea of plastic surgery.
The 45-year-old Friends actress, who is often complimented for her skin, said going under the knife proves more harmful than beneficial, reported E! Online.
"I love lasers and (other noninvasive treatments like) Thermage (radio frequency) and Ultherapy (ultrasound).
"I also like a good microcurrent facial.
"People lose perspective. I look around and see how bad plastic surgery and injections can really kick you in the ass," she said when asked why she has stayed away from plastic surgery.
And if reports are to be believed, she also does not consider weight gain a 'big deal'.
Aniston recently adapted her diet to include carbohydrate-rich foods and while it's made losing weight more difficult for her, she insists she doesn't care about the extra pounds, InStyle magazine reported.
"I never ate pasta.
"I've been allowing myself a lot more in the past few years, which does make it harder to lose those last few pounds.
"But you have to live. And so what? You go up a size. What's the big deal?" she said.
Source: PTI
Photograph: Still from We're the Millers
---

Theory of Everything star Eddie Redmayne is GQ's Best Dressed man!


The Theory of Everything actor Eddie Redmayne and Benedict Cumberbatch have topped the list of Best Dressed Men issued by men magazine GQ.
Cumberbatch who stars in The Imitation Game grabbed the second spot in the annual list, after coming third last year, the Daily Express reported.
Irish actor Jamie Dornan, who is set to star as Christian Grey in Fifty Shades of Grey, was ranked at the third spot in the list.
The actors were awarded for their flawless red carpet style on the list, which was compiled by staff at the magazine and a panel of fashion industry experts.
The one-year-old Prince George made his debut in 49th position.
Newsnight presenter Evan Davis was named worst-dressed man in the countdown, for resembling "a supply geography teacher" on-screen.
Source: ANI
Photograph: Tim P Whitby/Getty Images
---
Marilyn Monroe becomes new face of Max Factor from beyond the grave


Marilyn Monroe may have passed away 53 years ago, but that hasn't stopped her from becoming Max Factor's "global glamour ambassador."
The blonde bombshell, who died in 1962, aged 36, has remained a beauty icon for over 50 years and has now become face of the brand from beyond the grave, Stuff.co.nz reported.

The brand will feature the silver-screen icon, who was reportedly a customer of the beauty brand back in the '40s, in a mix of TV, print and digital advertisements, charting her rise from mousy teen to the famous red-lipped, platinum-haired and doe-eyed actress as she's best remembered.
Pat McGrath, global creative design director of Max Factor said that Monroe had made the "sultry red lip, creamy skin and dramatically lined eyes the most famous beauty look of the 1940s and it's a look that continues to dominate the beauty and fashion industry."
The brand's previous faces include Gwyneth Paltrow, Madonna and Gisele Bundchen.
Source: ANI
Photograph: LJ Willinger/Keystone Features/Hulton Archive/Getty Images
---
FKA Twigs poses topless for fashion magazine
Rapper FKA Twigs has done a topless photoshoot for V magazine.
The snapshot taken by Inez van Lamsweerde and Vinoodh Matadin appears on the cover of magazine's 93rd issue, reported Aceshowbiz.
The 26-year-old rumoured girlfriend of Twilight actor Robert Pattinson was named the 'New Sound of Soul' along with singers Sam Smith, Tinashe, and Jessie Ware, who also appeared on the magazine.
Source: PTI
Photograph: Cover of V
---
Laura Govan suffers wardrobe malfunction on red carpet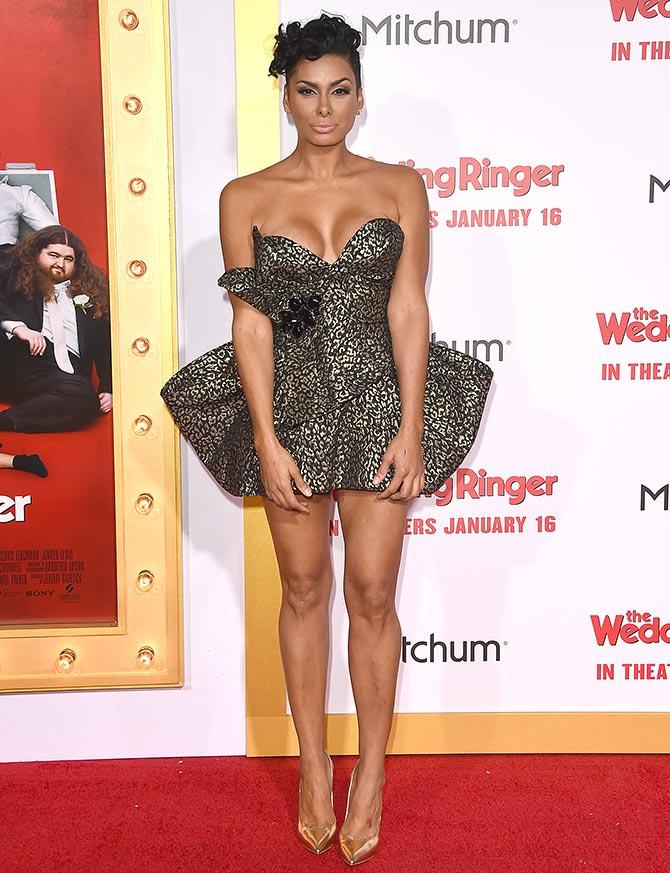 Former Basketball Wives: LA star Laura Govan suffered an embarrassing wardrobe malfunction at The Wedding Ringer premiere in Hollywood.
Govan, 35, accidentally exposed more than what she wanted while she was having her pictures taken alone and alongside her sister Gloria Govan, reported Ace Showbiz.
The reality TV star, however, seemed to be unaware of the embarrassing moment since she kept smiling at the cameras.
When she realised it, she pulled the gold-and-black mini dress immediately and made no big deal out of it.
Source: PTI
Photograph: Jason Merritt/Getty Images
---
Ellen DeGeneres chooses People's Choice Awards to debut new clothing line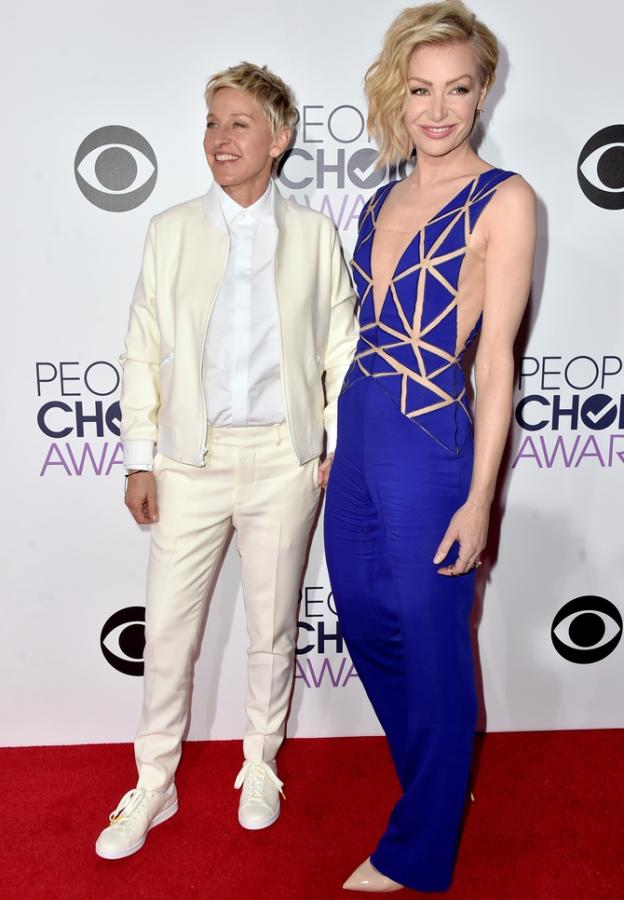 Ellen DeGeneres chose People's Choice Awards to debut her new clothing line.
The American TV host opted for an all-white look at the red carpet that was designed by her, People Magazine reported.
Whilst talking about her cream tracksuit-inspired look, which she wore over a Saint Laurent shirt, DeGeneres asserted that they made this and they haven't launched her line officially, but it's exciting.
The 56-year-old TV personality is collaborating with Chris Burch for her new venture.
Source: ANI
Photograph: Frazer Harrison/Getty Images