Get ready to be dazzled! Ananya Panday will make your jaws drop in a gorgeous red silhouette.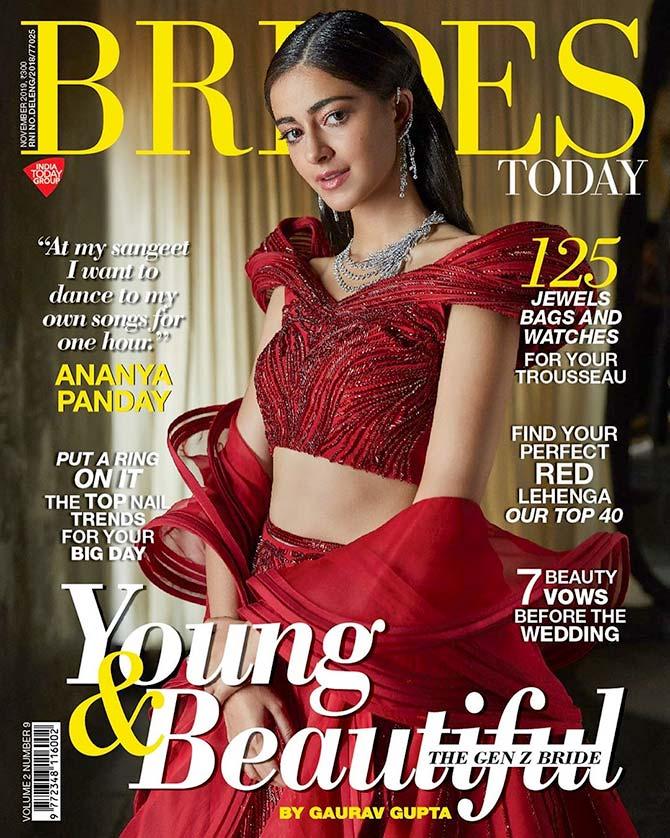 The Internet has been swooning over Ananya Panday's latest photo shoot.
The actor looks stunning in red separates by designer Gaurav Gupta on the cover of the mag's November issue.
Dressed in a lava red stellar lehenga with a sculpted blouse, she completed the look with a detachable ruffled dupatta.
Wearing couture jewellery by the designer himself, Ananya sported slicked back hair and minimal make up.
In an interview with the mag, the actor has spoken about where she sees herself 10 years from now. 'I want to be at the top of my game,' she revealed.
'I'm so lucky that I started out young so that I can afford to make mistakes and grow. Nobody is perfect, it's better to start raw and develop. But I also want my normal life at the same time.'
Ananya also spoke about her dream wedding to the mag. 'I'm actually going to have two weddings. One will be in Udaipur and it's going to be like Kalki's (Koechlin) in Yeh Jawaani Hai Deewani.
'A really big party with all my friends, family, and other industry people. A week later, we'll go to a beach somewhere like the Bahamas or Maldives for a smaller ceremony.'
'I love all things soppy, sappy, and cheesy. Random acts of love like surprises and letters. I definitely want to meet someone who will do all of that for me,' she added.
The cover has been photographed by Rohan Shrestha.