Allowing her inner beauty to shine, Swara Bhaskar transforms into a bridal goddess.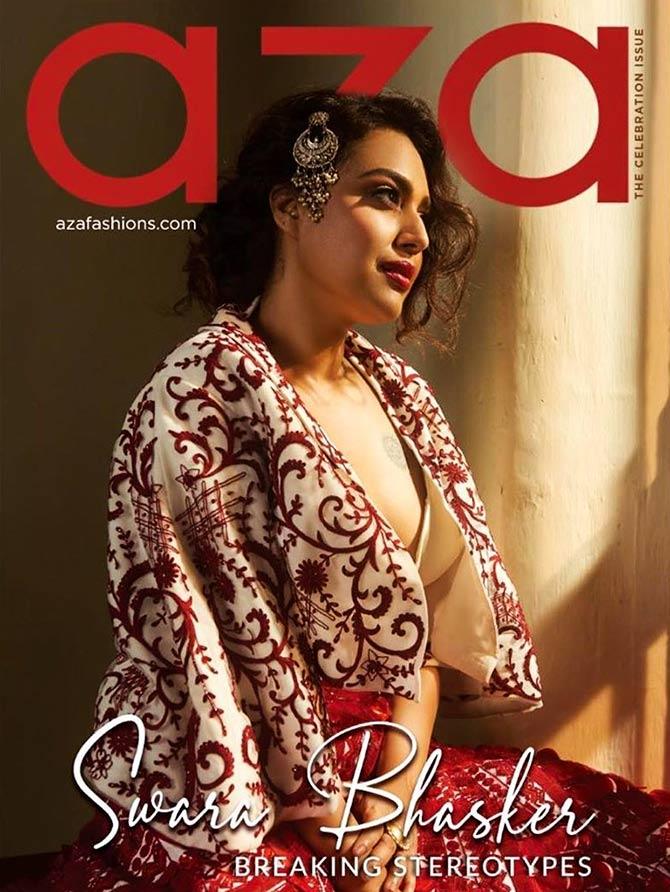 Dressed in a lovely white jacket with red embroidery, and a matching red skirt, Swara Bhaskar upped the glam quotient on Aza Fashion's latest issue.
With her hair styled in a messy bun, the actor finished off her look with a earring worn as a maang tikka.
Titled 'Breaking Stereotypes', the cover celebrates Swara's style choices.
For her second look, below, she chose a grey sari with embellishments on the border.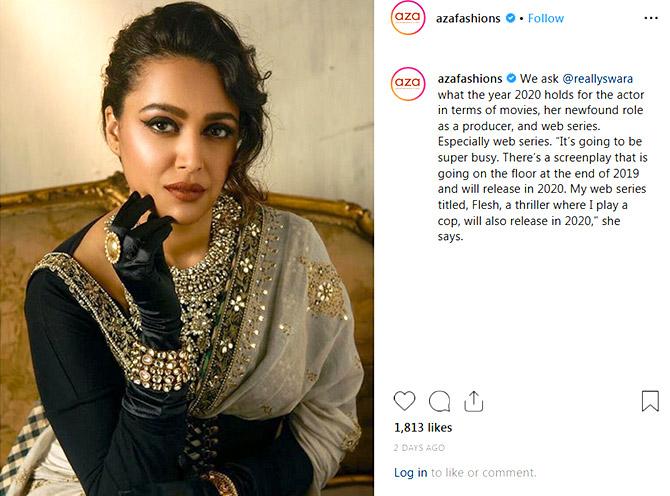 Rounding off her look with a black belt, she paired the sari with a black full-sleeve blouse and chunky metallic jewellery.
'Swara seems much at ease in this look which is gothleisure-meets-Audrey-Hepburn-sari version.
In an interview with the mag, the actor revealed details about her 'celebrity status'.
'I don't actually believe in the notion of 'celebrity'. So I often find myself questioning myself and the things that happen around me,' she said.
'I am the child of middle class government servants -- her mom is a professor at JNU and her dad is former military who served the Indian Navy. They're my anchor. They've never forced me to do anything I didn't want to do, nor have they imposed their opinions on my life. They even funded my Bollywood struggles for the first 4 years of my being in Mumbai.'
According to the mag, around the time Swara was studying sociology at the Jawaharlal Nehru University (JNU) in Delhi, with plans to apply to anthropology programmes in the USA, she decided to move to Mumbai on a whim.
'I just felt that if I had acting ambitions -- the time to try all that and take the risk was NOW,' she told the mag. 'I didn't want to live with the 'What if I had taken that chance?' feeling later in life.'