Kareena Kapoor Khan is a vision in gold on the cover of Elle.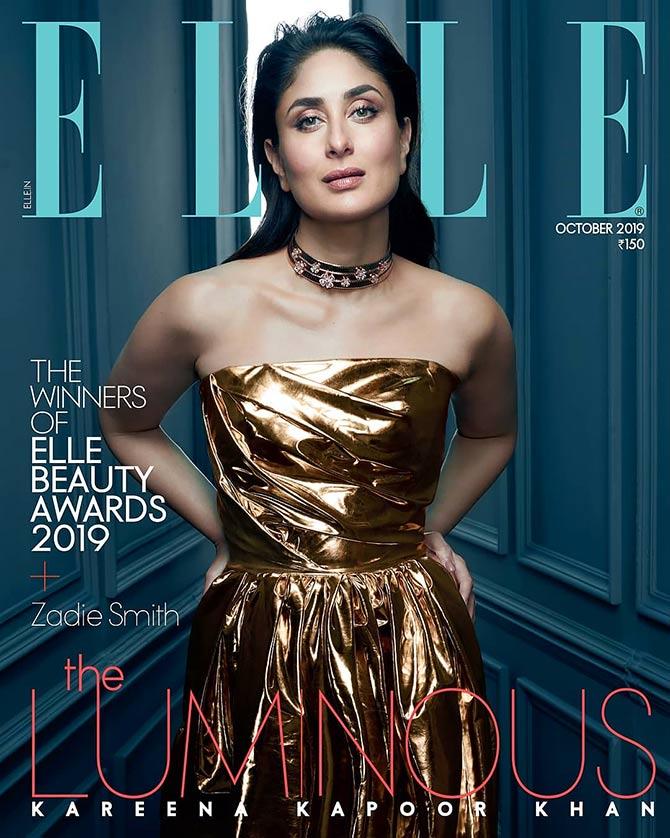 Meet the 'luminous' Kareena Kapoor Khan who looks absolutely divine on the cover of Elle's October 2019 edition.
Like a goddess dipped in gold, she stuns in a polyester gold dress by Toni Maticevski and paired it with a pink gold and diamond necklace.
Unveiling the cover, the mag wrote: 'Star light, star bright. A hit radio show. A film career like no other. Like The Beatles said: It's getting better all the time. The incomparable Kareena Kapoor Khan is pure gold.'
In an interview with the mag, the actor has shared her life mantra.
'I'm actually looking forward to turning 40. The idea is to be comfortable in your own skin, look good, and feel fabulous.
'By 40, you should've made your money and have a little bit of a legacy. Then, you can start doing what you want,' she revealed.
'I'm still relevant without being on social media. I don't need to post my views or how I feel, as long as I know exactly what I'm doing.
'I'm aware that there are people talking, but that's fine. There are two sides to a coin,' she added.
Styled by Malini Banerji, the cover has been photographed by Tarun Vishwa.
For her second look, below, Kareena chose a handwoven dress in black and gold and a ceramic bracelet.