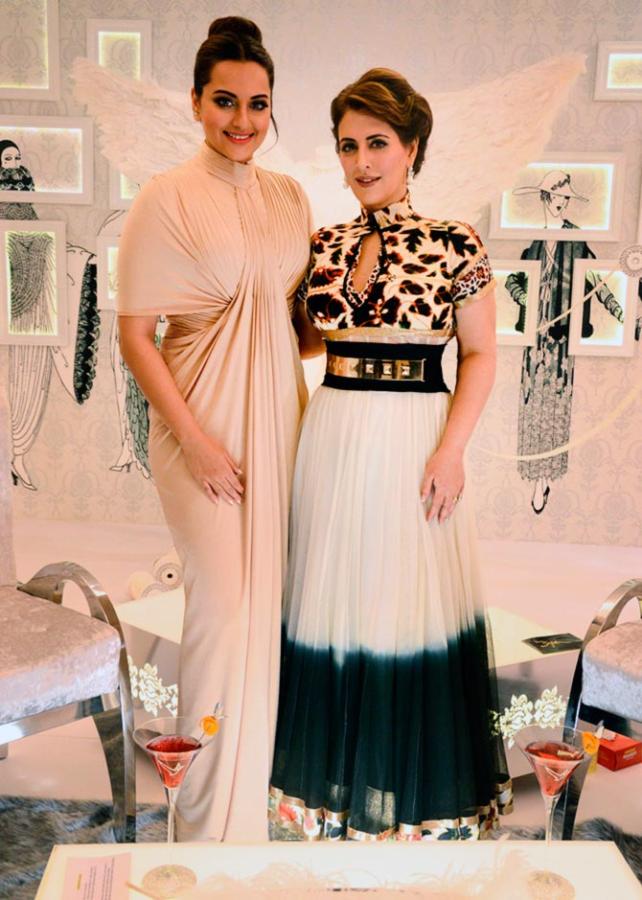 "I love the way Shilpa Shetty Kundra and Malaika Arora Khan wear their clothes. And these are not 16 year olds!"
"Akshay Kumar is the ultimate alpha male; rugged and macho. Nobody has that in Bollywood."
"As a little girl, I would look in awe at Amitabh Bachchan and say, 'Oh my god! He's so handsome and charming. I want to marry someone like him.' He's definitely 'born stylish'."
Fashion designer Pria Kataaria Puri, host of celebrity chat show 'Born Stylish', spills the beans about designing for celebrities, her journey as a fashion designer and her ultimate style icon in an interview with Anita Aikara/Rediff.com.
She also doles out advice on how to up your fashion game.
Your show Born Stylish is on air… Share some interesting celebrity insights with us.
Oh! There've been plenty.
Anil Kapoor revealed he doesn't believe in wasting money on designer brands.
Malaika Arora Khan confessed she had absolutely no clue about fashion. It was her sister, Amrita, who would tell her what to wear and what would look good on her!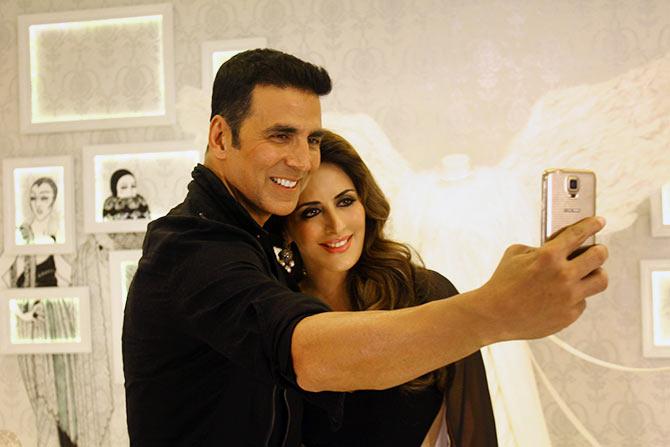 When I researched on Akshay Kumar, I was surprised by his dedication. There was a time when he would buy clothes in Mumbai and sell them in Delhi. On his way back, he would pick up jewellery from his uncle in Delhi, and sell it in Mumbai. Meanwhile, he'd be doing his modeling assignments.
Akshay was so happy being a model; he felt that sitting in an air-conditioned room posing with a 'chick' was the best thing.
From a fashion designer to a television host in a journey that started around 20 years ago. What's it been like?
Sometimes I wonder if I'm the same person or another person.
I have loved the way I've grown in the industry. I remember my contemporaries -- when I started my business 20 years ago -- had said that 'she's just a poor little rich girl'.
I actually have an article where one of the top designers in Delhi called me 'just a poor little rich girl spending her daddy's money to launch her designer label'.
Born Stylish is a reminder to them that I'm still here darling. And like how! While the people who passed these comments are nowhere on the radar.
Talking of your chat show, why the title Born Stylish?
I like the name; it's very contradictory. There is this myth that you have to be born stylish. You can acquire style but your general inherent style is in-born.
I think the name is really catchy and people will get hooked.
How different is this show from other celebrity chat shows?
It's a great platform to talk about fashion. And it's probably the best way to bridge the gap between the masses and fashion.
We've been pursuing fashion weeks over 12-13 years. There's a lot that has happened in fashion, but there's still a huge disconnect that the common man or the masses have with fashion.
There're various myths!
Myth 1: Fashion is all about designer wear and expensive clothes.
Myth 2: You need to be really, really skinny to pull off an outfit well.
Myth 3: You need to be fashionable.
It's about busting these myths.
This show talks about style. What better way to tell the masses what style is all about than hearing from their style icons? Having style icons from various fields talk about their style journey, how they acquired their unbelievable style, is the best way to create a bridge between masses and fashion. In the show we've actually mapped the style journey of these stars.
What's the highlight of the show?
A lot of the content in the show and the script have come from my personal experiences.
What's interesting about the show is that we have categorised every star into a theme so our audiences understand fashion in a very subtle way. We start each show by introducing the theme.
Like Malaika Arora Khan is the ideal yummy mummy. I have seen her in the last 30 years and have always found her sensuous and elegant.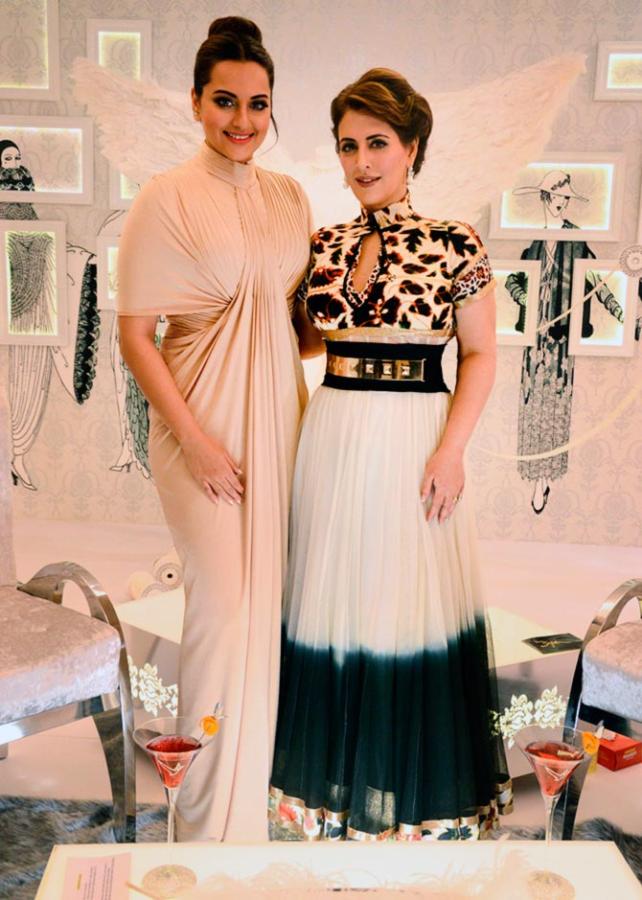 Sonakshi is young, so she can dare to experiment.
Fawad Khan has this old world charm. I met him at a party. I was shocked to know that my grandmother knows Fawad so well. She has been watching his Pakistani plays for the last 10 years.
Anil Kapoor is the ageless charmer; he's eternally stylish.
Have you wondered who are the people watching television? They're not people like you and me because we are out at work. But there are a lot of audiences in their 30s, 40s and 50s watching TV. The idea of the show was to relate with them.
There are plenty of trends in fashion. How do you own a trend and make it your own?
Fashion weeks are about celebrities coming in, looking fabulous with the help of a million fashion designers and make-up artists!
Real people don't get a sense of what fashion is based on the red carpet looks. Even if you buy one of those expensive gowns, where are you going to wear it? Also wearing red carpet gowns doesn't make you fashionable. Your day-to-day coordination makes you fashionable.
Indians are not gutsy dressers; they're safe dressers. They don't want to stick out like a sore thumb; they want to blend in.
In my opinion, Indian women have amazing bodies. They have the typical, curvaceous, Kamasutra kind of bodies.
I love the way Shilpa Shetty Kundra and Malaika Arora Khan wear their clothes. And these are not 16-year-olds!
Simi Garewal has a very clear distinct style, but I think she should reinvent herself somewhere down the lane.
Why is it so important to be stylish? How does it help a person?
When you go for a job, by the time you sit down they have decided whether they want you or not. That's because all the 20 people who have come for the interview have pretty much the same credentials as you!
For me, style is the most important part of fashion. Style is very important in our daily lives -- whether you are a journalist, fashion designer, actor or a coffee shop owner.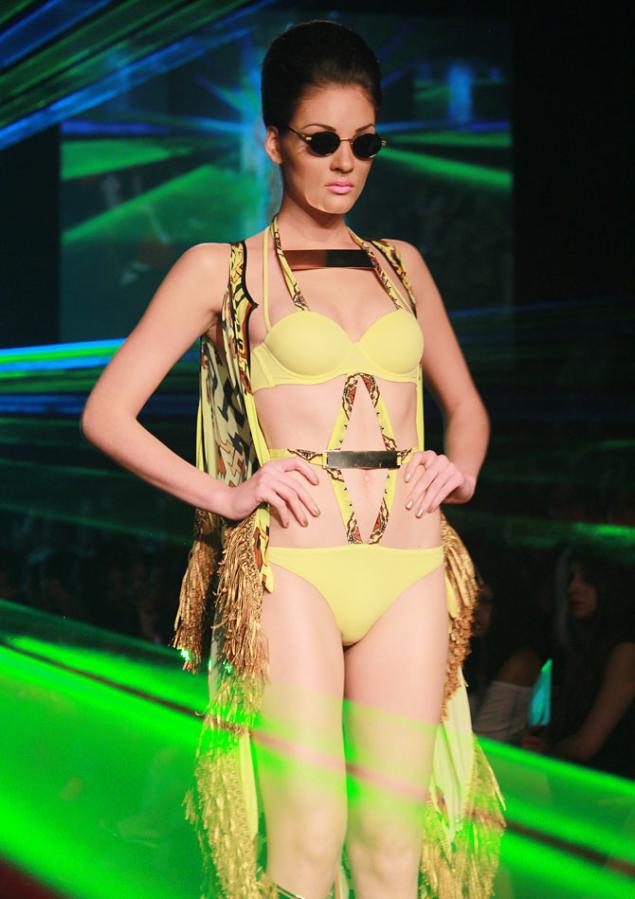 A model walks the ramp in one of Puri's swimwear creations. Photograph: Hitesh Harisinghani/Rediff.com
How would you define your (and others) fashion?
Fashion is merely a tool; style is what's important. Style is eternal. Fashion will come and go.
Fashion for me is merely a tool to enhance my personal style. It's is exciting because it is my quickest way of changing and reinventing my style. I get bored very quickly. I like to reinvent myself.
These are all the values my father instilled in me. He used to always tell me a lady should always wear only one perfume. He used to tell me pick a perfume that nobody has. He would say, 'That's your signature.'
What he was trying to tell me was that I should have my own signature style. It is not how you dress but also how you smell.
In my opinion everyone is born stylish. Those rare few with the right kind of tools and environment are able to become ultra-stylish. These people are the ones we are inspired by. So they automatically become our style inspirations.
When I came in the fashion industry 20 years ago and became very popular, people asked me what inspired you to become a designer. The bottom-line was the people I was influenced and inspired by. My journey pretty much started when I was a kid.
Even if you deeply think about yourself, your inherent core style is something which you developed when you were a kid -- by the kind of environment you were in, the kind of movies you watched or the kind of social life you had.
Somebody born into a wealthy family will have a very different lifestyle compared to an Indian girl born in USA or another girl born in Chandigarh.
Your environment, what you're inspired by primarily creates your style. Everybody has a unique style. The idea is to find what your real style is and enhance that with the information and tools you have.
Fashion -- whether you buy from Zara or Dior -- is just a tool to make you appear more stylish. And this is something that I have personally experienced. I have worn jumpsuits from Zara where people have gone ballistic!
I have also worn Chanel gowns and people have raved about it too. At the end of the day, the outfit doesn't wear you, you wear the outfit.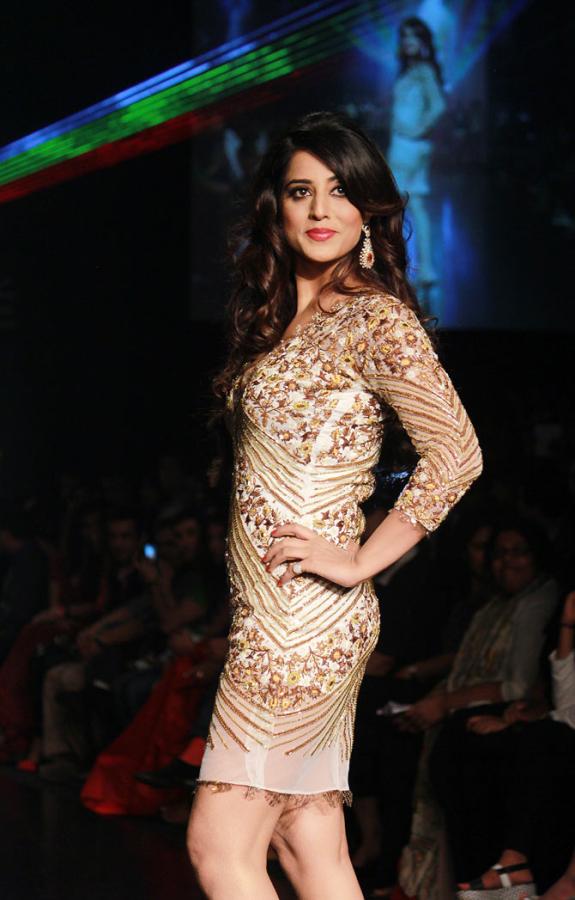 Mahie Gill in a Pria Kataaria Puri creation at the LFW 2013. Photograph: Hitesh Harisinghani/Rediff.com
Was it easy for you to make a mark in the industry?
After finishing my fashion designing course from Fashion Institute of Design and Merchandising in San Francisco, I returned to India.
I needed money to start my production house so I borrowed Rs 1 lakh from my father.
My father owned a building, so he gave me some vacant space there. When you go from one floor to the other, there is a balcony in each floor. That's the space he gave me. He said, 'You can take that space and put a table there with 3-4 tailors. See how it goes. If it goes well, great, I'll give you a bigger space. If it doesn't, you empty it out.'
Within four months, I was signed on by the most happening store at that time, Signature. I was launched there. I sold out my entire collection and returned my father's money. As a gift, he moved me to a bigger space. After that, I never took one single anna from my father.
Do you remember there was a whole era of velvet jackets? I was the person responsible for it. That was my outstanding collection. I made it in the Nineties and that went abroad. It did so well abroad that I was taken up by Signature to come and sell in India.
I had people telling me, 'There is this designer from San Fransisco who is a big shot. My name is Harbandana. And that time I had launched by that name. And I would say, 'Hello, that's me'.
Then I globally changed my name to Pria, which is my pet name.
I had an extremely lucrative career when I started, took a break for seven years, and came back with a bang.
You popularised kaftans in India, didn't you?
When I started doing kaftans, people only laughed at me for the first two years. I had journalists writing letters asking 'What the hell is she thinking? She lives in the Middle East and she's gone mad!'
But it's become a phenomenon. Still now, people are ballistic about kaftans because it's to do with sizing. I have people wearing kaftans for weddings.
Whenever you're creating something -- or there is a new trend -- it takes two years to trickle down to the masses. They'll see it for one year and then only will they absorb it.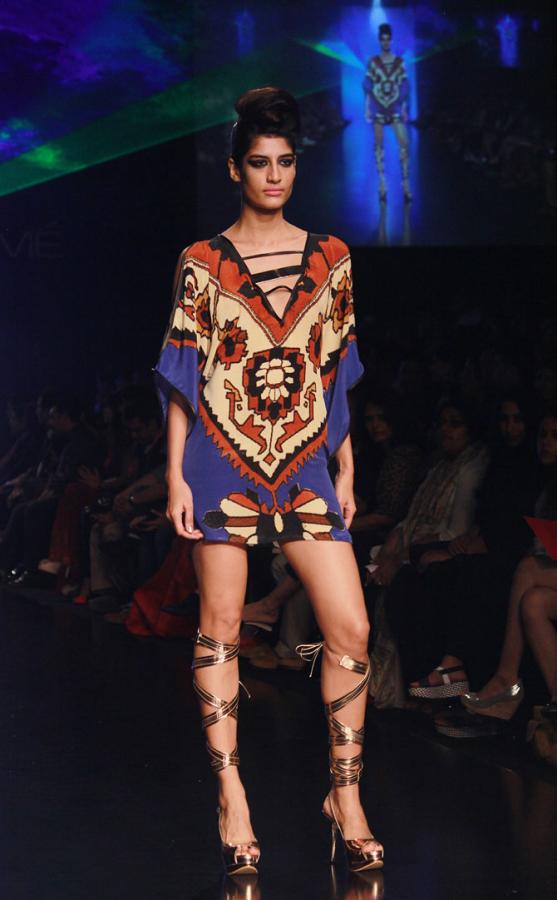 The kaftan dress, designed by Pria Kataaria Puri. Photograph: Hitesh Harisinghani/Rediff.com
Your fondest fashion memory till date?
Dressing up Madonna. She has been my style inspiration. I was in shock when she invited me for dinner. She knew I was fond of horse-riding. We had a lot of common things going on.
Icons who have redefined style in Bollywood?
I really like Sonakshi Sinha, Kangana Ranaut, Fawad Khan and Amitabh Bachchan.
Amitabh Bachchan is someone who redefines style every year.
Celebrities you would love to have on the show
I'd love to shoot with Kangana Ranaut and Madonna. I would love to have Virat Kholi too. I think he is really stylish.
An Indian celebrity who is born stylish?
Amitabh Bachchan!
I remember seeing him as a little girl when he had come to shoot Namak Haraam. My grandparents owned hotels in Kashmir. Amitabh Bachchan would come there to shoot movies. As a little girl, I was in awe of him. I'd always look at him and say, 'Oh my god he's so handsome and charming, I want to marry someone like him.'
In those days, he used to wear a white kurta-pyjama and drape a shawl when he was in the hotel. I found him so elegant and stylish even back then.