Rajesh Karkera meets the glamorous women who rock the Lakme Fashion Week offstage with their quirky styles.
Photographs: Rajesh Karkera/Rediff.com
---
Shreya Jain, 22, a YouTube blogger from Delhi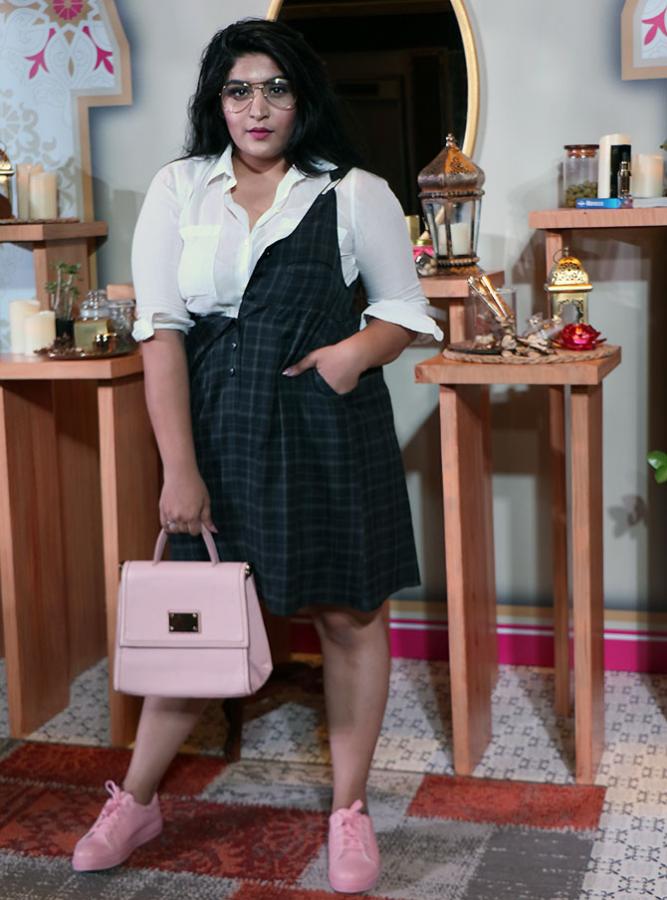 What do you do?
I am a beauty blogger; I make beauty videos on YouTube
What are you wearing today?
I am wearing a plaid, skirt dungaree over a white shirt.
It's a very old back-to-school kind of fashion look. So I went with Converse shoes and a kind of briefcase bag, and clear glasses so that it went with the whole theme.
And that's the back-to-school look I've gone for because the 90s are back in trend.
These dungarees are from Delhi's famous flea market Sarojini Nagar. I bought it just for Rs 200 and the white shirt from Gap is more expensive than the whole outfit put together.
The bag is from Hill Road, Bandra, Mumbai and the shoes are from Converse.
There was like lot of mixing and matching. I don't particularly go for the brands. I am more about the style and if I like something even if it's on the thela (flea market), I'll go pick it up.
Fashion to you is...
Fashion to me is representing your own style. Be it whatever.
It gives you freedom to express yourself in the form of clothes, accessories or whatever you prefer.
***
Shruti Iyer, 27, former Lakme model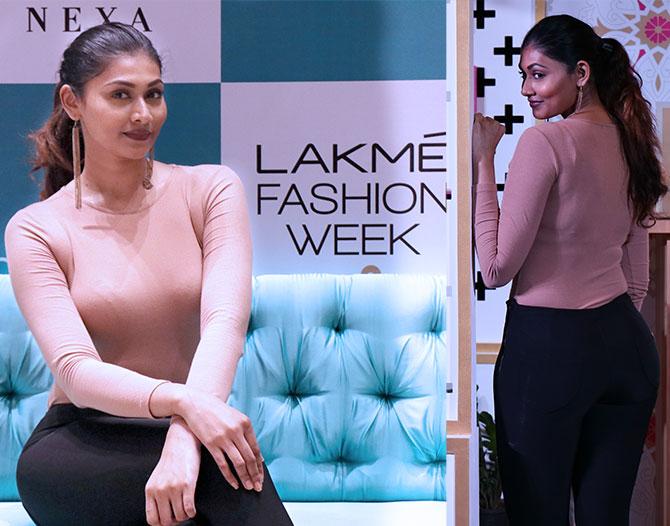 Why did you quit modelling?
I realised that fashion on that spectrum is not something I want to do. I have my reservations on that.
What do you do now?
I make YouTube videos. I video blog.
Tell me something about what you are wearing...
Today I am wearing something that is formal, yet functional, yet casual. So it gives me the movement that I need and it's fuss free.
As I have a camera to carry along with a big bag I felt like being functional today. That's why I'm wearing high-waisted pants and a body suit from Forever 21.
My hair is tied back because I'm in work mode today.
My earrings are from Bandra... raste ka maal :)
Fashion to you is...
Fashion to me is a way of expression.. It reflects my mood, it reflects my personal sense of what I want to say. Its just what I feel like.
***
Shereena Master, 23, PR professional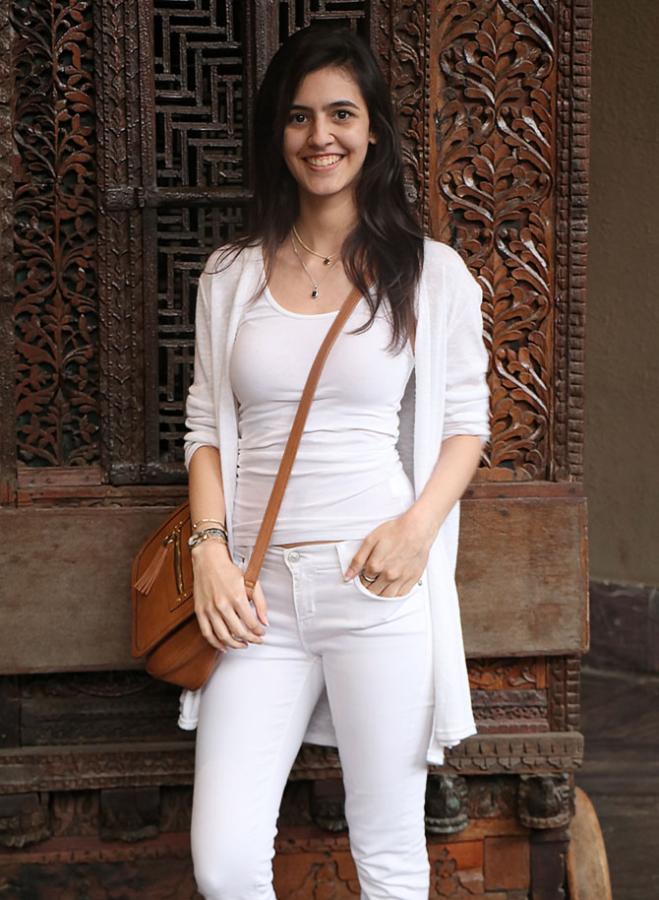 What do you do?
I am a PR professional and fitness enthusiast. I enjoy doing power yoga. I also used to do a lot of cross-fit (exercises).
I love dancing, listening to music and travelling.
Tell me something about what you are wearing...
My favourite colour is white, which is why I just decided to throw on a pair of white jeans, a white tank and just a shrug in case I felt cold.
I'm wearing H&M and I accessorise from Forever 21 and H&M primarily.
Fashion to you is...
Fashion to me is less is more and I also like to be comfortable in what I am wearing so I think it's up to each individual to pull it off the way they want.
You can be fashionable in your own way.
I believe everyone has their own sense of style but for me it's more about being comfortable and definitely less is more.