This is the first time India has won the title.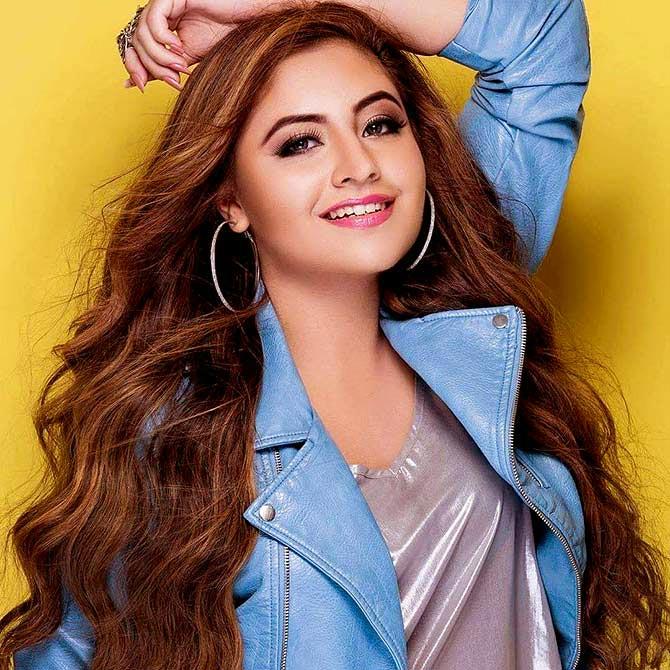 IMAGE: Srishti Kaur
Photograph: Kind courtesy Miss Teen Universe International/Twitter
Srishti Kaur, 19, from India was crowned Miss Teen Universe 2017 at the sixth edition of the pageant held in the Ruben Dario National Theatre in Managua, the capital city of Nicaragua.
Srishti Kaur beat 25 contestants from across the world to win the pageant.
A resident of Noida, Srishti is currently pursuing her studies at the London School of Fashion.
Samantha Pierre from Canada was crowned the first runner up and and Ary Trava from Mexico was the second runner up.
Srishti also went ahead to win the Best National Costume Award.
Take a look at the pics from the pageant...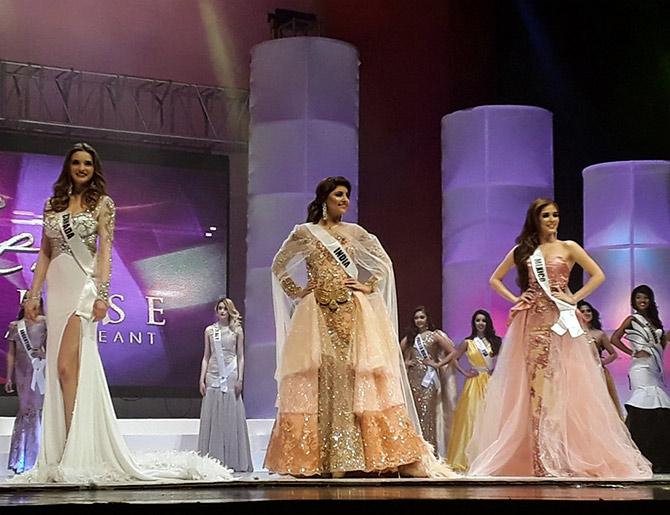 IMAGE: Srishti along with Samantha Pierre from Canada (first runner up) and Ary Trava from Mexico (second runner up).

Photograph: Kind courtesy Miss Teen Universe International/Facebook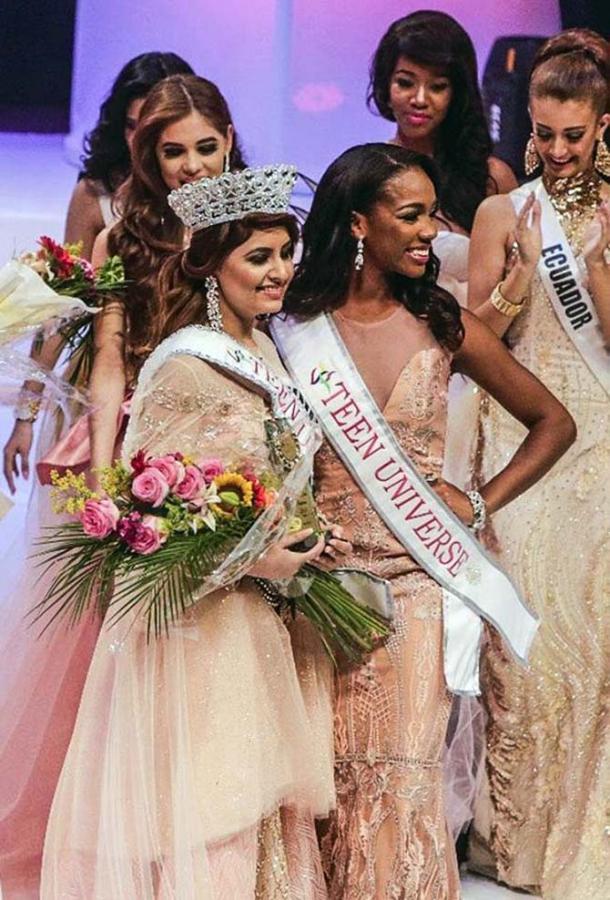 IMAGE: Srishti after being crowned Miss Teen Universe 2017 shares the stage with Nieveles Gonzalez, Miss Teen Universe 2016.

Photograph: Kind courtesy Miss Teen Universe International/Twitter
IMAGE: This outfit worn by Srishti during the national costume round was inspired by the romance of India and the universe. She went ahead to win the Best National Costume at the pageant.
The stunning peacock gown was designed by Devashish Majumdar and Melvyn Noronha.

Photograph: Kind courtesy Srishti Kaur/Facebook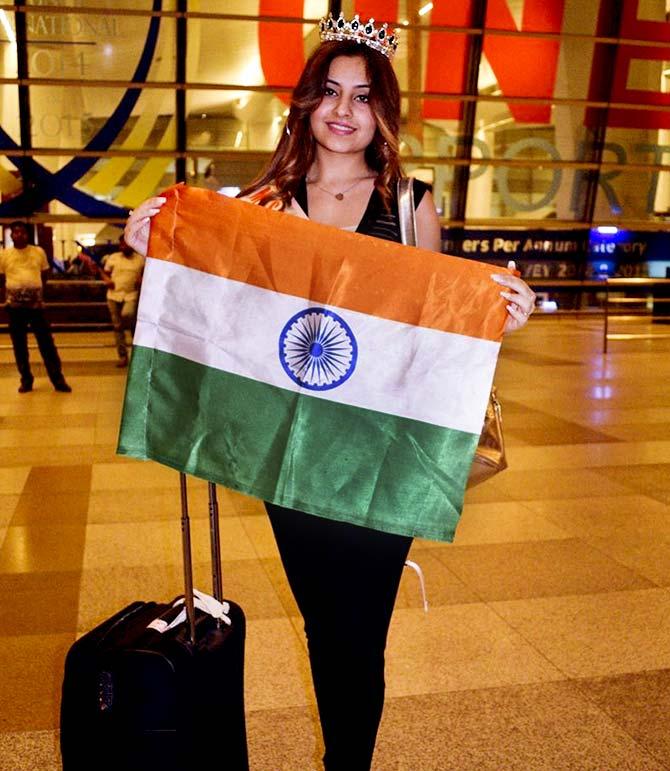 IMAGE: Srishti shared this picture before leaving for the pageant.

'

The journey to represent my country in a world renowned beauty pageant competition has just begun.

I will be needing all the wishes and support from the side of you guys to help me win the Miss Teen Universe International pageant.' she captioned this pic.



Photograph: Kind courtesy Srishti Kaur/Facebook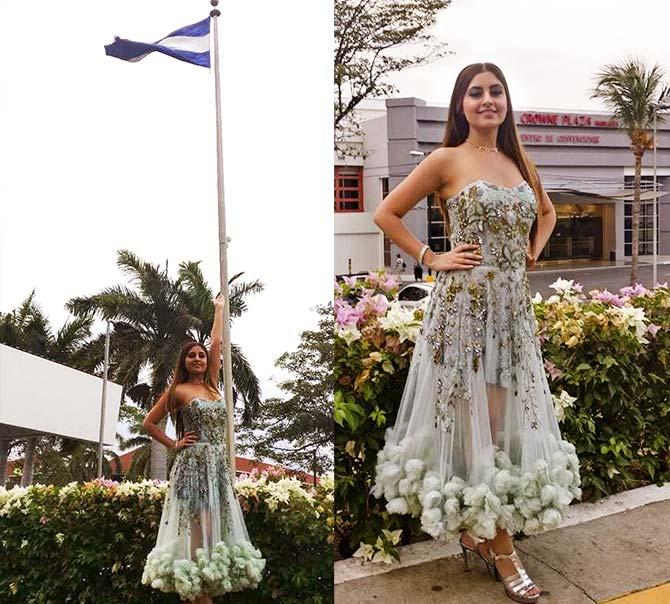 IMAGE: A new day in Nicaragua, at the Crown Plaza.
Srishti is dressed in a powder blue dress, bordered with a bunch of flowers and embellished with beautiful leaves and vines in Indian handwork.

Photograph: Kind courtesy Srishti Kaur/Facebook
IMAGE: Srishti during her official preliminary evening gown photo shoot.

Photograph: Kind courtesy Team Latinas Miss Universe/Instagram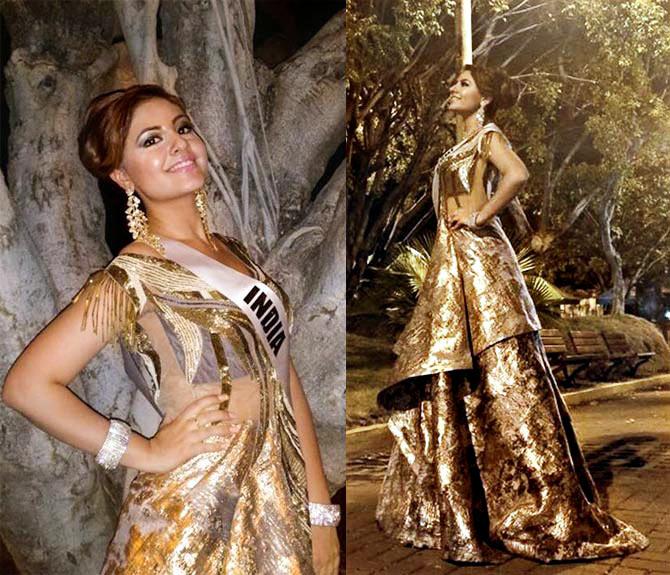 IMAGE: She wore this golden gown for her preliminary interview.
'

Wearing a gold gown with a fabric that resembles the aerial view of the globe, folded to hug the air and a bodice​ that glistens like the waves of the ocean. I feel ready to be the princess of the world,' she shared.



Photograph: Kind courtesy Srishti Kaur/Facebook
IMAGE: Srishti believes in keeping her dreams alive.
'Understand (that) to achieve anything requires faith and belief in yourself, vision, hard work, determination and dedication. Remember all things are possible for those who believe,' she wrote on Facebook.
Photograph: Kind courtesy Team Latinas Miss Universe/Instagram