What does Sussanne Khan cook?
How does she stay fit?
And just where would she rather be holidaying?
Sussane Khan fields rapid-fire questions!
Ready?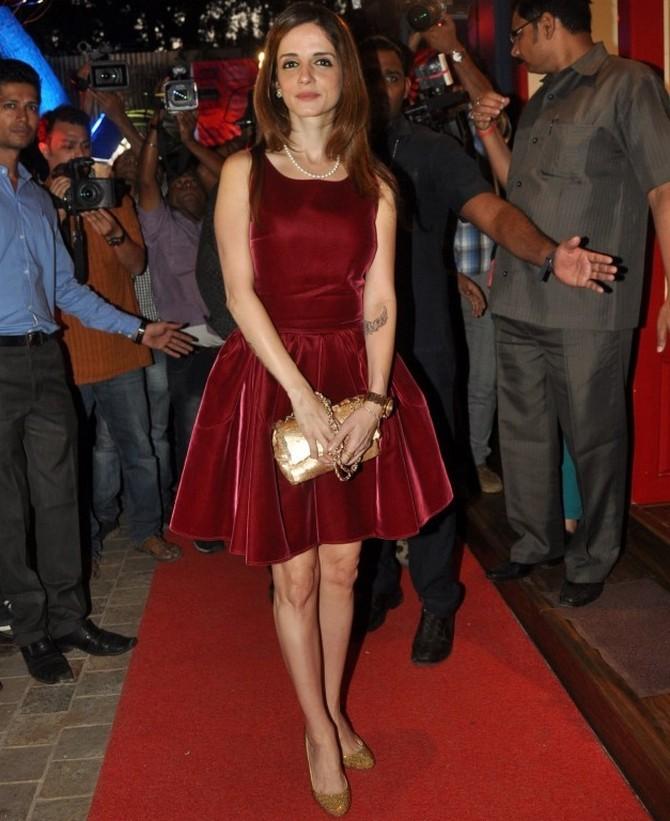 Best work moment
When any one of my designs translates from my head into reality
Books on your bedside
My own personal diary, sketchbook, The Art of Thinking Clearly by Rolf Dobelli, The Secret Hero by Rhonda Byrne, 1339 Facts to Make Your Jaw Drop, Forever Chic by Tish Jett
Your workout regime
Weight training and kickboxing, at home on the terrace with my trainer.
On the days I don't get a chance to work out, I try to do 30 army-style push-ups and I instantly feel pumped up and strong.
Favourite accessory
My oversized pink-gold Cartier watch, my black pearl and silver beaded bracelet and a simple gold ring given to me by my godmother
Designs that have caught your eye recently
Pink balloon dog sculpture by Jeff Koons, Chiltern Fire House restaurant in London
Your IT tools
All my Apple gadgets
Favourite champagne
Rose Moet
Favourite TV show
House of Cards, The Americans, Modern Family and Downton Abbey
Best gift received
My sons
Favourite cuisine
French fusion, European, my mom's recipes
What food items do you like to shop for?
Exotic cheese, chocolates, sauces and homemade jams
Fancy coffee or masala tea?
Black coffee, no sugar and espresso shots
What do you cook on your day off?
I love to cook for my kids.
It's either their favourite Italian meatball sauce with spaghetti (it's Spiderman's favourite, according to them!) or a simple vanilla sponge tea cake with chocolate icing.
Are you a beach or mountain person?
Beach for sure at the moment, mountains when I learn how to ski.
Your favourite city
London, New York, Paris and Los Angeles; I can't pick one!
What's your fragrance?
Chanel's Sycamore and Tom Ford Tobacco Vanilla - keep shuffling between these depending on my mood
You get your work clothes from
Abercrombie & Fitch, Vince, Rheory, Ralph Lauren, Donna Karan
The shoemaker you trust your sole with
The maestro, Christian Louboutin
Your favourite evening wear
Abu Sandeep for Indo-western and Alia
Your current set of wheels
The Range Rover Vogue.
But I want to get the Cadillac Escalade 2016.
God for me is...
My confidant, my guide
Favourite restaurant
Balthazar in New York, Koya and Chiltern Firehouse in London and Hotel Costes Courtyard in Paris
Your ideal holiday
Three weeks with my boys in a small town in Europe where we can be outdoors and in the wild.
I'd love to rent a beautiful house, take an exotic cooking course in the local cuisine and probably try learning a new sport with the kids.
Your ideal dance music
House, EDM, Alternative Rock
Alpha males you know
I admire my dad's strength, willpower and sensitivity.
My brother Zayed, for being the free spirited, happy trooper he is.
Your favourite motto
Follow your sunshine and it will lead you to your truest self.
Dare to dream and create your own magic, as it is meant to be.
Photograph: Abhijit Mhamunkar/Rediff Archives