It's the kind of collection we would keep our hands off!
At the recently concluded Milan Fashion Week, the audience was in a surprise as models presented creations from the Moschino's Autumn/Winter 2017 women's collection.
The designer, Jeremy Scott named the collection 'cardboard couture', and shocked everyone with a bubble wrap dress and a tissue box for a headgear, among other outfits.
The collection was inspired by a wealthy fashionista who suddenly goes broke and decides to make the best use of what she has in her home. The result is this collection!
Presenting 14 looks from the collection that encourages recycled fashion.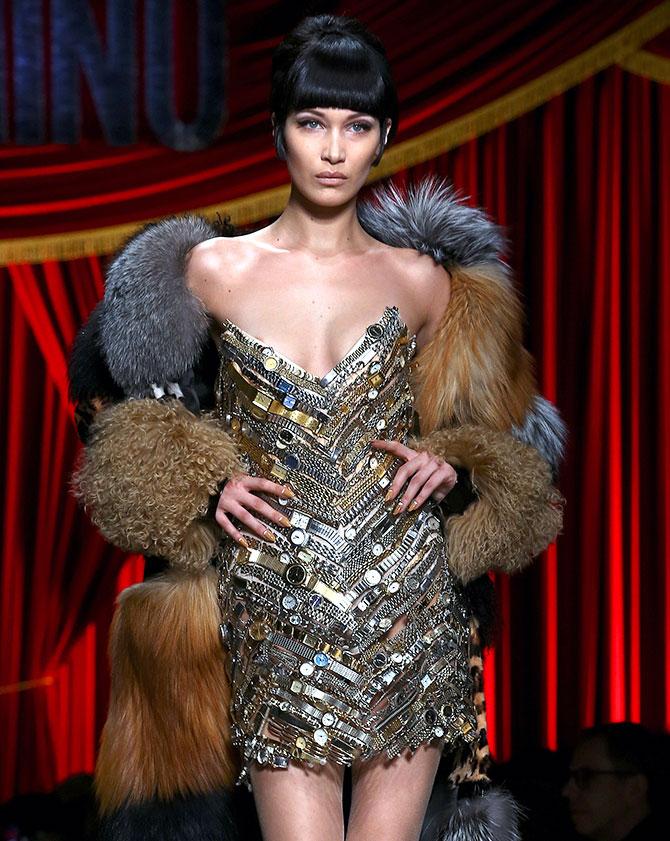 IMAGE: Bella Hadid models a dress made of watches.
Photograph: Stefano Rellandini/Reuters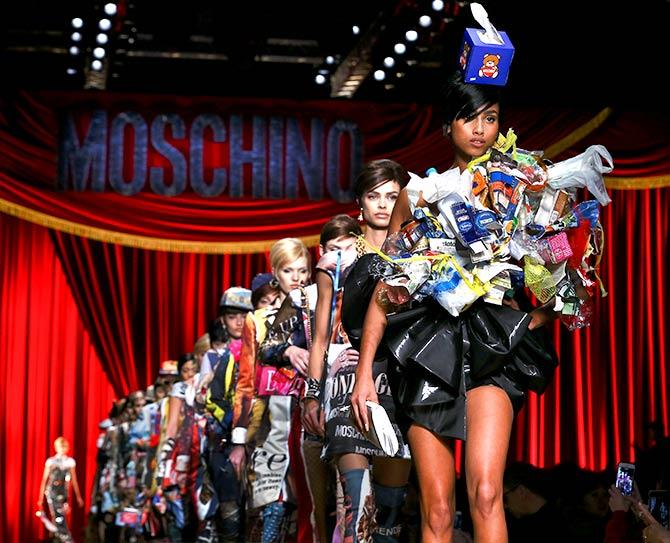 IMAGE: A Moschino creation made of several wrappers. The designer made his models parade down the ramp in 'garbage couture'.
Photograph: Stefano Rellandini/Reuters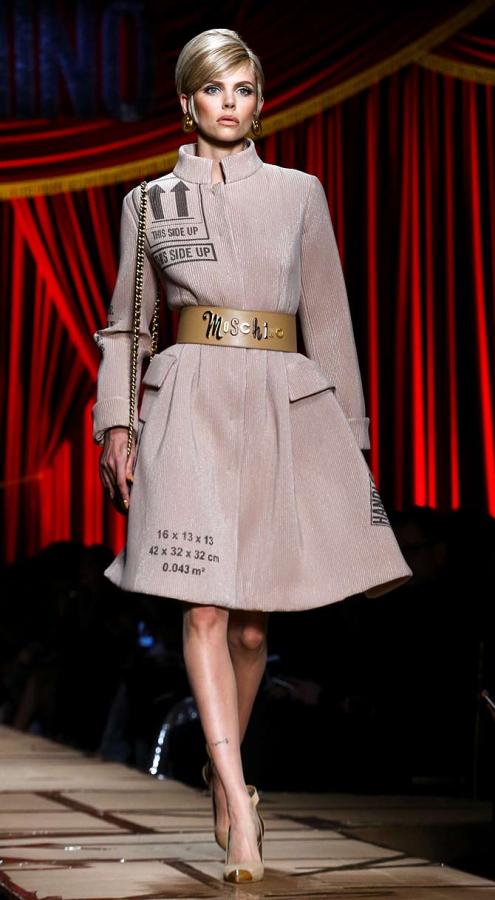 IMAGE: Inspired from a cardboard box, this outfit needs to be 'handled with care'.
Photograph: Stefano Rellandini/Reuters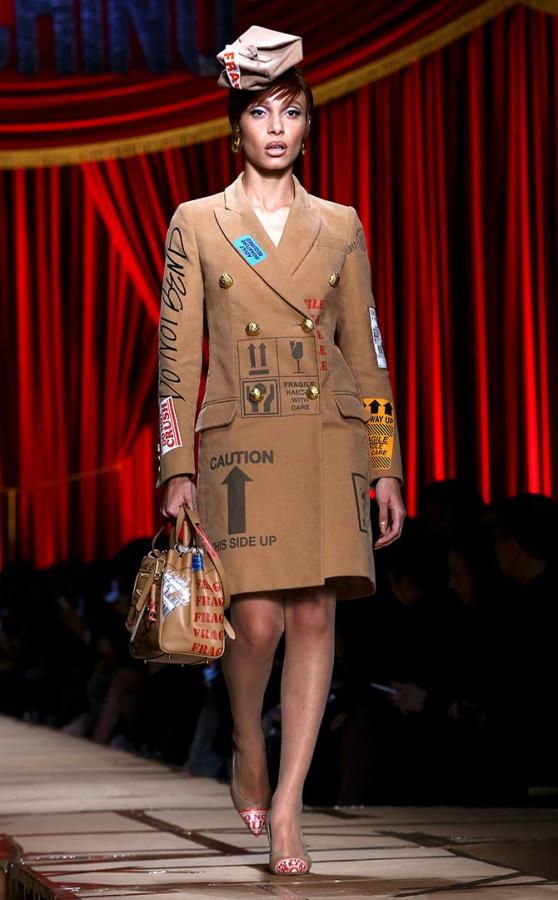 IMAGE: Yet another cardboard box inspired outfit paired with a hat and handbag that read 'handle with care'.
Photograph: Stefano Rellandini/Reuters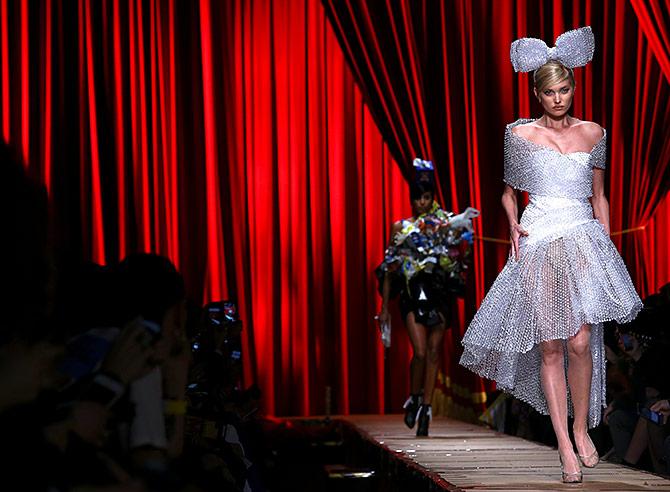 IMAGE: Will this bubble wrap dress pop any moment?
Photograph:

Stefano Rellandini/Reuters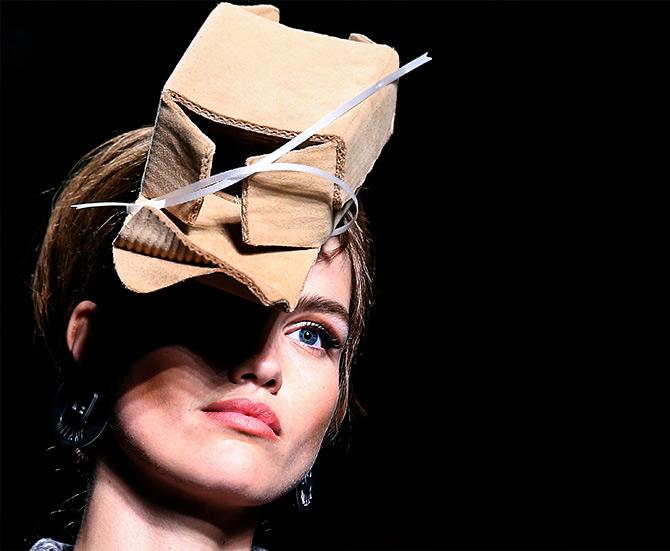 IMAGE: How about a hat made of cardboard?
Photograph:

Stefano Rellandini/Reuters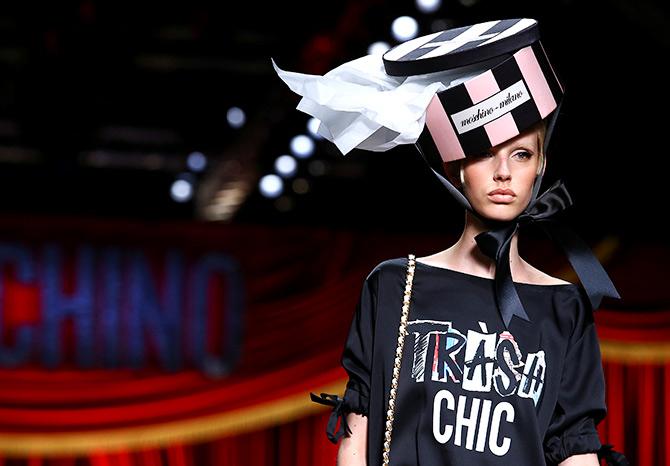 IMAGE: Won't a tin box make for a splendid hat too?
Photograph: Stefano Rellandini/Reuters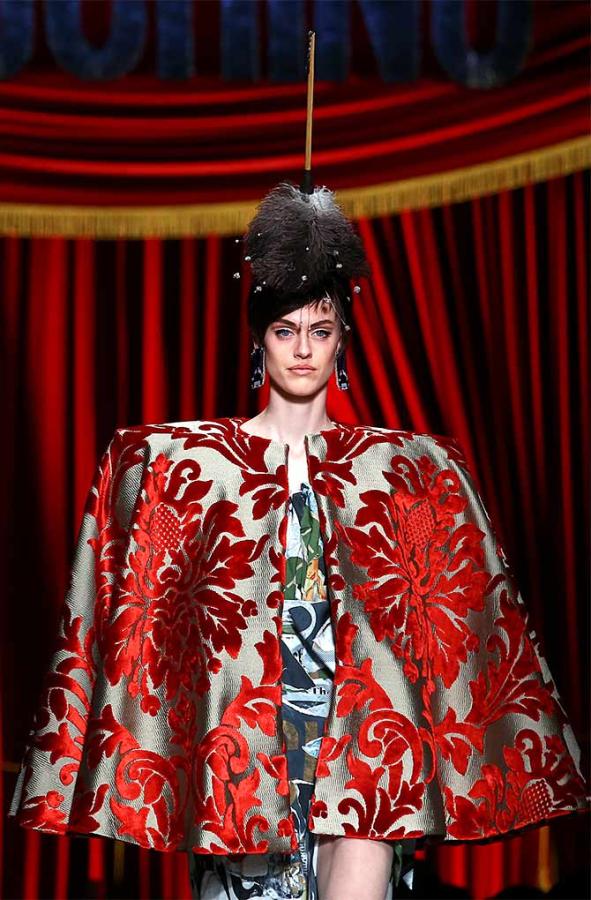 IMAGE: Can't say much about the mop that doubled up as a headpiece!
Photograph:

Stefano Rellandini

/Reuters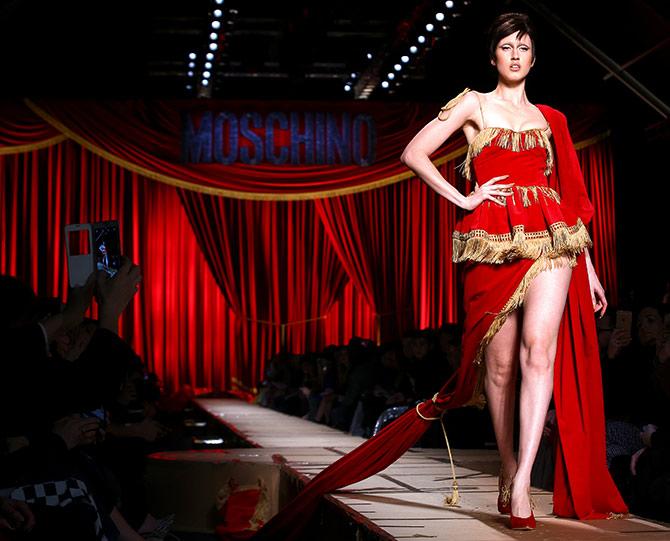 IMAGE: This model brought the house down with an outfit made from curtain cloth.
Photograph: Stefano Rellandini/Reuters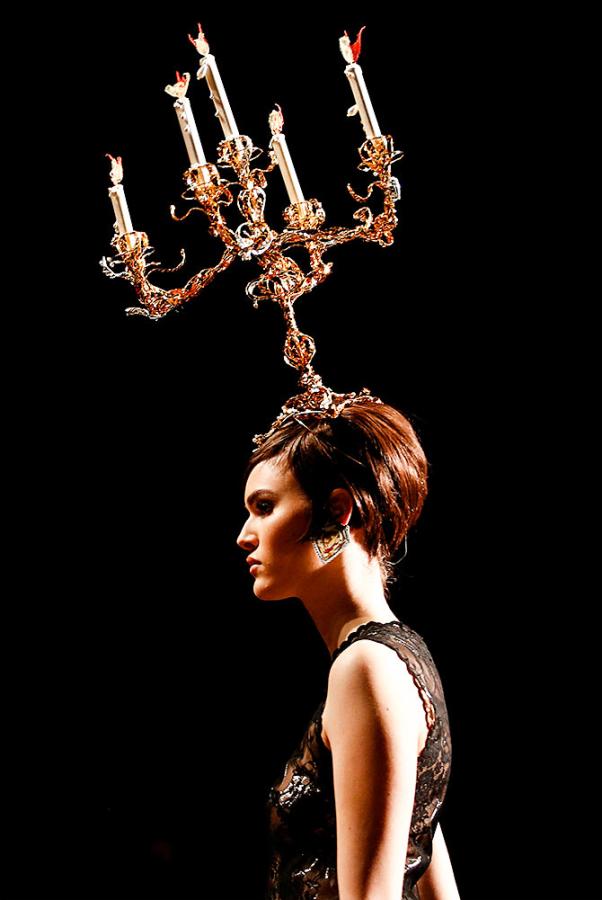 IMAGE: A candle stand is not the safest bet when it comes to head gears, right?
Photograph:

Alessandro Garofalo/Reuters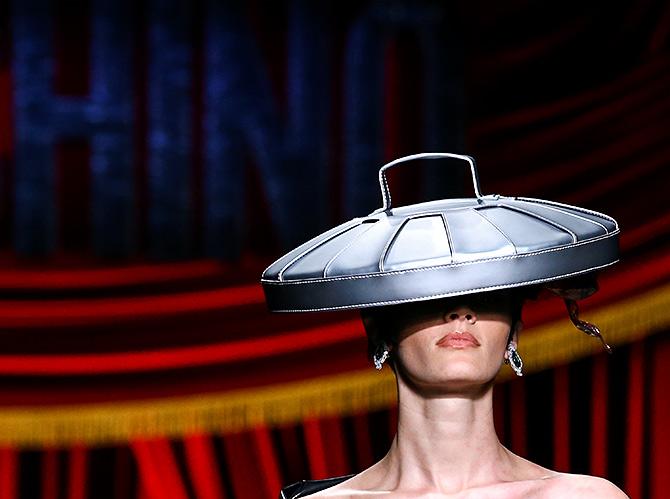 IMAGE: Is the designer sending out a strong message by thrashing the impressive collections that one usually sports on the runway?
Photograph: Stefano Rellandini/Reuters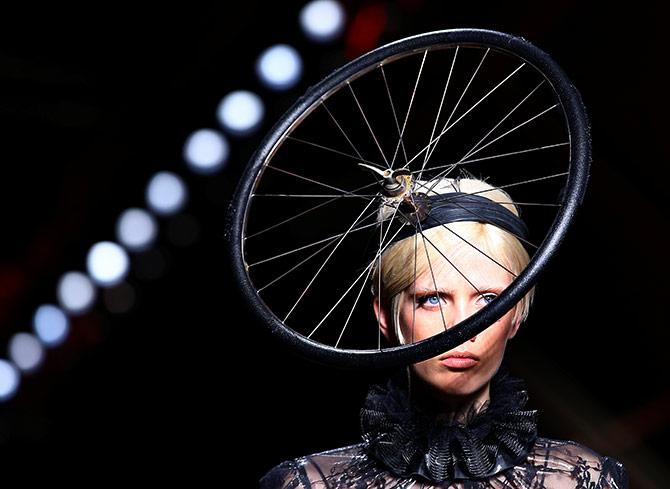 IMAGE: According to the designer, it's called the 'cycle of life'. What goes around (read garbage and waste), comes around too!
Photograph: Stefano Rellandini/Reuters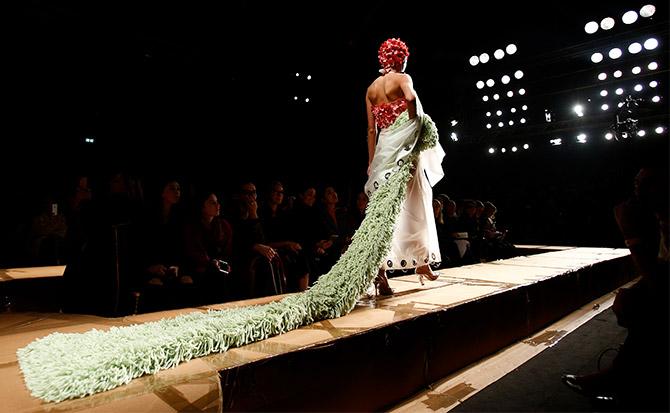 IMAGE: This rug served up as a cape.
Photograph: Alessandro Garofalo/Reuters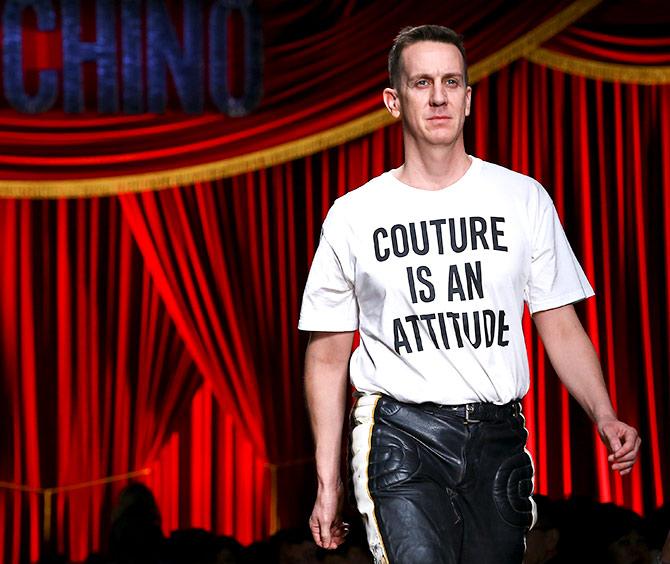 IMAGE: Take a bow Jeremy Scott for this powerful collection.
Photograph: Stefano Rellandini/Reuters