With trapeze artists, a brass band, Fellini flourishes and a romantic climax, Antonio Marras's Milan Fashion Week show was mind blowing.
Antonio Marras's Spring/Summer 2018 collection is inspired by filmmaker Federico Fellini's Juliet of the Spirits.
The movie starred Fellini's wife Giulietta Masina as a woman who turns to spiritualism to discover her husband's philandering.
All photographs: Andreas Rentz/Getty Images.
Antonio Marras's Spring/Summer 2018 show at the Milan Fashion Week was no mere ramp show. It was a theatrical production inspired by the famous Italian filmmaker Federico Fellini.
Held inside a gutted old opera house, which is now being renovated, Marras presented his collection through models, actors, dancers, an aerialist and even a brass band.
'He built a window into Fellini's world, making the great maestro a supporting player in a story about his muse, wife and love of his life, Giulietta Masina, an actress who was far from a great beauty like other Fellini muses,' WWD wrote.
'But when she was in the frame, she always stole the spotlight,' Marras told WWD. 'There is a Giulietta in every woman. So, it's a wide section of all different women who are in love and are loved.'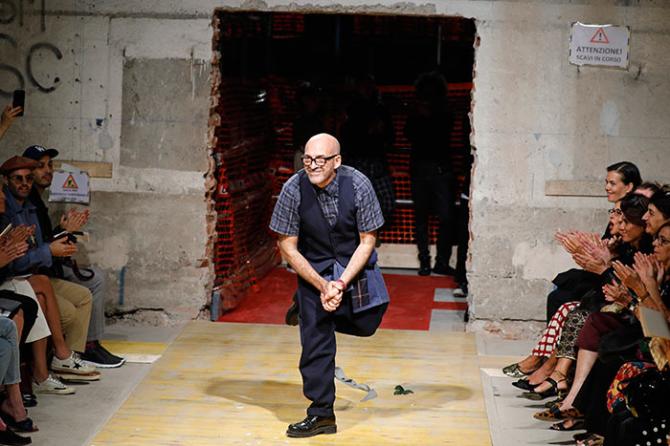 Designer Antonio Marras.
Framed by what fashion observer Jessica Iredale called 'his endless obsession with love stories,' Marras 'created a collection of character clothes, collages of archetypes -- the bombshell, the mousy eccentric, the boudoir baby doll, the sophisticate -- that added up to looks for a woman who is an original.'
Every model who came down the ramp as a character -- not as a clotheshorse -- ending the show with lots of kissing and a live band.
The production was fun. The collection was real. And the world of fashion hasn't stopped raving about it
This time, we bring you not the fashion but the magical madness on the ramp...