US First Lady Michelle Obama made a fashion statement in a Kashmiri embroidered creation by Indian-American designer Naeem Khan.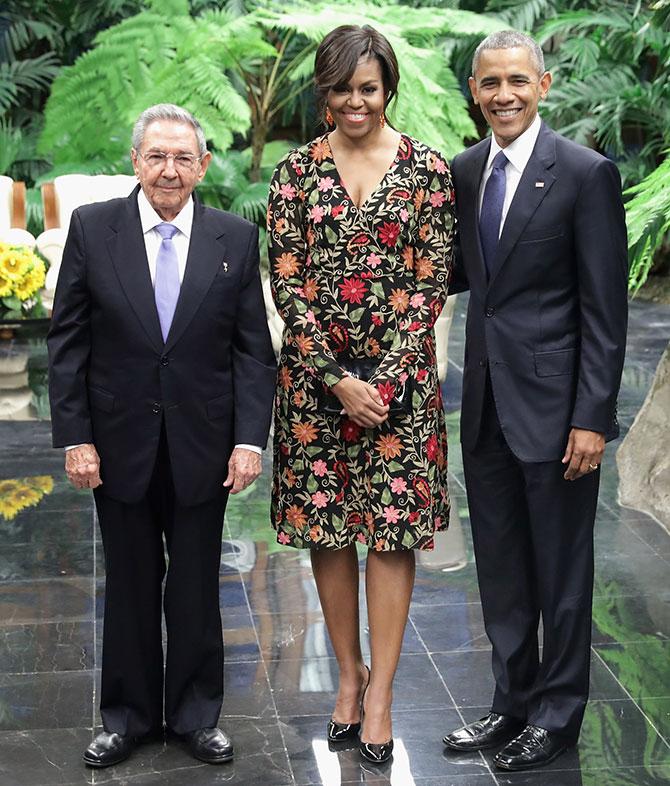 Image: Cuban President Raul Castro (extreme left) poses with U.S. first lady Michelle Obama and U.S. President Barack Obama before a state dinner at the Palace of the Revolution March 21, 2016 in Havana, Cuba. Photograph: Chip Somodevilla/Getty Images
US First Lady Michelle Obama opted for Kashmiri embroidered dress by Indian-American designer Naeem Khan at the Cuba state dinner.
President Barack Obama, the first lady and their daughters arrived in Havana, the capital of Cuba, on Sunday. Khan said that the dress, which the First Lady selected for the Cuban dinner, was made from a Kashmiri fabric embroidered with an Indian floral motif and it is similar to the one from his pre-fall collection, reported the New York Times.
"I had sent her a couple of different things. I had no idea. You never know what she is going to wear. I guess I got pretty lucky," Khan said.
The designer is responsible for some of Michelle's best looks, including the gown she wore to a state dinner in India in 2009.
He seems to have become a family favourite: The first daughters Malia and Sasha Obama wore Naeem Khan dresses for their first appearance at a state dinner in Canada this month.
ALSO READ:
© Copyright 2022 PTI. All rights reserved. Republication or redistribution of PTI content, including by framing or similar means, is expressly prohibited without the prior written consent.