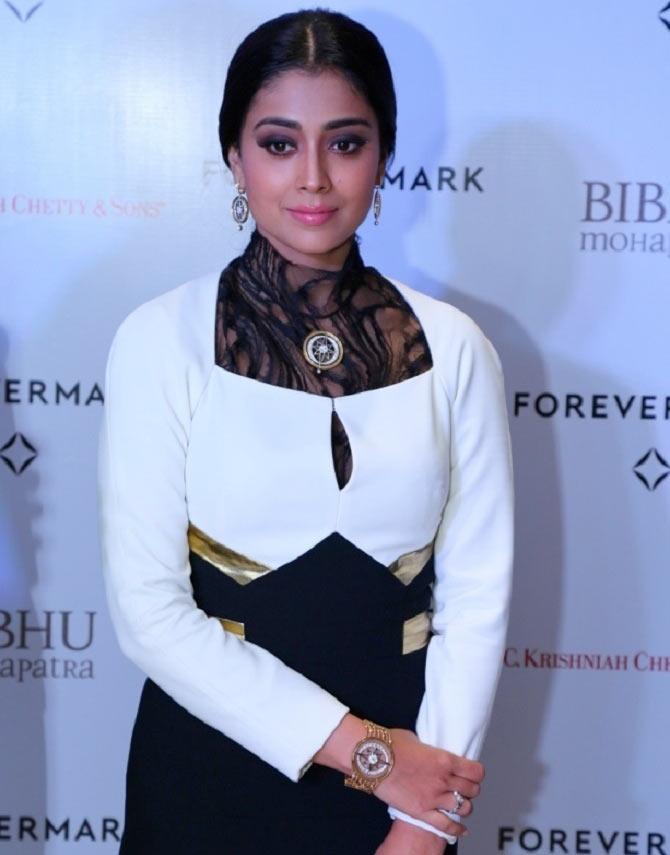 Designer Bibhu Mohapatra has another feather in the cap!
He has now launched a new line of timeless and contemporary diamond jewellery, inspired by his childhood memories.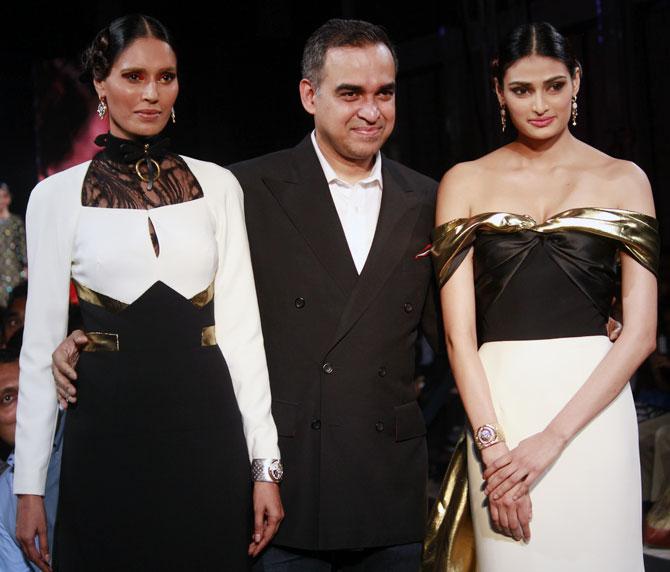 IMAGE:
Bibhu Mohapatra with Ujjwala Raut and Athiya Shetty at the launch of his jewellery line in Mumbai.
Photograph: Hitesh Harisinghani/Rediff.com
Like most of his work, Bibhu Mohapatra's designs carry a whiff of his childhood memories.
He must have been 14 when his mother took out a red bundle containing the family's heirloom jewels. "That memory is the most beautiful thing. When I touched those pieces, I felt that they were all eager to tell stories of women who had worn them in the past," says Mohapatra, who grew up in Rourkela, Odisha, and is today a known name in international fashion.
It is these memories that he has set in stone in his first-ever jewellery collection, Artemis, created for Forevermark India. "It was important for me to create jewellery that will live on through generations. A great-granddaughter might tell stories of her great-grandmother while wearing the piece," he says.
As someone who has dressed celebrities such as Gwyneth Paltrow, Hilary Swank, Glenn Close and Michelle Obama in the past, Mohapatra felt that the time was right for his brand to be extended to jewellery.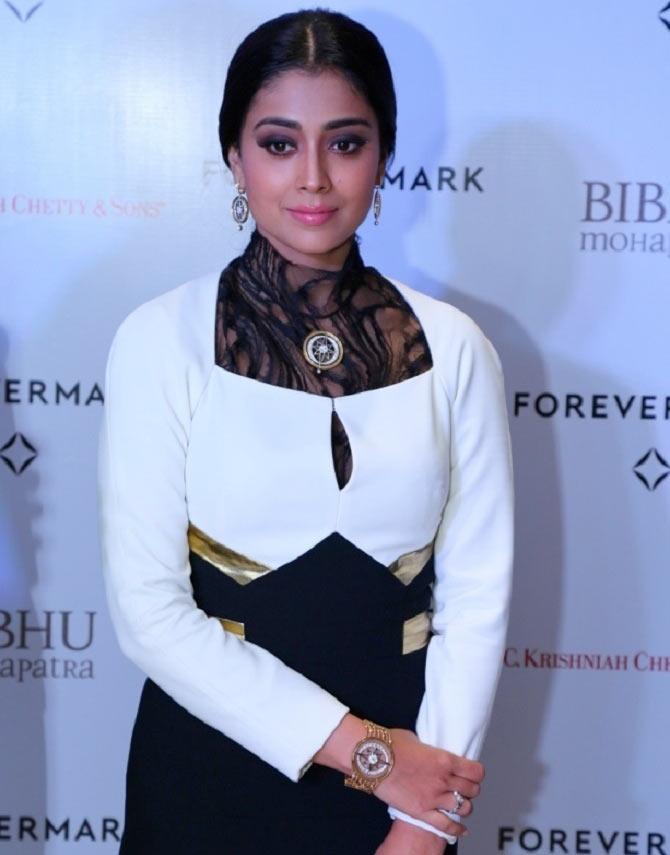 IMAGE: Actor Shriya Saran dons a few pieces of diamond jewellery -- earrings, brooch and bracelet -- from Bibhu Mohapatra's 'Artemis' collection. Photograph: Kind Courtesy Actimedia
A friend, who knew of his wish to dabble into fine jewellery, introduced him to Sachin Jain, President of Forevermark India, and the two exchanged a volley of ideas over coffee during Mohapatra's visit to Mumbai two years ago. "The idea was not to create just a one-off piece but a collection that could have a life longer than merely a season," he says.
The collection, which was launched in Mumbai recently, features earrings, rings, bracelets, pendants and brooches and makes use of three key motifs -- the sun, the moon and the stars -- with an exquisite diamond at the centre of the setting.
"It was critical that the core of the collection be inspired by my heritage. So, I looked into ancient Vedic scriptures that describe the alignment of the sun, moon and the stars," he says. "It's also about how these celestial bodies influence the way two people interact and how their bond is formed."
Though Mohapatra's couture label is known for exclusivity, he has tried to make his jewellery collection more inclusive and affordable. With pieces costing Rs 2 lakh upwards, he has tried to keep the price point accessible.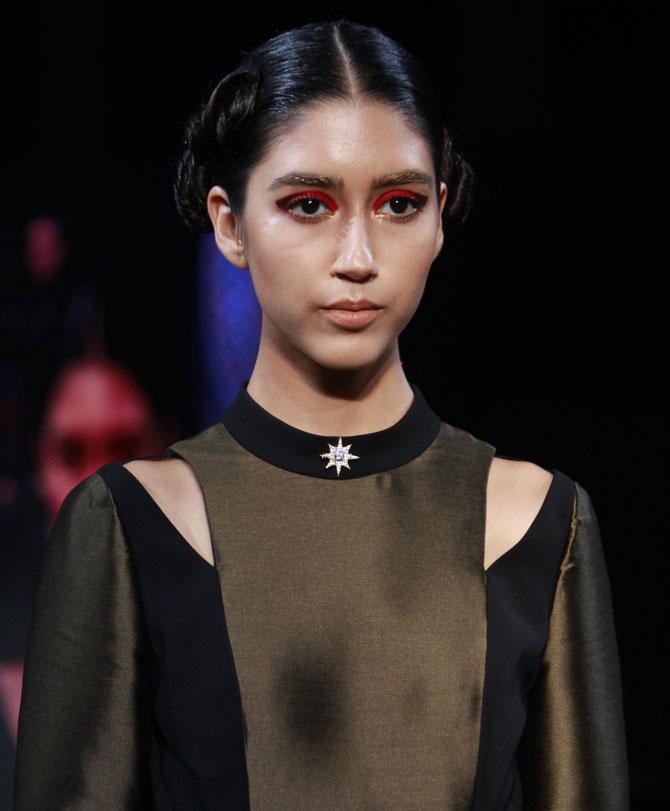 IMAGE:
A models shows a diamond star brooch at the launch of Bibhu Mohapatra's jewellery line.
Photograph: Hitesh Harisinghani/Rediff.com
There is a story running through each sub-collection within Artemis, and one has an option to get a piece in white, yellow or rose gold. "It's about giving people choices. That's what keeps a brand relevant, and not a collection that only some people can afford," says Mohapatra.
Those who have seen the collection notice his trademark blend of the West and the East in Artemis as well. "The collection is modern, wearable and borrows from his eastern heritage, which he has always been proud of and inspired by," says Simran Arya, former stylist with Elle and now owner of the designer label, Carousel.
The intention was always to make Artemis a versatile collection.
"We didn't want to create pieces that come out of the locker just three times a year. You can wear these pieces through the day, with denim jackets and jeans or with cocktail dresses," says Mohapatra, who took three to four months during the first round of the designing process -- from the concept to the sketches. After getting technical feedback, it took another six months to get the designs right.
Creating Artemis has been a huge learning process for Mohapatra. "Firstly, I have so much respect for diamonds now. Also, I got to learn about the technical side of creating jewellery, be it getting balance in a design or adding value and quality to it," he says.
ALSO READ
The designer who dressed Michelle Obama