The weekly fashion round-up, where we bring you the latest on supermodels, style, designers and everything in between.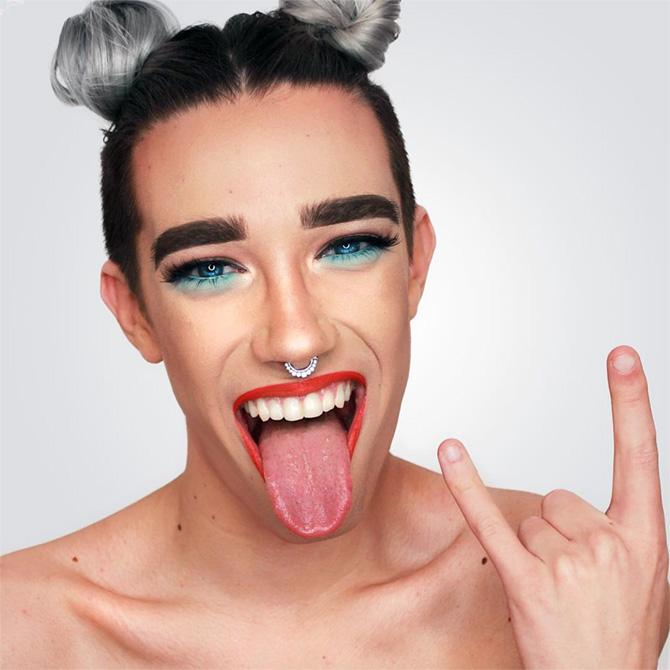 Photograph: Kind Courtesy James Charles/Instagram
James Charles, a 17-year-old New York based make-up artist has become the first-ever cover boy for CoverGirl magazine.
Singer Katy Perry announced the news on Instagram. "Just wrapped another great @CoverGirl shoot. Honoured to have the pleasure to announce the very first COVERBOY, James Charles! Follow him @JCharlesBeauty!" she captioned a pic of her along with James.
James who was equally excited about the opportunity told fans on Instagram, "I can finally announce that I am officially a new @COVERGIRL. First boy ever and I am so excited to see what's coming!"
In the past Sofia Vergara, Katy Perry, Pink and Zendaya have featured on the cover. However, this marks the first time a non-celebrity is gracing the cover! Good luck James!
*****
It's a baby boy for Candice Swanepoel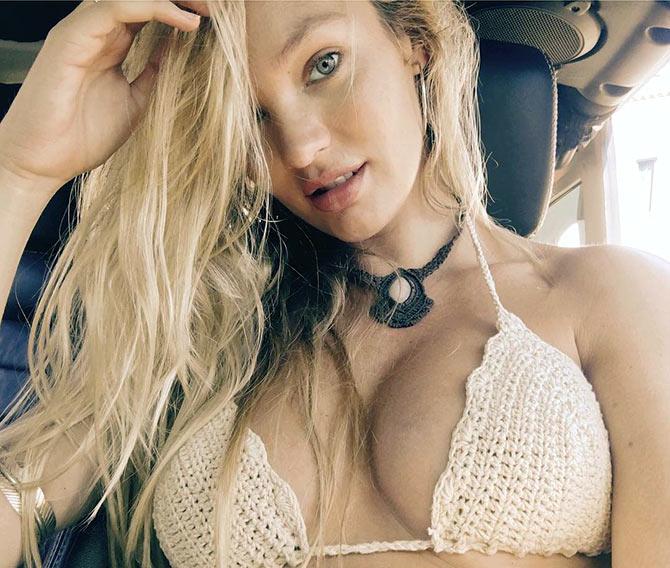 Photograph: Kind Courtesy Candice Swanepoel/Instagram
The Victoria's Secret Angel, 27, gave birth to a son named Anaca, her first child with fiance Hermann Nicoli, according to E! News.
Candice's photographer friend Jerome Duran confirmed the news on social media, by sharing a photo of the stunner's pregnant belly and sending his congratulations.
"THE MOST BEAUTIFUL MAMA Congratulations!!," he wrote in the caption. "@angelcandices @hermannicoli Welcome Anaca!!! Already sooo much LOVE for you and the new family!"
Candice and Nicoli have been dating for over 10 years. The South African model fell in love with the Brazilian hunk when she was just 17 after meeting in Paris, France.
Candice and Nicoli have shared the first picture of their newborn son.
The 27-year-old model and Nicoli welcomed their first child together on Friday, October 7, and one day later Swanepoel took to Instagram to post a sweet black and white picture of the tot, reported Female First.
She captioned the image, "Life is sweet". Nicoli shared the same picture and wrote, "Meet our little Angel, Anaca. Much love for our baby boy and you, Mommy."
The Victoria's Secret beauty and Hermann, 34, have been together for 11 years and got engaged last year.
*****
Victoria Beckham: 'I have a family that really supports me'
Photograph: Alberto E Rodriguez/Getty Images
Fashion designer Victoria Beckham has been "inspired" by her husband David Beckham's incredible work ethic.
The 42-year-old businesswoman started designing fashion collections in 2004 when she launched her debut clothing line VB Rocks for the label Rock & Republic.
She said she is really proud of her achievements, but she wouldn't be where she is at the helm of the fashion industry without the great people around her, including her spouse who has largely influenced her career because of his incredible work ethic, reported Contactmusic.
Victoria, who has sons Brooklyn, 17, Romeo, 14, Cruz, 11, and five-year-old daughter Harper with the former England football captain, said: "I'm really proud of everything I've achieved, but I haven't done it on my own - I have great people around me; I have a family that really supports me.
"I couldn't do any of this if it wasn't for David; he is such a supportive husband and someone who inspires me so much. His work ethic is incredible, and he is the most fantastic husband and devoted father.
"I think you have to (empower) yourself, rather than rely on other people to do that. It's great to get a compliment from your husband, or your kids, or another woman, but you also have to make yourself feel good too."
*****
Really! Is Kris Jenner is paying Tyga's debts?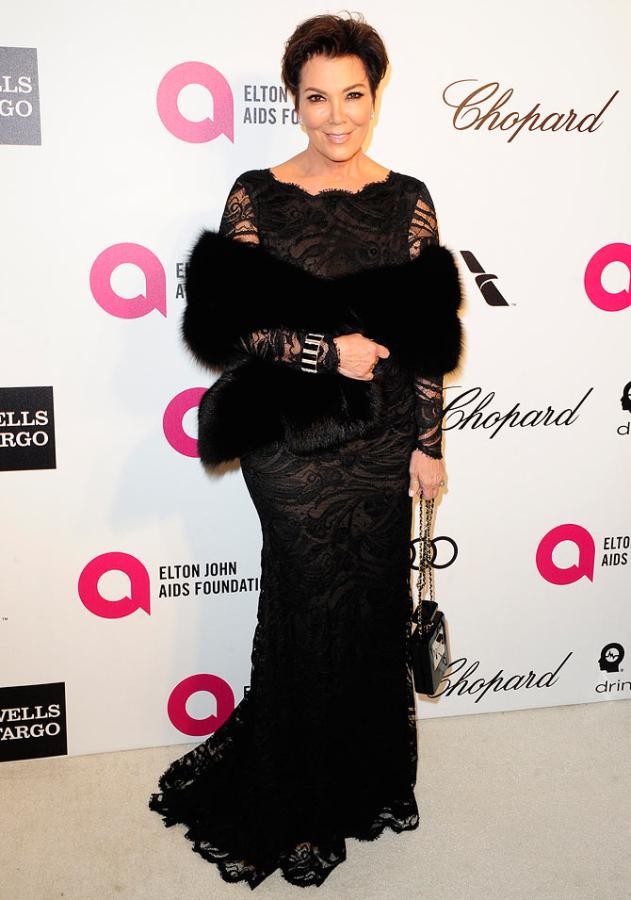 Photograph: Gus Ruelas/Reuters
Reality TV personality Kris Jenner is reportedly paying her daughter, Kylie's boyfriend debts in order to keep her out of legal problem.
The 60-year-old star is even willing to support her daughter's relationship with Tyga by paying all his debts, as the rapper is constantly making headlines for his financial crisis, reported AceShowbiz.
"If Kris pays up, the suits go away. Otherwise, both he and Kylie will have to testify about his finances. And if they don't, they could get arrested. Kris isn't going to let that happen," a source said.

The source added that Kris also helped the 26-year-old rapper to persuade him to stay with Kylie, 19.

"Kylie wants to marry Tyga, but the only way Kris could get him to totally commit to her was to basically pay him off. Kris said that after she pays his debts, he doesn't get another dime from the family," the source said.

*****
Miley Cyrus: 'I didn't understand my own gender and sexuality'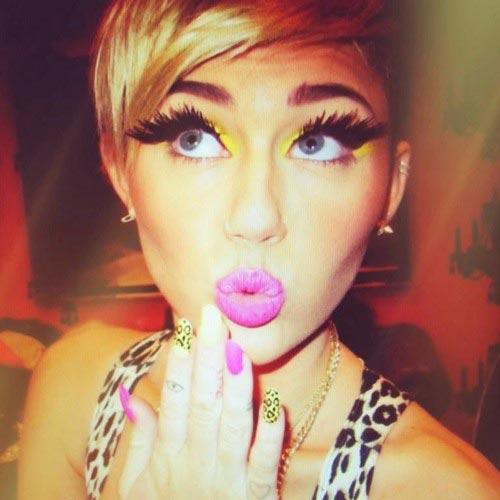 Photograph: Kind Courtesy Miley Cyrus/Instagram
Singer Miley Cyrus says she has never been able to understand her own sexuality.
The 23-year-old singer revealed that her first ever relationship was with a woman, reported Variety.
"My whole life, I didn't understand my own gender and my own sexuality. I always hated the word 'bisexual', because that's even putting me in a box.
"I don't ever think about someone being a boy or someone being a girl. My eyes started opening in the fifth or sixth grade. My first relationship in my life was with a chick," she said.
Earlier, Cyrus declared herself pansexual, explaining she was "open to every single thing that is consenting and doesn't involve an animal and everyone is of age."
Cyrus, who also works as an advocate of LGBT community, said her decision came from visiting those centres and meeting individuals who had similar experiences with their sexualities.
Discussing her relationship with Liam Hemsworth, Cyrus said, "Even though I may seem very different, people may not see me as neutral as I feel. But I feel very neutral. I think that was the first gender-neutral person I'd ever met.
"Once I understood my gender more, which was unassigned, then I understood my sexuality more. I was like, 'Oh -- that's why I don't feel straight and I don't feel gay. It's because I'm not," she added.
*****
Did you hear: Selena Gomez is back in rehab!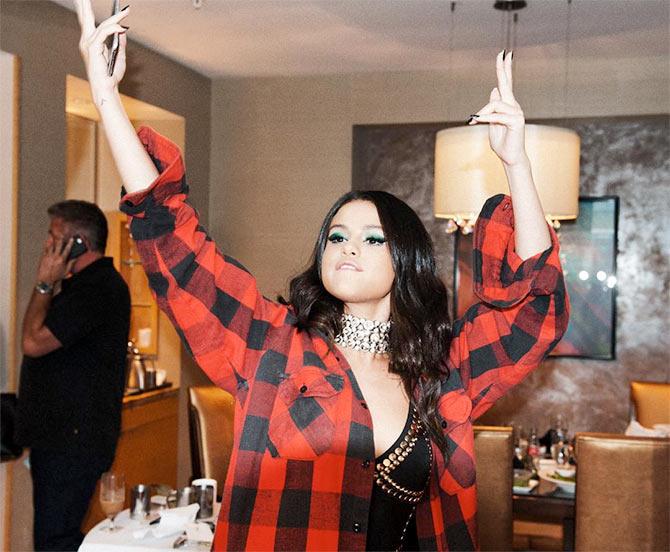 Photograph: Kind Courtesy Selena Gomez/Instagram
Singer-actress Selena Gomez has reportedly checked in to a rehabilitation centre in Tennessee, US to deal with issues related to her battle with lupus.
The 24-year-old who was diagnosed with the autoimmune disease in 2014, announced in late August she was taking an indefinite break from her world tour in order to focus on getting well.
She has been maintaining a low ever since. Sources have revealed that Gomez has been spending time at a private treatment facility just outside Nashville, where she is attempting to conquer the anxiety, panic attacks, and depression she has been suffering as a result of her lupus struggle.
"Selena is dealing with lupus, but this break is to focus on her mental health," a source said.
The rehab visit marks her second round of treatment, after previously cutting short a 2014 tour of Australia and checking in to the Dawn at The Meadows facility in Arizona to receive professional care and undergo chemotherapy.
Gomez didn't reveal her secret health battle until October, 2015, when she released her album Revival.
*****
Cara Delevingne opens up about her 'hero'
Photograph: Michael Buckner/Getty Images
Cara Delevingne has lent her support to Angelina Jolie by choosing the actress as her "hero" for the Girl Up campaign.
The 24-year-old star took to Instagram to stand in solidarity for Jolie, 41, who split from her husband Brad Pitt last month.
"My admiration for Angelina Jolie is endless. I also admire anyone who transforms their pain into power. I admire unruly activists. I admire her continued involvement with the UN as a goodwill ambassador.
"She is ruthless, determined and unforgiving in her efforts to make a difference for refugees. She also inspired me to follow my dreams into acting and have higher goals of one day becoming a director," she wrote.
Delevingne went on writing, "I have chosen her as my #GirlHero today! Take action today with @girlupcampaign and let me know who your #GirlHero is.... (sic)"
The Girl Up campaign is run by the United Nations Foundation. It aims to engage with girls and get them to take action and stand up for their rights.
*****