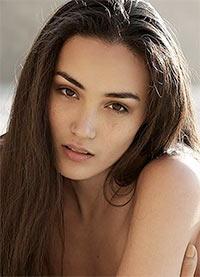 "That's where he drew the line," says New York model Tiffany Hirth in this animated chat.
Rediff.com's Rajesh Karkera had an animated chat with this American model.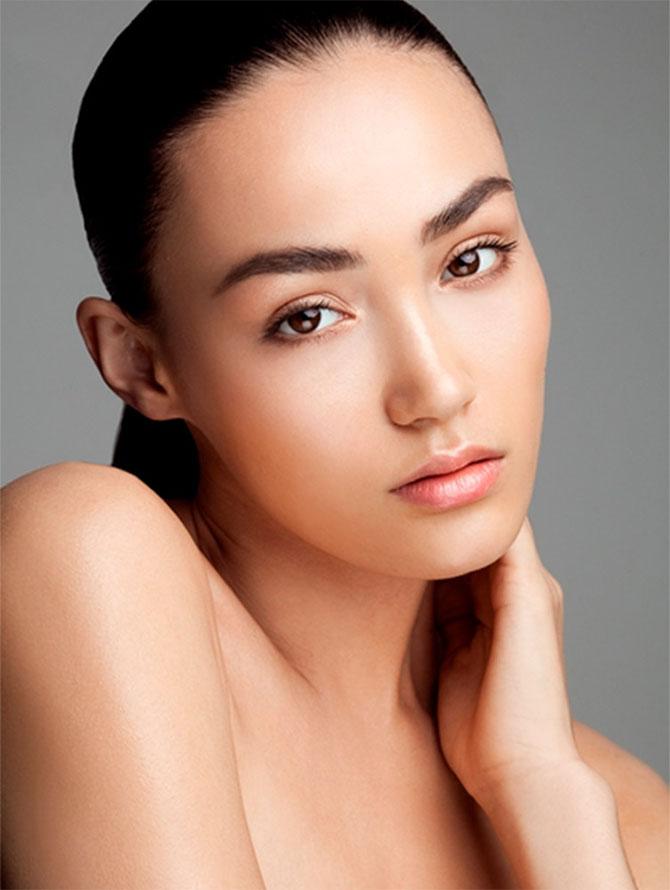 Tiffany is proud of her body and knows how to take criticism in her stride. Photograph: Kind Courtesy Tiffany Hirth/Anima Creative Management
Sitting in a corner of the dressing room at Lakme Fashion Week is a slim, fair girl. Definitely a model!
With distinct Asian features, she blends in completely with the other models, making it harder for anybody to guess her country of origin.
Walk up to her and she goes, "I am Tiffany Hirth, from Portland, New York."
"I am a first time model at Lakme," she says oozing confidence.
Born to a Japanese mother and an American father, Tiffany will be walking at Sabyasachi Mukherjee's grand finale on Sunday, August 28.
"It's my first time in India. I'm still adjusting. It's a lot different here from New York. But I have liked it so far. I'm just trying to get used to it," says the 5'10" model.
Rediff.com's Rajesh Karkera got the American model into an animated chat.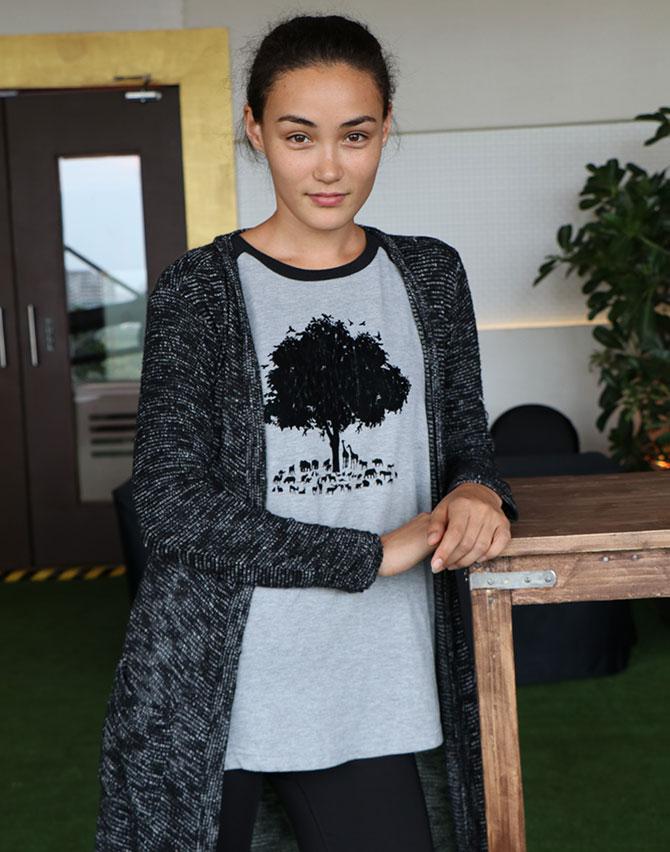 Tiffany's style is minimalist, here she is at the Lakme winter/festive event venue in Mumbai. Photograph: Rajesh Karkera/rediff.com
How did modelling happen?
I had a photographer friend, with whom I was shooting for fun. He happened to send my pictures to an agency and they signed me.
How did Lakme happen?
Since two months I am with Anima Creative Management. My agency sent me here to do some photoshoots for a book; and when they submitted my photographs to Lakme, I got selected. Though I'm not in the normal pool of models, I'm walking five shows this season, two of them with Atsu and Manish Malhotra.
How is your career shaping up?
Modelling is not just fun and glamour as everyone always thinks it is. You have to put in a lot of hard work. You have to watch what you're eating, keep working out, and be extra attentive to skin care.
But I really like it. It's fun doing all this and it helps me keep fit too.
Tell us about your parents and their opinion about your career
My mom's Japanese and my dad's American, but my grandmother was German. So, my dad's half German as well :-).
My dad was okay with me being a model but he straight away said I can't do Playboy. That's where he drew the line.
Both my parents are very supportive about my career choice. They told me to do whatever I want so long I liked doing it and I succeed in it.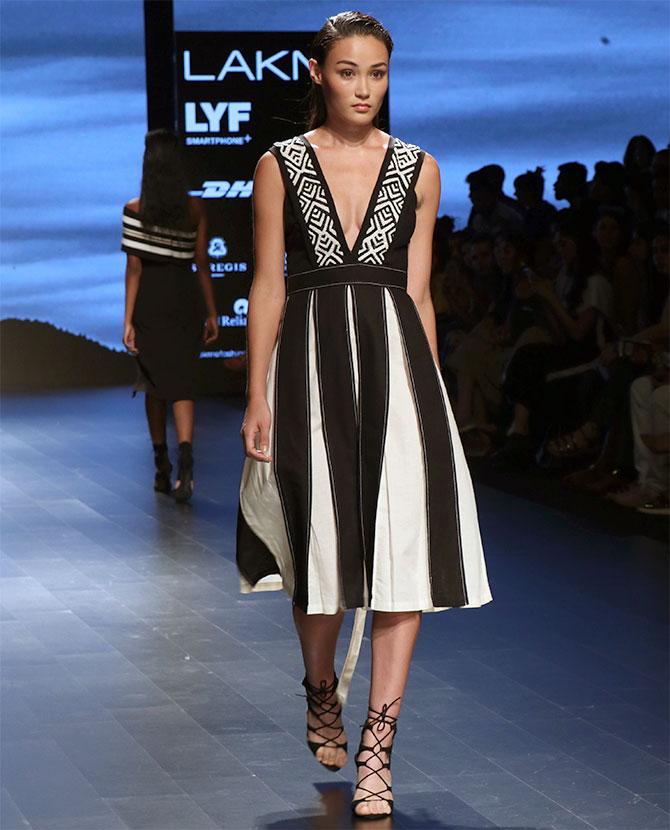 Tiffany showcases a plunging neckline dress from Atsu Sekhose's winter/festive collection. Photograph: Hitesh Harisinghani/rediff.com
Your first salary: What did you do with it?
I think it was in Portland. I did this job where they flew me to Seattle and put me up in a hotel. It was so very exciting!
But I'm very boring with my money. I was then still in school and had these student loan to pay off. I'm still paying off my student loan.
Hopefully, I will save enough money and get an apartment in New York some day.
Most memorable show...
I've done some smaller shows back home in Portland, but this is like the most extravagant and biggest so far.
I think Lakme is going to be my most memorable one now.
Flip side to being a model...
There's a lot of pressure about how you look. Some people don't really take you seriously.
They think a model is a dumb person and not much fun to be with.
But I think the pluses outweigh the negatives.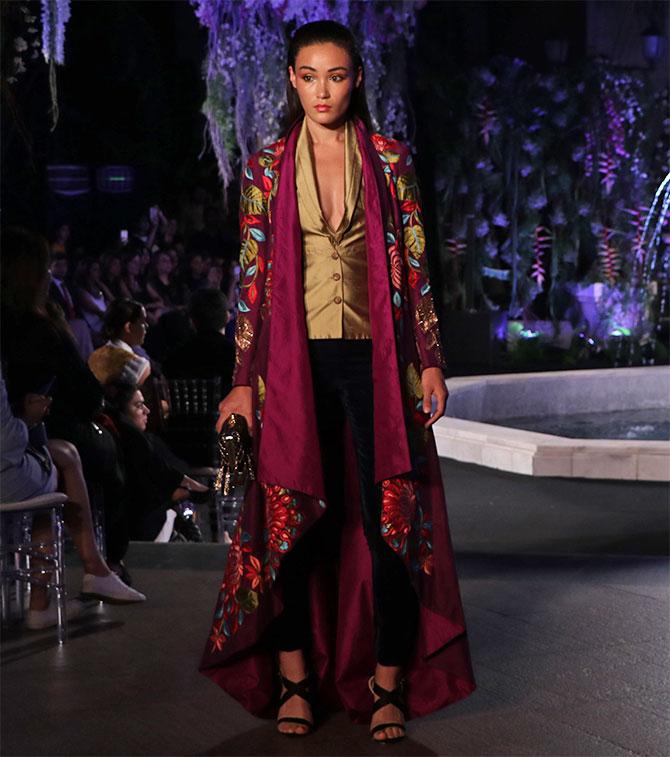 The international model can carry off just any outfit. Here she is modelling a Manish Malhotra creation. Photograph: Hitesh Harisinghani/rediff.com
Worst compliment/criticism you have ever received...
I get criticised for everything. You know in modelling it's not personal. But they do say things like 'you're not the right shape'; 'you're not the right height'; you're not the right type'.
There's always something wrong with you. Even if 95 per cent of the people love you, there will always be these 5 per cent who will have a problem with you.
It's just part of the job. They don't mean to offend you or hurt your feelings. No one is trying to make you feel bad; you just have to remember that.
And just realise that maybe you're not right for that one job but there will be like 50 other jobs which will suit you just right... maybe even better!
You just have to keep going.
How has your modelling experience in India been?
So far it's very good. Most girls here are very nice. I haven't had any problem really.
It's a little bit different here because the (cat)walk here is very different from what I'm used to in New York.
When I walked here for the first time they didn't really like it. So, I've been practicing to make it better.
How do you stay fit?
In New York I do boxing. I go to a boxing studio and do jump roping. Here, as I'm still trying to adjust to everything I haven't really hit the gym.
There's a gym near my house where all the girls go for yoga. I'll go join it once this crazy week is over.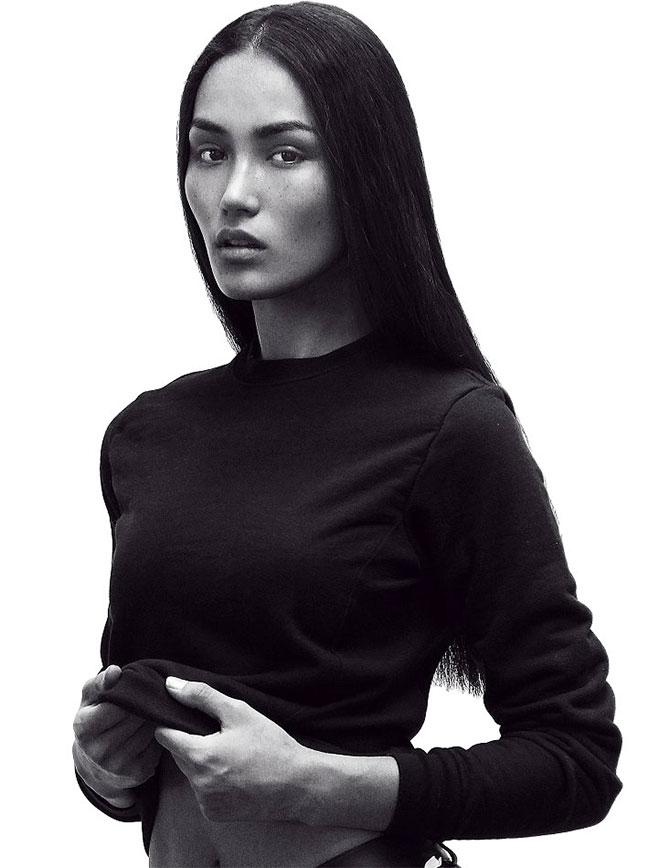 The American beauty likes to stay connected with her fans and friends on social media. Photograph: Kind Courtesy Tiffany Hirth/Anima Creative Management
Do you follow a diet?
Well, not really, but I try and eat healthy. I'm still like trying to adjust to the food here. Everything is so very spicy and different from what I'm used to.
I do like Indian food. But I also eat lot of yoghurt to mellow it down.
I eat everything that looks good to me. I don't even know how to pronounce it but I do go ahead and try it.
What are you looking forward to at Lakme?
I'm walking for the grand finale with Sa-bya-sa-chi. Am I pronouncing that right?
I'm really looking forward to it!
Lakme Fashion Week Winter/Festive 2016: Full Coverage
Check out sarees and accessories on Rediff Shopping!