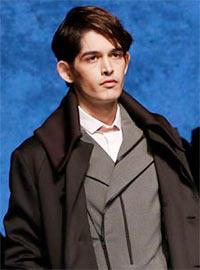 "Men, I think, are horny."
"Girls roam around late in the night without having a guy friend along. It's not their fault, I know.
"They can wear whatever they want. But the truth is, girls wearing short clothes attract men.
Lakshya Lather is just 20 but he knows when to take a stand, and when to say No.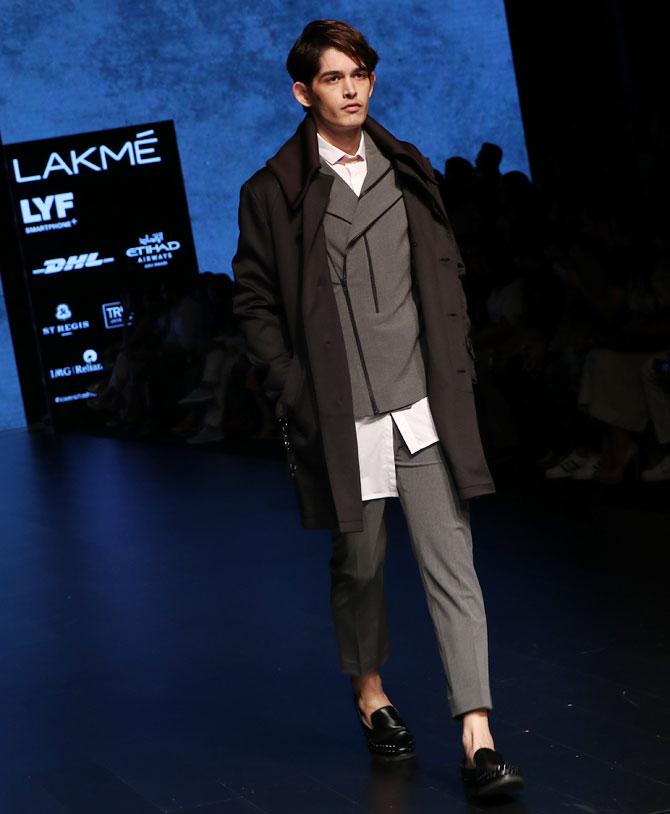 IMAGE: Lakshya Lather models for Sahil Aneja at the Lakme Fashion Week Winter/Festive 2016 in Mumbai. Photograph: Hitesh Harisinghani/Rediff.com
Karnal-born Lakshya Lather, 20, shifted to the city of dreams at a very young age.
Not very keen on studying, he wanted to become a model. And lady luck smiled at him!
A mainstream male model for a year with Lakme Fashion Week, Lakshya -- who's tall (6 ft 3 in), fair and handsome -- chats with Rediff.com's Tista Sengupta on how he became a model and how issues happening in and outside the fashion industry bother him.
How did you enter modelling? Tell us about your first break.
I started modelling at the age of 18. I took part in the Max Elite Model Look contest in 2014. I got through the finals, but unfortunately didn't get selected.
Marc Robinson was present at the contest and he spotted me. He called Daman Choudhury, the founder of Runway (an agency for stage and backstage management) who messaged me about brand Gas's show in Mumbai.
I went for the show. Daman later asked me to join their agency after the show. And I did.
And then…
I walked for two shows last year at Lakme Fashion Winter/Festive. I opened the show for designer Manish Malhotra and also walked for Abu Jani and Sandeep Khosla.
IMAGE: Lakshya walks for Abu Jani and Sandeep Khosla in 2015. Photograph: Kind courtesy Lakme Fashion Week
Did you face any difficulties during the initial days of your career?
Before I took part in the Max contest, my friends, girlfriend Aeshpriya and I have been thinking about how to get into modelling.
I started talking to several people, and they always said that it isn't easy.
Whenever I approached any agency, they'd ask me to send my portfolio pictures, but never responded. So I left it on time.
After six months I got a call from Daman. He is well-known in the fashion industry here.
He sent me for Manish Malhotra's auditions last year. Manish and fashion choreographer Lubna Adams took my auditions. I even auditioned for Abu Jani and Sandeep Khosla's show last year. I got selected in both.
How did your parents react?
My parents are pretty chilled out. They told me that whatever I do, I should give my best.
They never said no to modelling. They wanted me to study simultaneously while I did modelling.
I told them I didn't like studying. But I had to study. I gave up studies later.
Aren't you pursuing your studies now?
I studied Class 12 at Hansraj Moraji Public School in Amboli (in Andheri, Mumbai). After that I joined Thakur College, Kandivali, Mumbai to pursue BCom (Bachelor of Commerce). But studying isn't what I wanted to do. It was always modelling for me.
Do you think modelling is more important than good education?
No. Never!
Studying is very important. I respect people who are good in academics.
For me, it's just that I don't want to study right now. Perhaps, later I will. I plan to pursue a BA (Bachelor of Arts) course.
What was your first salary? What did you do with it?
I got Rs 15,000 from the Gas show. I gave it to my mother. In fact, I also told her that as I have started to earn, I would like to do what I want to.
How difficult is it for a male model to break into modelling?
Male models have to work really, really hard. Sometimes there is no work. And most models live on rent in this city. That's where it gets difficult for them. I am blessed to have a house here at least.
You have to groom yourself properly.
Remember, face doesn't matter, the aura does. You have to put forward your best personality to the designers.
What is the flip side of being a model?
If you don't walk properly and don't listen to the choreographer's instructions, you will be out of the game.
Were you ever asked to compromise for getting an assignment?
Yes I was. But I don't support all this.
I wouldn't take names but before Daman got in touch with me, I had met someone else.
He told me to get a room booked. I was asked to get physical with the designer.
I had to allow the designer to do whatever he wanted to. It was utter bullshit to me.
I told him that Lakme doesn't work this way. He said this is how modelling works. But I didn't believe him at all.
I told myself that I will have to struggle a lit more, but I was fine with it.
Such things happen even today. No one should get nervous.
Just speak your heart out and say what you feel. You just need to be straight-forward. But if you feel like doing it just for getting the job, it's up to you. I am not a big fan of this.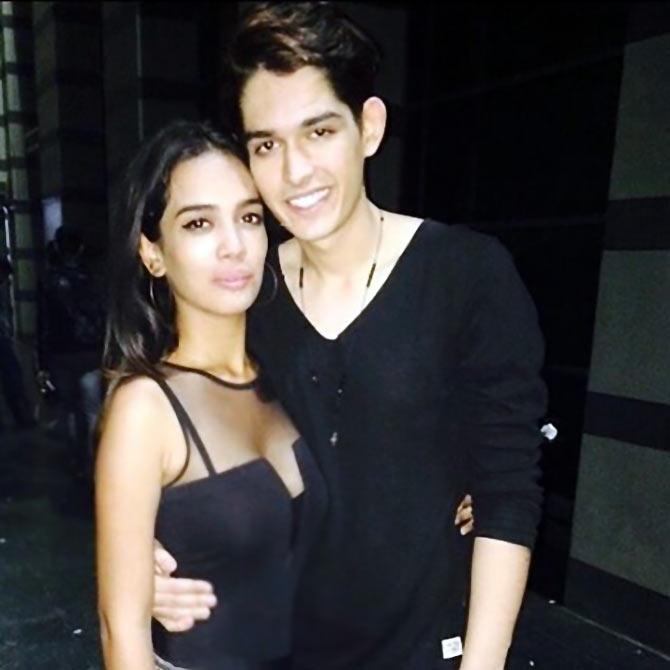 IMAGE: Lakshya with his girlfriend

Aeshpriya

Banerjee

. Photograph: Kind courtesy Lakshya Lather/Instagram
How do you stay fit?
I hit the gym every day for at least three hours. I do exercises for chest, biceps, butt, etc.
How do you take care of your skin?
I have a lot of pressed juices which keeps my skin healthy. I also have green tea and fruits. I have chicken too.
I don't enjoy eating out much, and only indulge in healthy foods like salads. But sometimes, I do have butter chicken (laughs)
So are you a foodie?
Oh yes! You should meet me after Lakme. I will be eating a lot then. But I also make sure that I work out at the gym for a longer time.
Do you save any money?
Honestly, I don't save any money. It's just been one year for me in mainstream modelling.
My parents don't sponsor me. I can take care of my expenses.
I give 30 per cent of my earnings to my mother and 20 per cent to the agency.
When you are not modelling, what do you do?
I spend time with family and friends. I go to the gym and keep grooming myself.
How many shows are you walking this season?
I haven't counted yet; 13 to 14 maybe. I got a letter from IMG and they said that I would be doing a maximum of 16 shows.
Your most memorable show is…
It has to be Manish Malhotra's 'The Gentleman's Club' collection show at Lakme last year.
Your favourite designer...
Manish Malhotra. I like his designs.
He is a very good person. He respects the models. He will treat you like his own family if he likes you.
Your favourite model…
Prabh Uppal. He has walked around seven seasons at Lakme.
For the last two seasons, I have been walking with him at main shows. So it's really great meeting him!
An upcoming movie Pink's trailer show how three women fight a battle against influential men who try to sexually assault them. What is your take on the reality?
I think you can't point out men alone. It's both ways now-a-days.
Men, I think, are horny. People who live in such areas need to be cautious. I have never been to such an area where something like a sexual assault or harassment has happened right in front of me.
I would have helped if I witnessed it.
Also, girls roam around late in the night without having a guy friend along. It's not their fault, I know. They can wear whatever they want. But the truth is, girls wearing short clothes attract men.
They should keep their friends and family informed if they are going to be late and at least have a pepper spray in the bag for protection. The best thing would be learn karate or martial arts.
Which shows are you looking forward to?
I am waiting for Sabyasachi's show. I will be walking for him for the first time. Hope everything goes well.
Give us some interesting dating tips.
I don't know exactly (laughs).
I think you just need to be good to her. Respecting her is very important. Give her your time, but not always, or else you will be taken for granted. Don't forget to live your own life.
How should a man dress for a date?
A black suit will look perfect for a date.
And for women..
A pretty red dress :)
Lakme Fashion Week Winter/Festive 2016: Full Coverage
Check out trendy outfits and accessories on Rediff Shopping!