Rediff.com's Hitesh Harisinghani captures a front-row view of the Day 2 finale of Lakme Fashion Week Summer/Resort 2018.
The day when Lakme Fashion Week was all about fashion with a conscience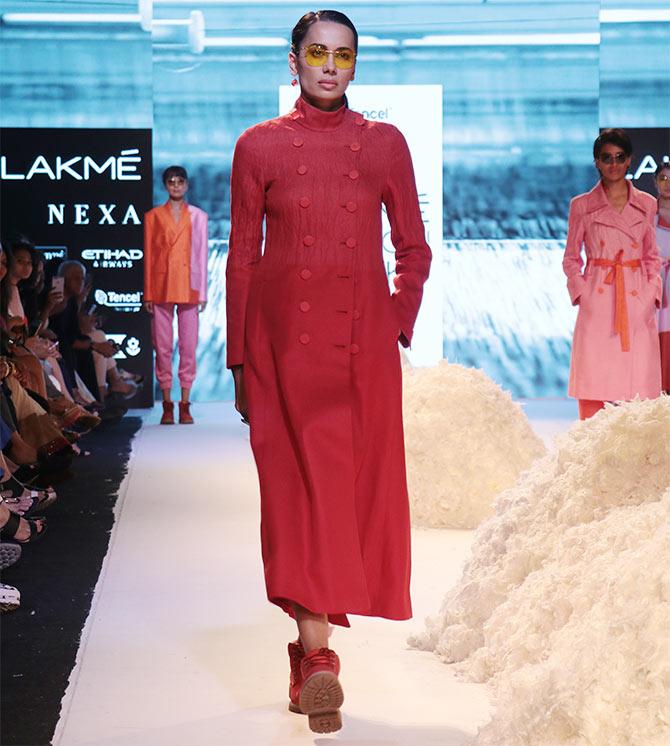 Rajesh Pratap Singh brought colour to a ramp that was dominated by nudes, blacks and whites yesterday, rounding off Day 2 of Lakme Fashion Week Summer/Resort 2018 on a high.
The designer stuck to the day's theme of sustainable fashion with his eco-friendly collaboration with Lenzing. He worked with the Austrain company's sustainable fabric, Tensel, which is made out of lyocell fibres that are 'extracted from natural raw wood', but churned out a collection dominated by the bright hues of summer.
'Sustainability is not about a certain type of colour palette,' Singh told the Press Trust of India on the sidelines of the Lakme Fashion Week. 'True sustainability will come through when everyone is involved. It can't be about some strange people wearing some strange clothes. It has to be inclusive and mass produced. It has to give us answers to the problems the environment faces... There's much more that can be done.'
The designer also said the concept of sustainability may sound good, but creating clothes that appear 'strange' in the name of the newest fashion trend made little sense to him.
He said, 'I just wanted to experiment with the fibre. I was just thinking that what could be the possibilities with it. Apart from the fact that Tencel's fibre is sustainable, it takes on the colour from the dye very well.'
Once the fabric is made, he added, it acquires 'an intrinsic, beautiful drape'.
The designer opted for a bold burst of colours for a collection that ranged from coats, snuggly lowers, pant suits, layered A-line dresses to shirts with gloves growing into sleeves.
The fabric and the fibre dictated the collection, not the other way around, he added.
Who knew an eco-conscious collection could be so much fun...