The diva's latest walk down the ramp will also stop your heart.
Photographs: Hitesh Harisinghani/Rediff.com
FULL COVERAGE: Lakme Fashion Week Summer/Resort 2018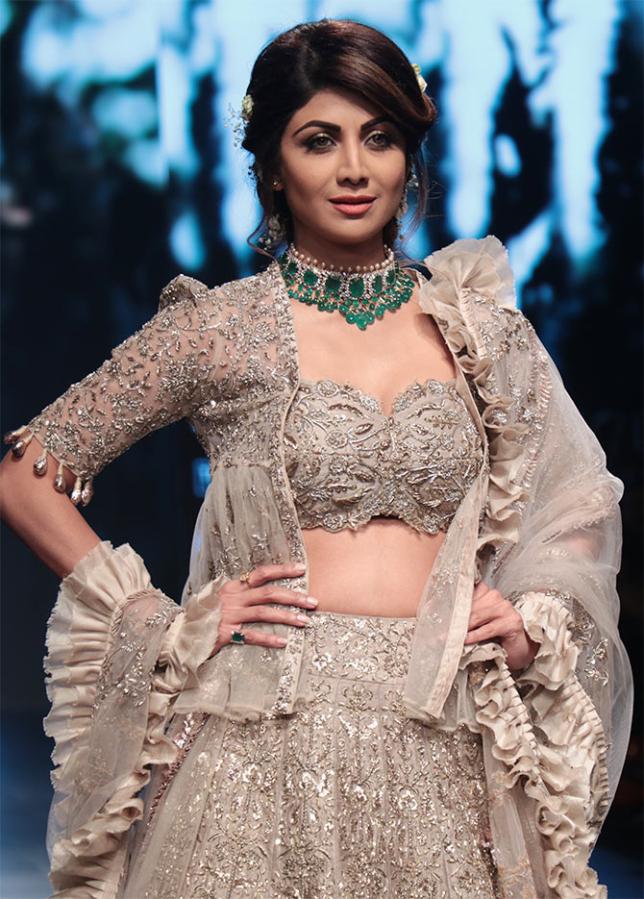 Shilpa Shetty arrived on the ramp in an embroidered ivory lehenga from designer Jayanti Reddy's One Summer collection.

Shilpa Shetty has been walking the ramp for 25 years now and her show-stopping entry at Jayanti Reddy's show on the final day of Lakme Fashion Week Summer/Resort 2018 was as heart-stopping as ever.
"I love it, and enjoy walking the ramp," Shetty told Rediff.com after the show. "I know there are no retakes and I just pray that there should be no malfunction. But otherwise it is great fun."
She added, "I really think that you will be nervous if you are not confident about what you are wearing. For me, this outfit was so stunningly beautiful and so complimentary that I was happy to be wearing it."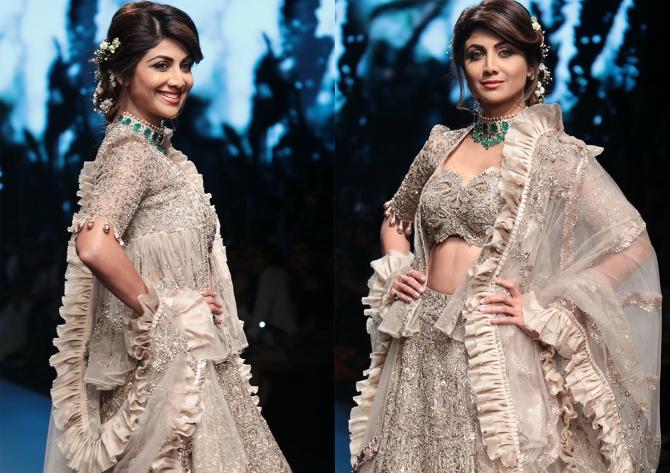 Shilpa Shetty said she had a tough time choosing a top from the collection to complete this outfit, but it's a problem she loved.

Shilpa Shetty wore an exquisitely embroidered ivory lehenga with scalloped hemline and blouse, teamed with a ruffled dupatta from Reddy's SS18 collection 'This One Summer'.
She said, "When Jayanti told me about the collection, I wanted to see it.
"Believe it or not, when she came and showed me the outfits, she had five different options for the top. I actually had an issue choosing which one to go with because they were all so good. That's a good problem to have and is a compliment to the designer as well.
"She's so great at her work that she got me really confused with what to wear."
Designer Jayanti Reddy said the collection proved to be quite challenging: "I was trying to use a lot of black and white in the collection. But at the same time, even though both the colours are really contrasting, I needed to make sure that they complimented each other.
"I also had to keep the collection very summery, although black is not a colour for the season. All said and done, after I worked on it, I think it turned out really well."
The full look.

For Reddy, having a style icon like Shilpa Shetty as her showstopper was a dream.
She said, "I have always wanted Shilpa to walk for me. For some reason or the other, it never worked out in the past. I am very happy that it finally worked out."
But Shilpa Shetty spoke about the split world of a celebrity's fashion statement.
"For me personally, fashion means one thing and as a celebrity it is another. We [celebs] are catering to other people's demands and wishes that we are put in a position where we end up being trendsetters or get trolled.
"You have to walk that fine line and tread the path with confidence.
"At the end of it, for me fashion has to be a statement that you want to wear. That resonates with your emotions and feelings.
"It is personal."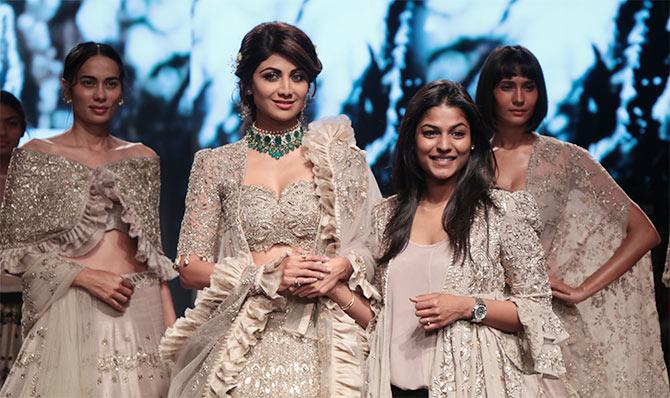 Designer Jayanti Reddy with Shilpa Shetty.