Soundarya Sharma talks fashion and her favourite style icon with Rediff.com's Anita Aikara at fashion week.
Photographs by Hitesh Harisinghani/Rediff.com
Video by Afsar Dayatar/Rediff.com
Soundarya Sharma has inherited her mother's love for fashion.


The actor, who is no stranger to the red carpet, revealed that it was her mom who shaped her fashion sensibilities.
"Whatever fashion sense I have, it is because of my mother," she shares.
"Back in her time, my mother was called a fashionista.
"She is a sari lover," adds Soundarya, who feels that the sari is the sexiest Indian garment.
"I love to wear saris," she admits. "It is the most beautiful attire anyone can have."
Watch the video below to see what fashion really means to Soundarya Sharma

Fashion is one of the ways in which the actor shows the world her confidence and happiness.
"It (fashion) is something that makes you feel comfortable," she says. "More about confidence and happiness."
"I am a happy person who really loves colour.
"I feel that when you are adding colour to your look, it shouldn't seemed forced. If everyone is wearing neon, you don't need to wear it as well.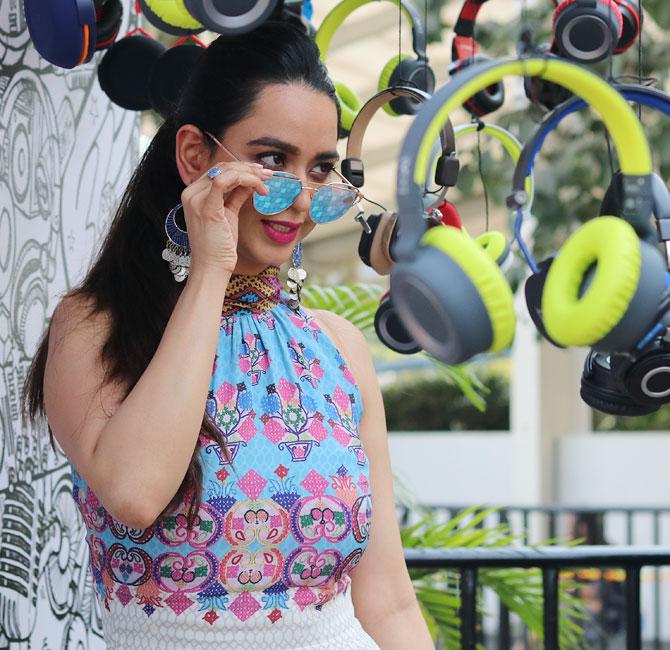 Her style advice is simple: Wear (clothes that) will reflect your personality.
Ask her to pick the most stylish Indian and she has an unending list starting with Narendra Modi.
"PM Modi is stylish in his own way. So is Virat Kohli and Geeta Phogat."