It's Day Two of Lakme Fashion Week Summer/Resort 2017 and these stylish women off the ramp caught our roving eyes
Text: Anita Aikara/Rediff.com
Photographs: Rajesh Karkera/Rediff.com
---
Name: Sasha Sharma, fashion editor for Hoture.com
"Every fashion week I go and experiment with something crazy while sticking to my usual fashion statement which is about comfort."
Your look
The dress I'm wearing is from the latest collection of Diesel. The frills on my denim dress give a touch of elegance. The shoes are from Juicy Couture. The glasses are from some vintage store in USA. I went a little sporty and chose flat sneakers but with a metallic touch.
I really love my look right now because it is really easy-breezy and casual, yet somewhere down the line it's elegant.
Day One of LFW is usually more chilled out, so I went for a look like this. Probably tomorrow you will see me with a crazier look.
Style mantra
Fashion changes often, so I make sure I change with the changing fashion scenes. Fashion for me is something that you're comfortable with yet it shouldn't be that cliched. With fashion you need to just be innovative. I feel rather than copying people, create your own fashion.
***
Name: Anjali Assomul, working at Hello magazine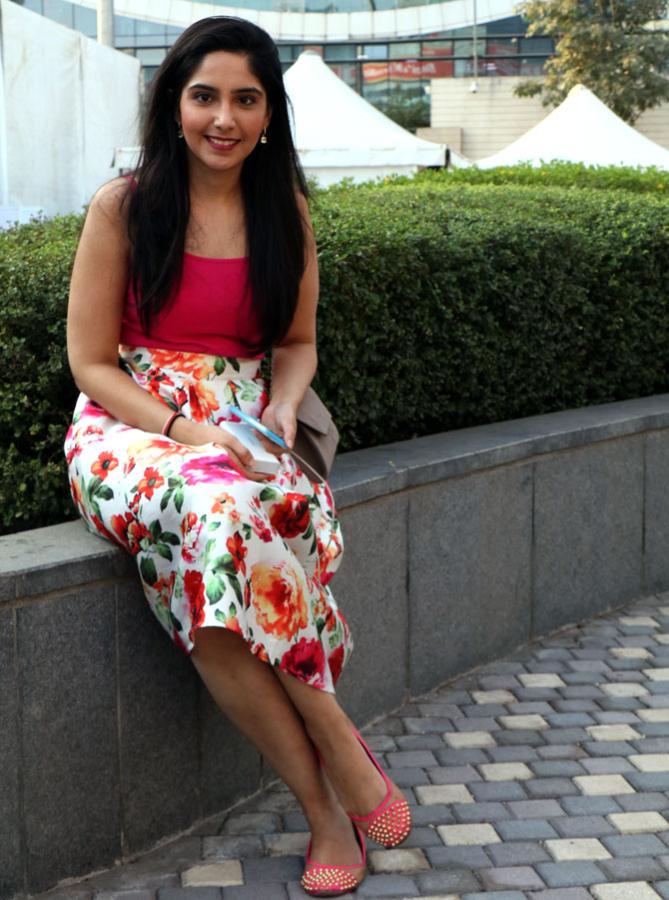 Your look
The floral skirt is from Bangkok and the top is from a highstreet label. The shoes are Steve Madden.
I chose something bright and floral because I simply love this outfit. I am a huge fan of floral and wanted to wear something that I love yet am comfortable in.
Style mantra
Style is more about comfort for me. Everyone has their personal style and their outfits should reflect that. Keep it simple, experiment with colours and be comfortable.
***
Name: Shivani, fashion blogger and student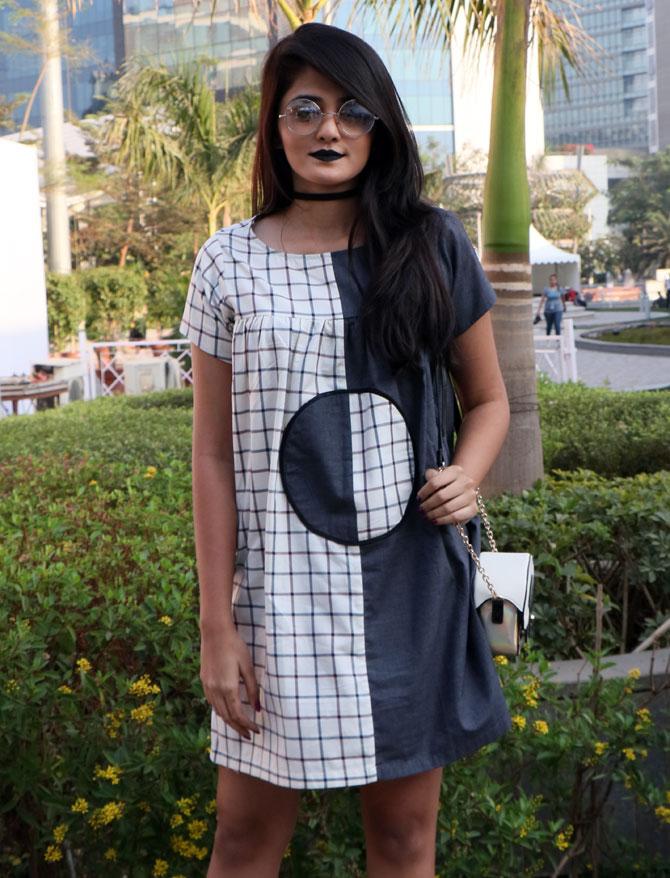 Your look
My dress is from Olio. The boots are from Forever 21 and the bag is from Accessorize. The glasses are something I just picked up from Colaba.
The choker is from Zara and the black lipstick is from Kylie Cosmetics. The black lips are really bold.
I love the contrast on the dress, the different prints on each side make it really cool and then it is extremely comfortable. I knew that there would be a lot of walking around in the sun so, I chose something that would be breezy and comfy.
Style mantra
For me fashion is not just about your clothes or what you wear, it is something that makes you feel confident. So when you put something on, it may probably look good but it should also make you feel good.
I have always been a really shy person, so for me fashion is something that gives me confidence. When I wear something I like, it makes me more confident. I would wear something comfortable if it is about wearing something I don't like.
I don't mind being uncomfortable for a short while.
***
Name: Tina, co-owner of MadSam TinZin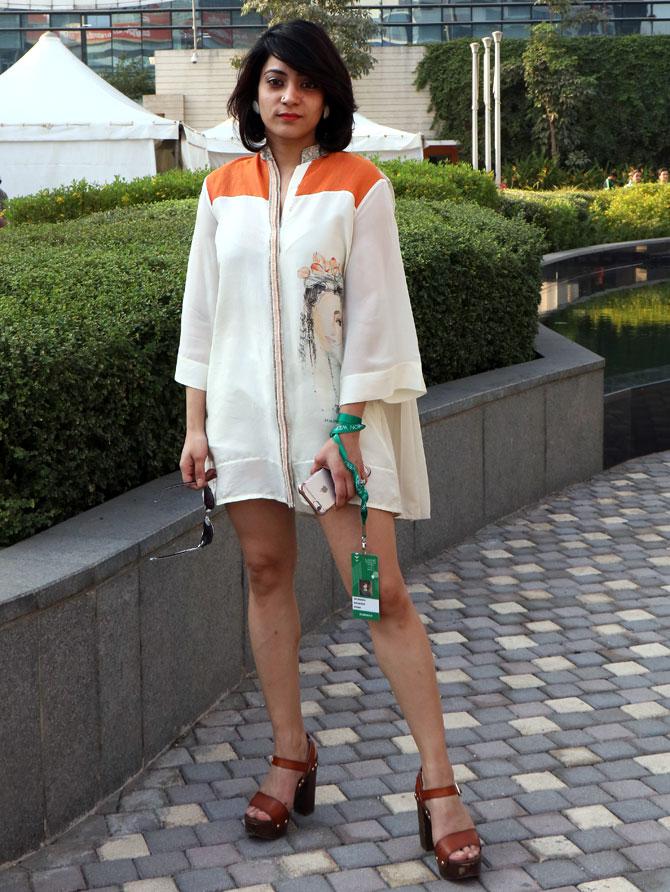 "The brand was started by four college friends Madhu, Soumya, Tina and Stanzin. I am the Tin. We have only come for the fashion week from Delhi."
Your look
I am wearing a pleated shirt-dress from our collection called Tales of Bro-pa, which is inspired by the Dha-Hanu tribe of Ladakh. There is an illustration of it at the bottom left corner of my dress.
One of my partners, Madhu has actually done the illustration. The dress has got surface ornamentation done by hand. I paired it with tan wedges. I like the look because it is really comfortable yet makes me stand out in the crowd.
Style mantra
Be comfortable yet stylish.
***
Name: Saumya Sharma from MadSam TinZin
Your look
I am wearing an outfit from my brand. We design and wear it at fashion weeks. There is hand embroidery and silk blends on the fabric I am wearing.
The look is more me because I am more Indo-western type of a person.
Style mantra
Comfort before style