Althea Krishna's collection inspired by the defunct ₹500 and ₹1,000 notes was showcased at Lakme Fashion Week Summer/Resort 2017.
On November 8, 2016, the nation went into a frenzy when Prime Minister Narendra Modi announced that currency notes of ₹500 and ₹1,000 would become illegal tender within hours.
But while the rest of us queued up outside banks and ATMs, Hyderabad-based designer Althea Krishna approached it differently. She designed a clothing line around it. The 'Demonetisation' line was showcased at the recently concluded Lakme Fashion Week Summer/Resort 2017 in Mumbai.
In an e-mail interaction with Divya Nair/Rediff.com, the designer revisits her inspiration.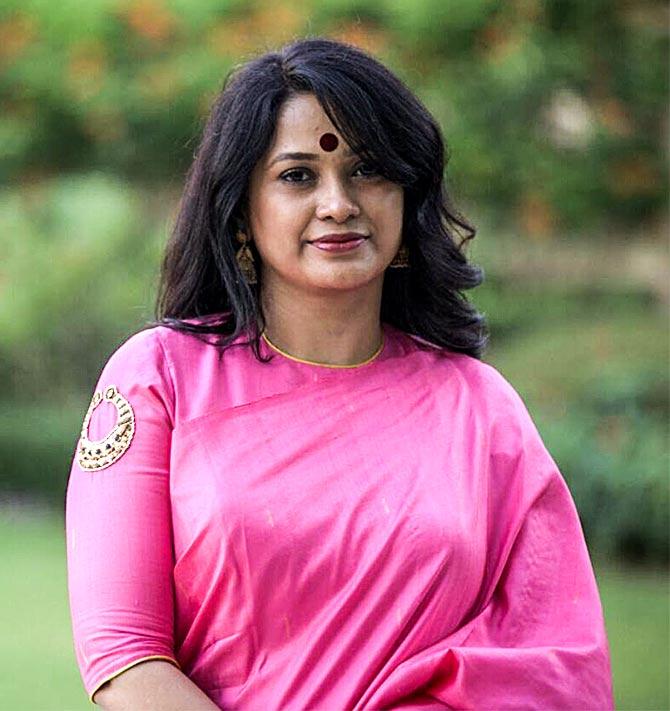 IMAGE: Althea Krishna holds a fashion diploma from

Hamstech Institute, Hyderabad. She

started designing clothes under her label in 2012.
All photographs: Kind courtesy Althea Krishna
Tell us about the concept behind your latest collection.
When PM Narendra Modi announced the demonetisation of ₹500 and ₹1,000 notes, the whole country was stunned.
The decision caused a sensation in the whole country. Social media was flooded with messages and information. People started counting the trash they had accumulated for years, legally or illegally. I capitalised on this opportunity and the 'Demonetisation' line was conceptualised.
I saw that people had started devising unique methods for transforming their black money into white.
I decided to convert the black into colour; I transformed the 'worthless pieces of paper' with 'the new colour of money' in a sustainable fabric, thereby allowing the demonetised money to remain alive in memory.
What is different about the 'Demonetisation' line?
It features pret Indo-Western clothes in the 'no longer in use' ₹1,000 and ₹500 money print. It is embossed on fabric that is a combination of organic cotton weft and tussar silk warp. It is pleasing to the eye, cool to wear and focuses on ease and comfort.
IMAGE: The demonetisation line features prints inspired from the Indian currency in cotton and tussar silk fabrics.
How much time did it take for you and your team to come up with the new collection?
At a short notice of two months; our collection was ready for LFW.
How did demonetisation affect you as an individual, as a designer and as an entrepreneur?
As an individual, the initial itches were there as regards to daily cash flow. The demonetisation move has curbed my frivolous expenditure.
As an entrepreneur, getting raw materials and paying wages/salaries to workers was an issue. But once I worked around it, everything fell into place.
As a designer...Well! my design 'Demonetisation' speaks for itself. The collection was a super hit (at LFW).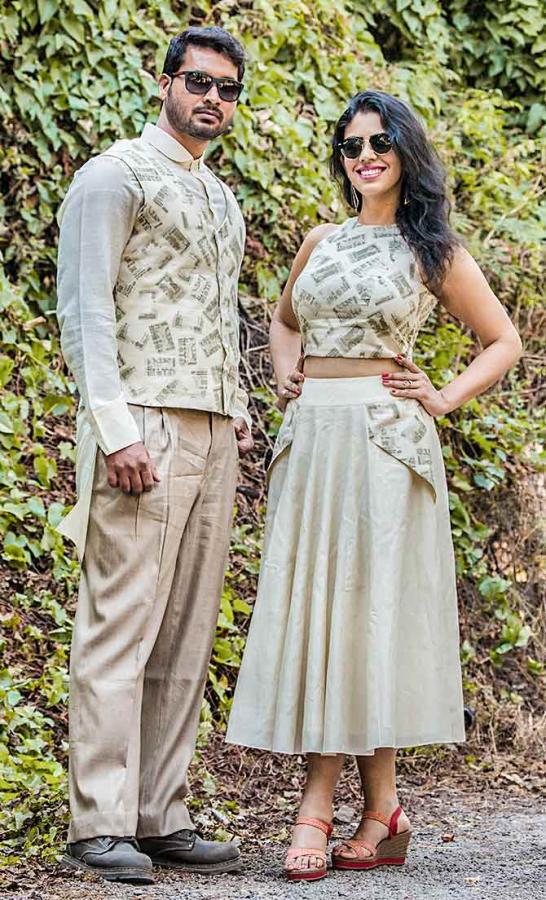 IMAGE: The line features Indo-Western clothes for the men and women.
Have you thought about gifting a piece to Narendra Modi?
Yes, I would definitely love to gift our honourable Prime Minister a uniquely designed jacket as a mark of gratitude to show that demonetisation was a boon to me.
What is the price range of the collection? How can one avail of it?
The Demonetisation collection ranges from ₹3,500 onwards and will be available soon at all multi-designing stores.
Individuals, stores and online retailers can get in touch with us at my website or on Facebook.