On Day Two of Lakme Fashion Week Summer/Resort 2017, Rediff.com met these stylish women from across India.
Text and photograph: Rajesh Karkera/Rediff.com
Name: Aashna, 23, fashion and travel blogger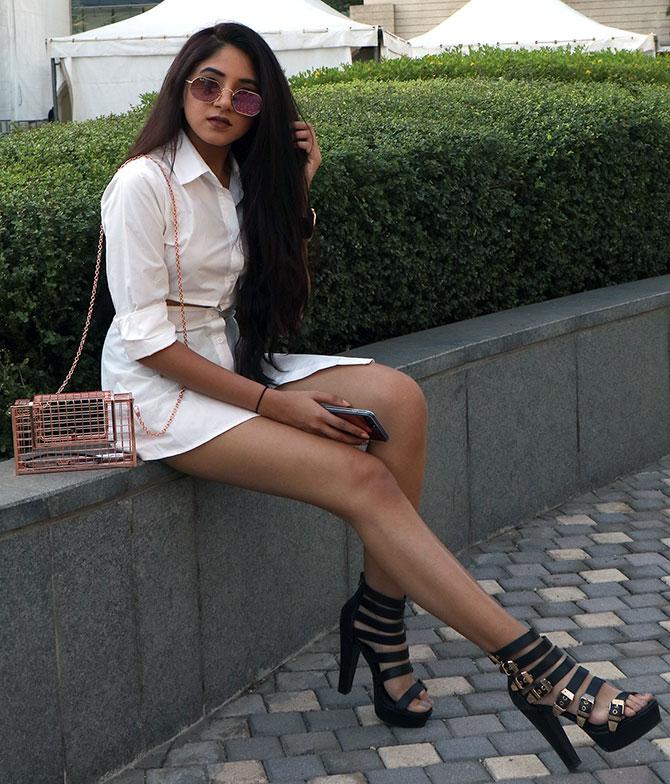 Your look
I'm wearing an Acers shirt that I kind of transformed myself.
And I've paired it with this rose gold cage bag, a black bracelet and black shoes.
Style mantra
Fashion is more like an expression of yourself. If you feel like experimenting on a certain day, it's a way to express your feelings.
***
Text: Anita Aikara and Hitesh Harisinghani/Rediff.com
Photographs: Hitesh Harisinghani/Rediff.com
Name: Ananya Thakkar, student of fashion designing
Your look
I am wearing denims with a black off-shoulder top and heels. Because I'm short, I like to wear heels. I got this top from an exhibition.
I put this look together because I am coming for a show which is all about textiles.
I didn't want my look to be too western, so I made it a little Indo-western. I chose a dark shaded lip colour because of the red embroidery on the top.
Style mantra
I choose comfort to the trends. I like being comfortable in what I wear. I actually hate heels but as I am short, I wear them.
I have always loved fashion. I feel people should avoid being overdressed. I like clothes that are nice and casual.
***
Name: Varsha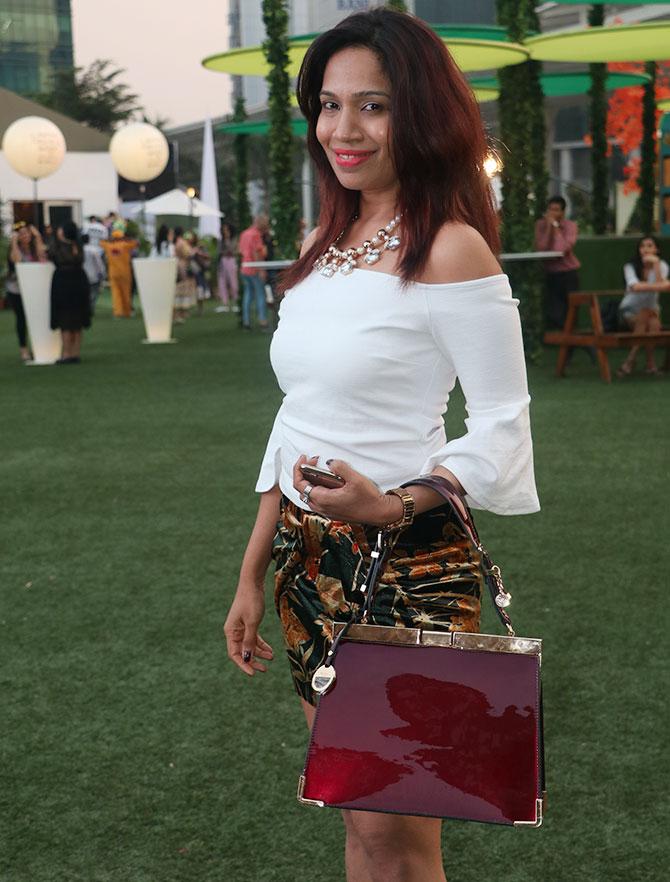 Your look
The white off-shoulder top is from Forever New, the printed skirt is also from there. I chose this outfit because of the weather; it keeps me cool and comfortable.
In the heat, I needed to wear something that would be easy and breezy.
Style mantra
Fashion is about being comfortable. If an outfit doesn't make you feel comfortable, you won't be able to carry it off confidently.
I wear clothes that suit me.
***
Name: Kuzelu Teteseo (right), fashion blogger and folk musician from Nagaland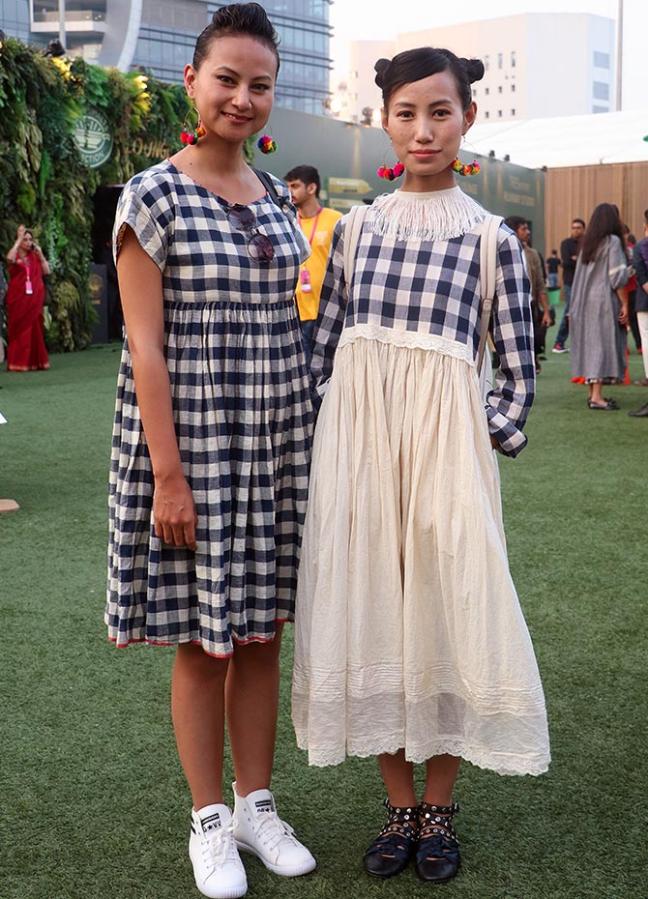 Your look
I am wearing a dress by Pero by Aneeth Arora. It is very comfortable and reflects my personality.
I paired it with a pair of ballerinas, which I picked from Zara Delhi.
Style mantra
Fashion is something that you can wear comfortably.
Name: Mercy Teteseo (left), fashion blogger
Your look
I am also wearing Pero by Aneeth Arora. I like the cut and the flow. The fabric makes me feel very comfortable and stylish at the same time.
Style mantra
Fashion of course is how you present yourself with the clothes and accessories which are in season and also reflecting of your sense of style.
I am more of a comfort person, but with a little style and a personal twist.
***
Name: Manjushree Saikia, start-up blogger and textile designer from Assam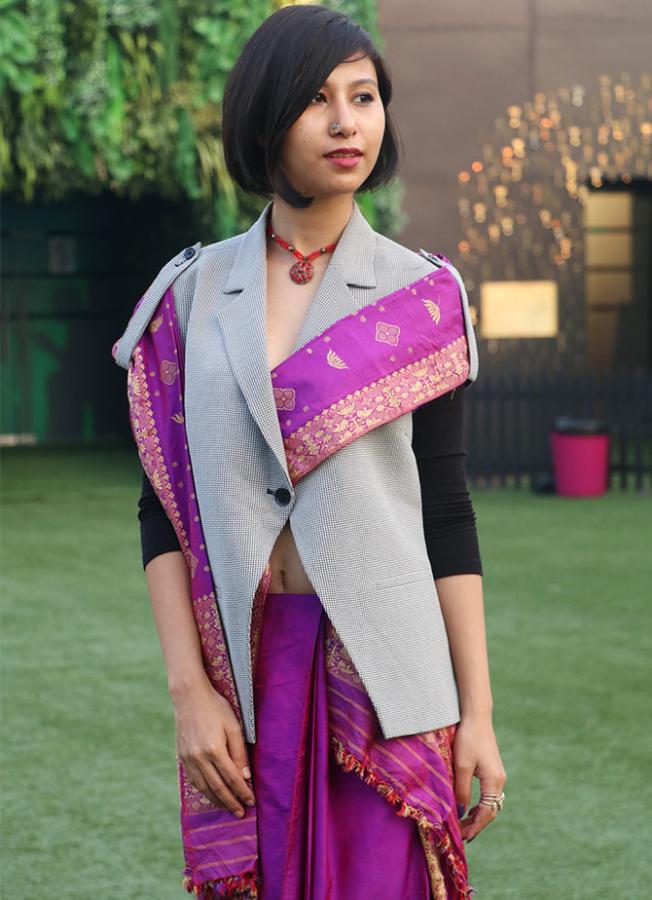 Your look
I am here to represent my craft. I am wearing the traditional Assamese mekhela chadar in silk. My jacket is from Park Avenue.
I have layered and draped the sari in a different way.
I am a textile designer and I chose this outfit because I feel like promoting my craft. I think fashion should be sustainable.
Style mantra
You should wear something that suits your body type. It is not always about looking good, it is also about trying something different and being willing to experiment.
***
Name: Ravisha Maroo, engineer studying luxury brand management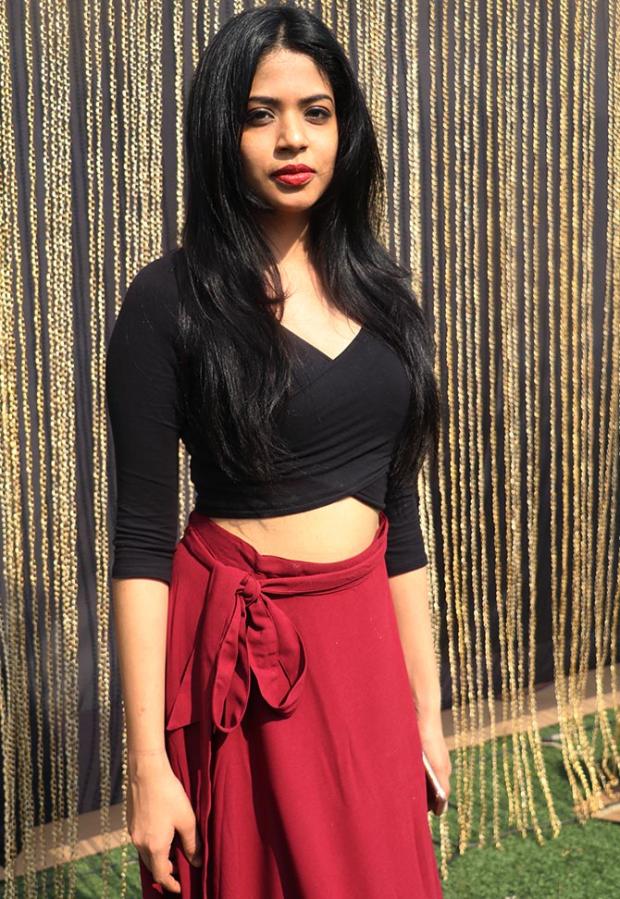 Your look
I'm wearing a self-tied skirt by The Label Life and have paired it with a cropped top.
Style mantra
I like wearing flowy gowns and something I'm comfortable in.
I don't like wearing white sneakers; it's something that is out of trend. So, please guys stop wearing them :)