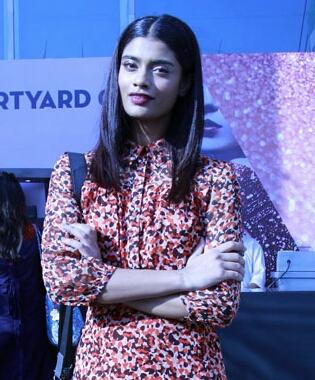 Seasoned model Archana Akhil Kumar shares her experience at fashion weeks and how she keeps herself composed during this five-day-marathon with Tista Sengupta/Rediff.com.
Photograph: Rajesh Karkera/Rediff.com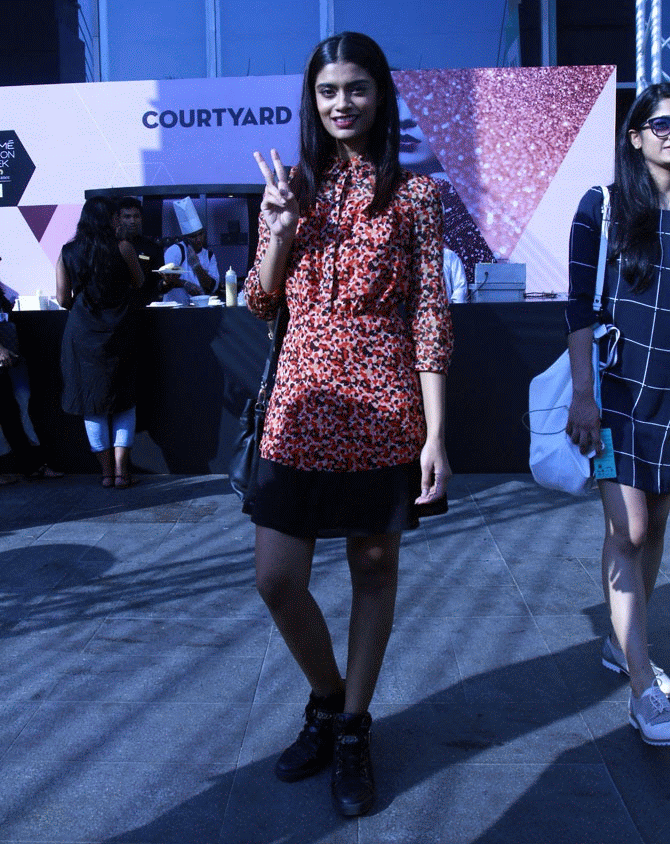 How do you prepare yourself -- mentally and physically -- before the fashion week starts?
Fashion week is like a marathon for models (Proof? The picture, above). The shows are back-to-back and there's a lot of running around. So you need to be mentally prepared (for fashion weeks)
It's important to look after yourself -- your body, hair and skin.
Your fitness regime...
Cardio work out for about 20-40 minutes whenever I have the time. It's walking, running, jogging or doing jumping jacks. I also indulge in surya namaskars.
Post this, I do body-weight training and lunges.
This month I have been busy -- as I was walking for Amazon India Fashion Week and now Lakme Fashion Week -- and I have just got two days off in between. But being on my toes at fashion weeks helps me in making up for the time I haven't gone to the gym.
Your beauty regime...
I always keep my skin moisturised throughout the day.
I also use a rose water toner. With so much change in make-up, your skin dries out, and so I always carry a refresher to keep my skin refreshed. I use brands like Elizabeth Arden, Forest Essentials and even Nivea.
I also drink water to keep myself hydrated.
Is there a particular diet that you follow during fashion weeks?
You go through so much at fashion weeks that your body actually craves for sugar (I usually take palm sugar or jaggery) and food. But I love drinking my cold coffee black without sugar. I do take in carbs (along with fibres and proteins) during fashion weeks.
For how many designers are you walking for in this season?
I am walking 18 shows this season. It will be walking for designers Anita Dongre, Monisha Jai Singh, Rohit Bal, Sneha Arora, Surendri, to name a few. I have walked for Manish Malhotra to open the LFW and also for Hemang Agrawal, Anupama Bose, Pero by Aneeth Arora and Asif Shaikh.
Are you closing the show for any designer this season? Which designer/s, if you could tell us?
I am closing eight shows this season. I don't remember the names of the designers for whom I am closing that well, but it would certainly be for Monisha Jai Singh and Anita Dongre.
Which is the show that you have always looked forward to walk for and why?
Grand finale! The fittings haven't yet been done for it. I am excited and very much looking forward to it.
So many years into modelling, what are the good things that you have come across in so many years?
You meet a lot of positive-minded people. You make a lot of contacts here.
Tell us about your first job/modelling assignment...
I started off (in Kerala) in 2009 for jewellery brand Josco Jewellers and never looked back.
Aspiring models should...
...Believe in yourself and always take care of yourself. Do the best that you can.
Your plans after the fashion week...
I do have shows even after LFW. But I am taking an off in May and will be vacationing in New York City, United States.
Don't Miss our Special Coverage of Lakme Fashion Week Summer/Resort 2016