The sexism may well be lost out on mothers who call their daughters ghar ka beta (the sons of the house), but there is something heartening in seeing middle class mothers encouraging them to pursue non-traditional careers.
Sonil Dedhia/Rediff.com meets a few 'model' mums.
Photographs: Hitesh Harisinghani/Rediff.com
When Alice Rosario's name was announced, she did what most of us would do after receiving good news. She reached out to her mobile phone.
Alice (pictured above) called up her mother in Hyderabad and told her she was selected from among 140 girls to walk the runway for Lakme Fashion Week.
"Mum was on cloud nine," she says. "This hasn't just been my dream; it was her dream too."
A BCom graduate who is currently studying fashion designing at the National Institute of Fashion Technology, Alice says she has walked the ramp for other fashion weeks. She is under no illusion about the career she has chosen. "The competition," she says, "is getting tougher every year. The girls are better looking, taller and have healthy skin."
No wonder then, the 37th floor of Mumbai's Palladium hotel is the hottest floor in the building.
Aspiring models from around the country and different parts of the world have gathered here to... well... put their best foot forward.
Dressed in hotpants and tank-tops, the stunners have been providing sufficient distraction for members of the hotel staff and guests.
The girls are oblivious to this. It is their big day. If they cannot make it today, they must wait for S-I-X more months to have a shot at it again.
They are adjusting their tops and practising their walk. Some of them are staring at their mobile phone screens or posing for press photographers.
As and when their numbers are called out -- each of them has been allotted one -- they troop along in a single file and walk into a large room where a short ramp has been set up.
At the end of the ramp, a jury of judges will decide whether they are good enough for the next round.
With each passing hour, the number of models keeps decreasing till finally six models are selected to walk at the Winter/Festive season of Lakme Fashion Week.
Amidst this hectic activity, a bunch of elderly women stand out. They are oblivious to the bustle around them but tension is writ over their faces as if they have a lot riding on the auditions today.
As I discover, they do.
All of them are mothers of aspiring models :-)
'Star moms' were a real thing back in the Seventies and Eighties era in Bollywood when helicopter mothers would hover around their daughters as they travelled from one set to another.
You'd imagine the trend was all but dead, but mothers have a way of surprising you in ways you can never imagine.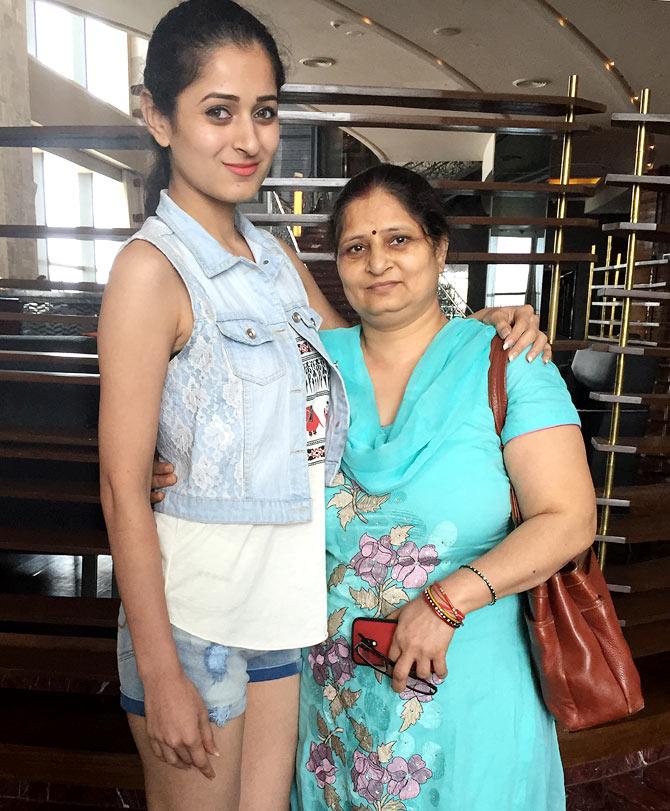 Ratna Gupta is one such mum who is accompanying her daughter, Sakshi, 23 (both pictured above). They have travelled from Noida to Mumbai.
She believes it is the duty of the parents to support their children and "allow them to pursue their dreams.
"A lot of people discouraged us; they said the fashion world is a bad place but it didn't bother me. I trust my daughter; she won't do anything wrong," Ratna says, adding with no irony: "Woh humare ghar ke bete jaisi hai (She is like a son to us)."
But Sakshi is glad. At an age when most Indian parents bring up the dreaded M-word, her parents don't seem to mind the idea of seeing her aim for a career as a model.
"They understood my passion and allowed me to pursue my dreams," she says.
In fact, when asked about her daughter's marriage, Ratna says, "Shaadi jab honi hogi ho jayegi (Her marriage will happen when the time is right). Right now, my daughter wants to follow her dream and we will stand by her."
Ratna is, in a way, living her dreams through her daughter. "We never got the opportunity to follow our dreams because our parents were orthodox. But times are changing now and parents have realised the importance of allowing their children to choose a profession which they enjoy. I feel my daughter is fulfilling my aspirations," she says.
Sakshi, who is a qualified engineer, doesn't make it past the first round.
Her face falls but she picks herself up rather quickly. "Rejection doesn't mean I have failed. I try to learn from it. When you are rejected, you must not lose heart and spend time analysing what went wrong," she philosophises.
This is probably just a bump in the road for Sakshi who has been on the cover of Femina and the face of the year for Avon. She has no plans to give up and go back to Noida.
"I will stay back and get a portfolio done. Later, I plan on approaching modelling agencies and try to get some work."
Renu Sheoran, whose daughter Roshni, is among the youngest aspirants at the audition, is happy that her daughter is thinking about her career. "I have two daughters and I've encouraged them to be self-supporting adults.
Roshni, who dreams of winning the Miss India contest, says, "Like my mother, I've always wanted to become a model. She didn't have the means but I have the opportunity to try my luck."
The Johals have travelled a greater distance than the Guptas.
Mother-daughter -- Rajvinder and Jasmeen, 21 (pictured above) -- have come down from Canada so Jasmeen can have a shot at a career in showbiz here.
Jasmeen is at home on the runway. She's walked for fashion shows in Toronto, Vancouver "and a few in Paris".

Hailing from Punjab, the Johals moved to Canada some 30 years ago in the hope of a better life.
But when their daughter expressed her desire to return to the country of their origin to find a vocation, they gave her two thumbs up. Rajvinder even accompanied her all the way here.
"My husband and I have always had faith in our daughter," she says. "I am sure she will make us proud."
It is clear that Jasmeen sees modelling just as a stepping stone.
"My daughter wants to enter Bollywood," Rajvinder announces. "And I think this is the best opportunity available."
Having started modelling as a teenager back in Canada, Jasmeen is simultaneously pursuing a degree in criminal law.
"My parents always allowed me to decide what was best for me," she says. "In fact, they encouraged me to get into modelling!"
It is evidently a decision they are happy about because Jasmeen's name has just been announced as one of the six girls who will make their dream debut at Lakme Fashion Week.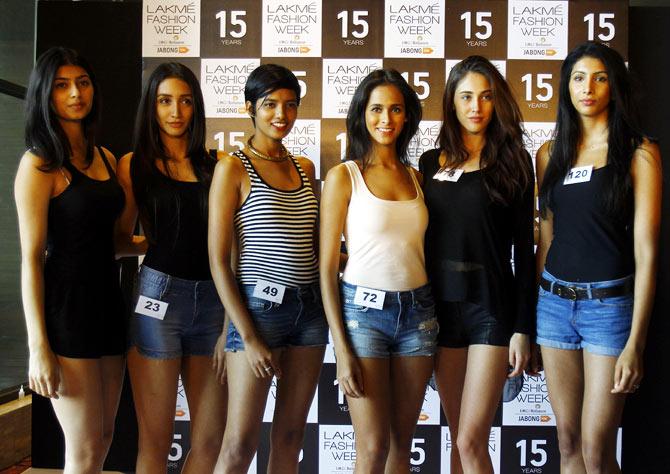 (Left to right): Jasmeen Johal, Shreya Chaudhry, Alice Rosario, Madhu Sneha, Ivana Pesovic and Ashanti Singh are the six new faces at the Lakme Fashion Week.