Anuja Gupta is not all about style but substance too and here's why she is not happy with the fashion scene in the city...
Name: Anuja Gupta. Engineer in Biotechnology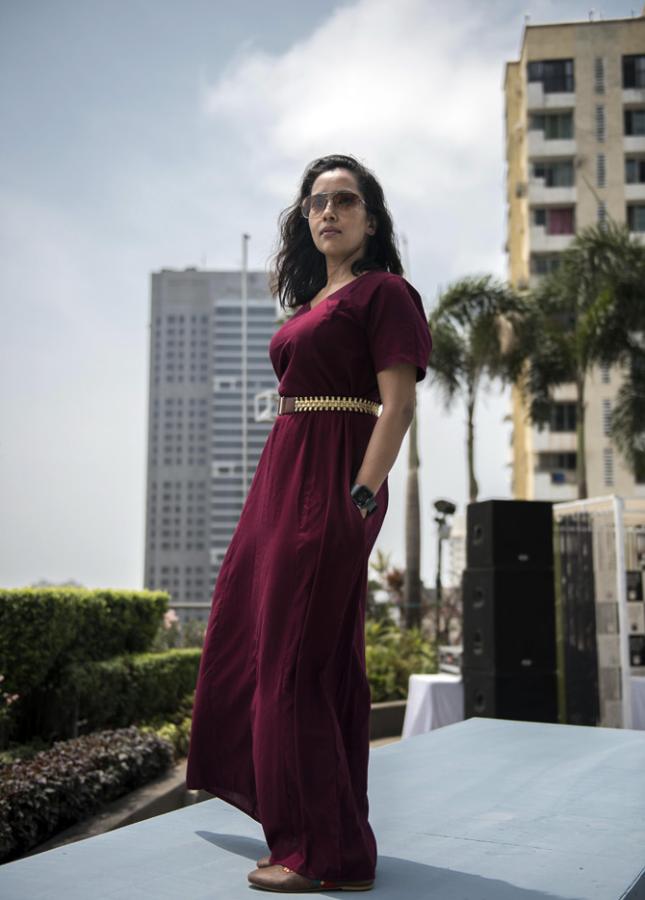 Photograph: Rajesh Karkera/Rediff.com

Profession: Photo journalist
What do you do?
I pretend that I take pictures!!
I've covered Lakme Fashion Week for five years now. I think I'm liking it this year because I'm not bound to set mandates.. I shoot what I like and that's freedom of expression for me.
As for fashion weeks, I would love to go to Delhi and see the India Fashion week. Mumbai has become more and more commercial. People are just trying to do it becase thay have to do it. There is no heat and soul to the fashion week. The soul of fashion is missing here.
The asthetics as to how the show has to be programmed and processed is missing. Although there have been good shows I think it was an initiative by the designers and not the organisers.
After NCPA, Lakme Fashion Week has lost its charm. I think the core team of IMG should think this through properly. If they want to make LFW an international event.
I feel Delhi is better because:
A. Bollywood presence is negligible
B. The people in north Indian have a very strong sense of clothing, while in Mumbai it's more Bollywood centric. As a result good designers end up NOT getting the main shows. Mumbai CAN be better but they need to make an effort.
This year I feel the smaller Stage One shows were much, much better that the MSA shows. I really enjoyed the Stage One shows. I'm glad that Nikhil Thampi didn't show in the MSA and showed his collections at Stage One.
What are you wearing?
Am wearing an Osho robe and it's not really maroon. I wear regular clothes, basically, I know what I want. I'm very clear about that.
My outfits are mostly street clothes even if they are factory rejects. I pick up stuff and mix and match. I try to make it something that nobody else is wearing.
Style mantra
My fashion mantra is to be happy and travel as much as you can.
***
Name: Rashi Verma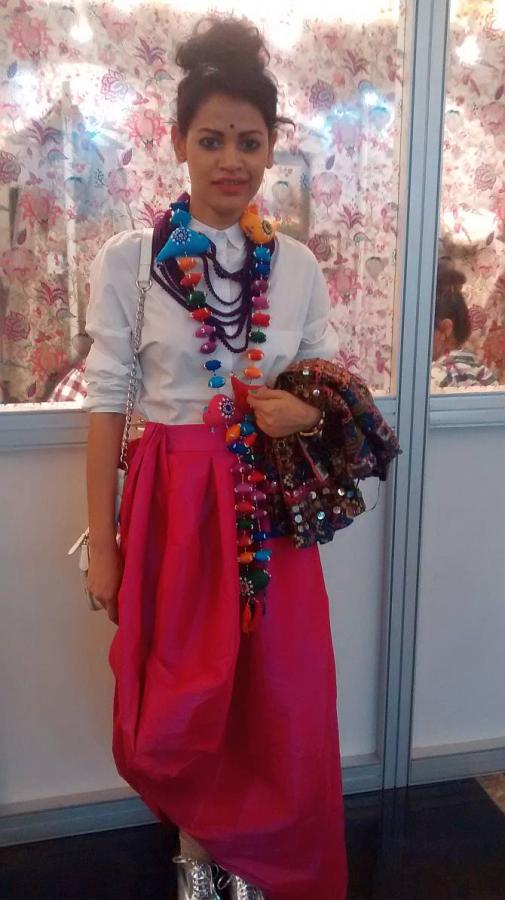 Photograph: Anita Aikara/Rediff.com
What do you do?
I'm a stylist, director and I also have a video blog.
What are you wearing?
I'm wearing a pink skirt. Because I love colours I chose something so colourful. It's a full circle skirt which I've tucked in on one side to give it a sort of shape.
I am wearing a white shirt because it is also a classic colour.
My necklace is actually a lace wrapped around. And the other one is a curtain hanging which I have dropped creatively.
My jacket is from Zara.
I call myself a maxmimalist because I have a lot of things and colours going on.
I have tied my hair in an updo because I am petite and it gives me some height.
Style mantra
I'll choose comfort to style. And I think style is not always comfortable. I would like to put things together and make something that is very edgy.
Cost: Rs 25,000.
***
Name: Muskaan Kapoor, 15, student
Loves fashion. Her first time at Lakme. And she is finding it amazing!
She is wearing a black dress from 109 Degrees Farenheit.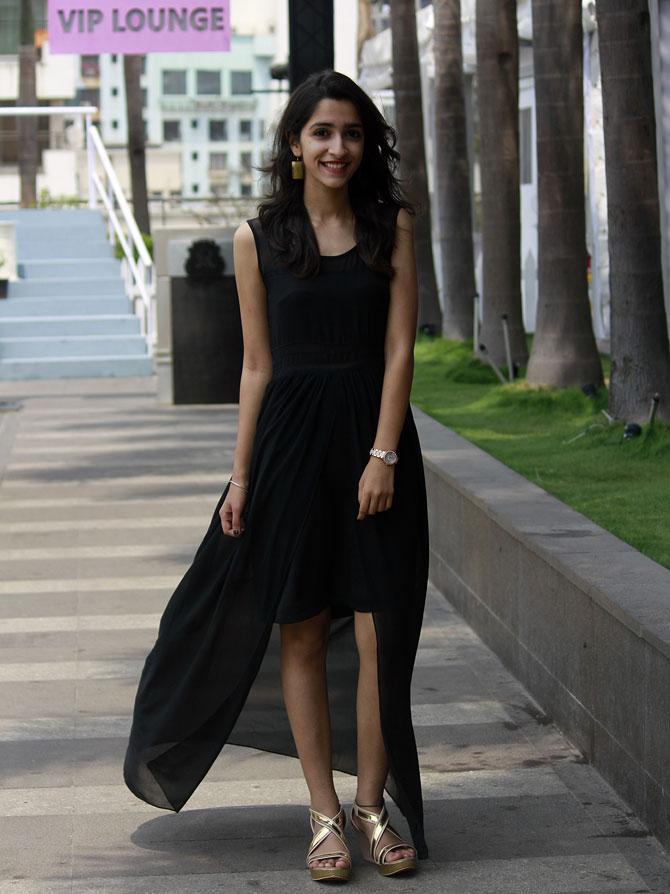 Photograph: Hitesh Harisinghani/Rediff.com

Style mantra
I dress for myself. Basically I don't dress up to show others. Instead I wear something in which I feel comfortable and what I wear portrays what I am.
Hence my style mantra is: Get to know the real ME.
Don't Miss our Special Coverage of Lakme Fashion Week Summer/Resort 2016