Reliance Retails' unveiled its e-commerce site AJIO with an interesting show bringing together women achievers from different fields as showstoppers for each of its 5 segments.
Take a look!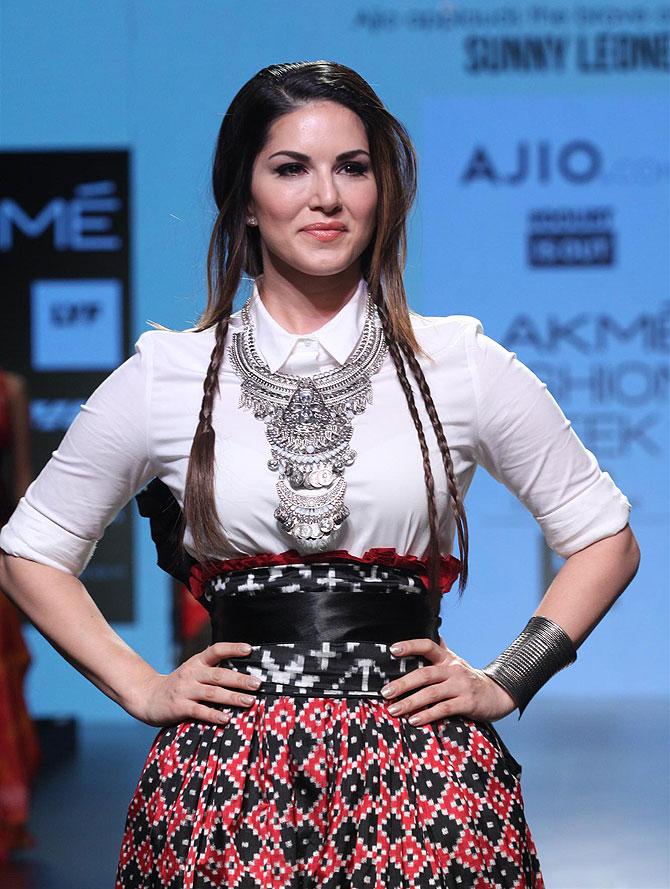 Sunny Leone represented the Choice No Bar section.
The sexy siren sashayed down the ramp in a black, white and red sari draped like a skirt and teamed with a shirt-blouse.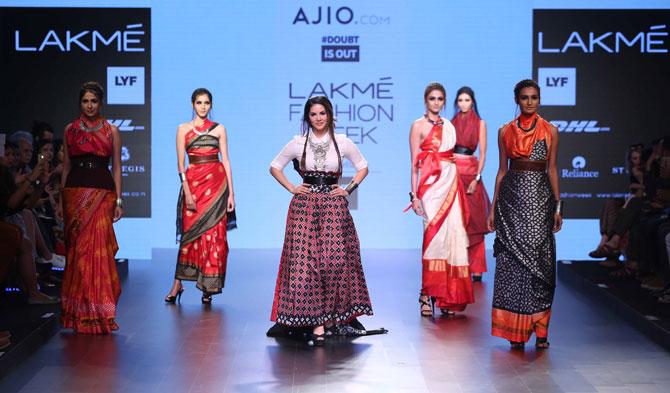 The Choice No Bar segment offered a line of exquisite ikat saris in multi hues of red, black, white, fuchsia and orange in cotton and silk.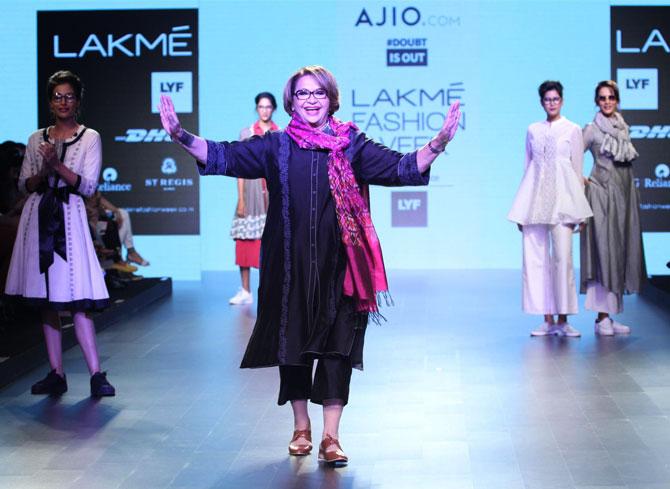 Bollywood's original dancing star Helen, demonstrating the Age No Bar segment, rocked her way down the ramp looking stunning in black capris, kurta and a colourful Patola dupatta..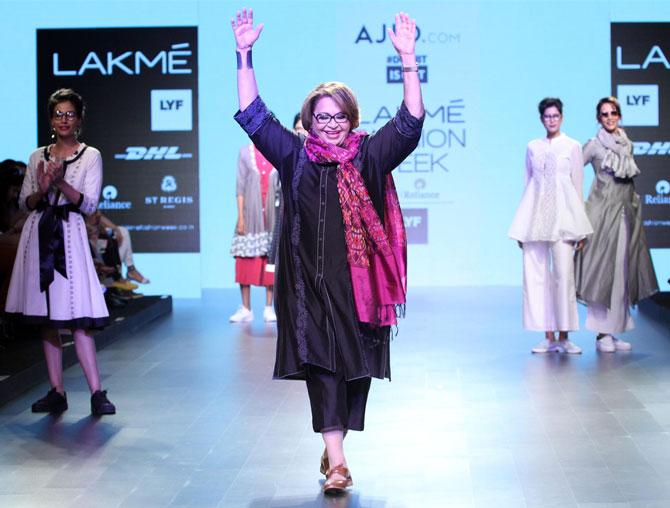 Helen, who did a little gig on the ramp as well, said she is happy to have clothes in her size.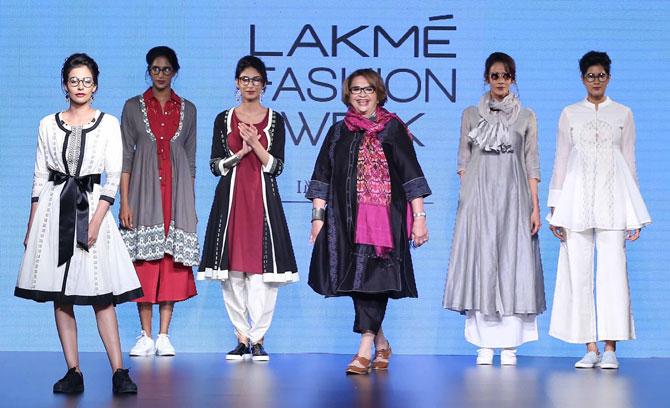 "For me it is something different. I walked the ramp many years ago, but at this stage in my twilight years to be able to come here and do this with youngsters, has been a wonderful experience. I am happy that I have got my size now," Helen said.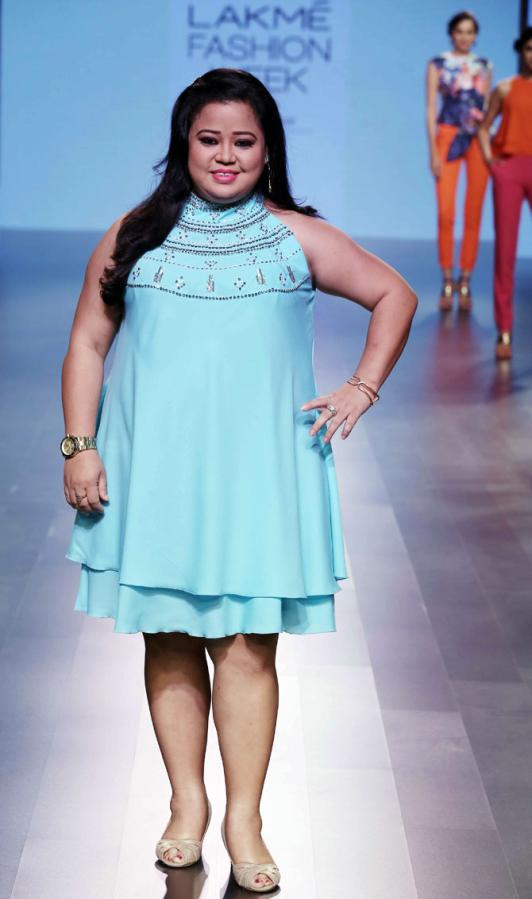 Television's Queen of Comedy, Bharati Singh represented the Size No Bar section and strutted down the runway in a blue layered silk mini with silver embellished yoke.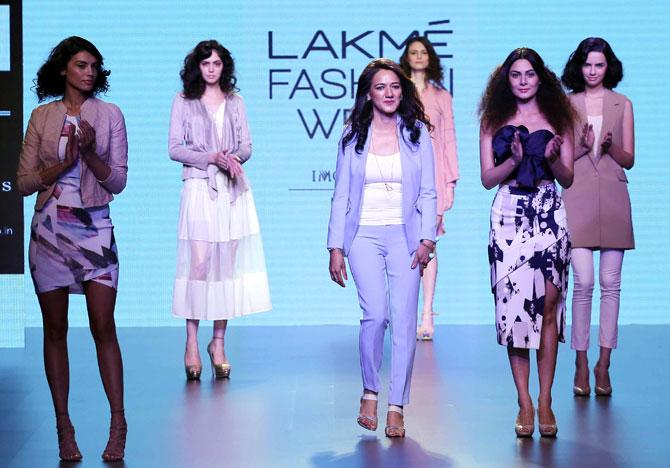 Suman Sharma, India's first woman to fly an MIG fighter jet, strode down the runway in a smart blue pant suit and white Tee for the Role No Bar collection.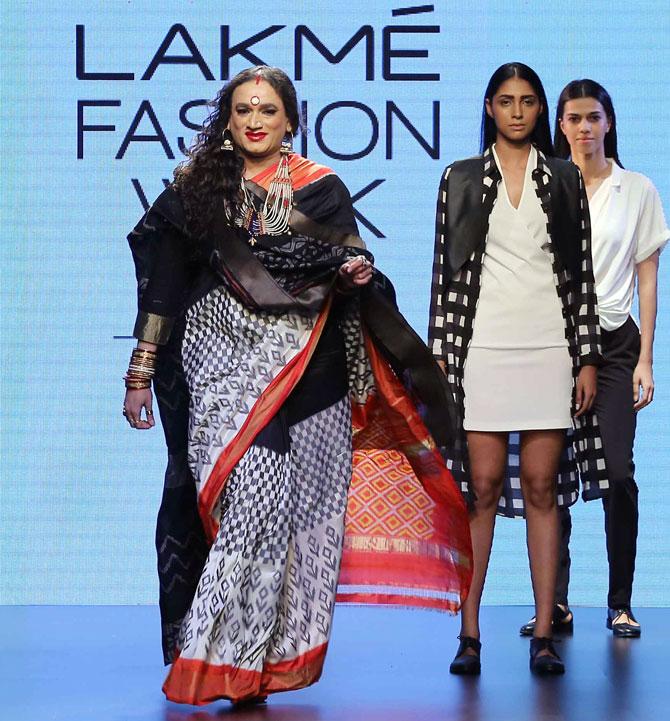 Transgender activist Laxmi Narayan Tripathi walked for the Gender No Bar section and looked radiant as she floated down the runway in a black, white and red ikat sari.
"Internationally there are transgender models. I belong to ethnic transgender community. I belong to this country and inclusion beyond gender is important. I was quite happy being a part of this movement. Beauty is in beholders' eyes, body shape or gender don't matter to fashion. Beauty is beauty we are no one to judge," said Laxmi after show.
Inputs: PTI
Photographs: Lakme Fashion Week Summer/Resort 2016
Don't Miss our Special Coverage of Lakme Fashion Week Summer/Resort 2016