Take a look at the fashionistas who turned our heads at Lakme Fashion Week Summer/Resort 2016.
Text and photograph: Rajesh Karkera/Rediff.com
Name: Jaya Wadhwa
Age: 22
Job: I am a therapist by profession.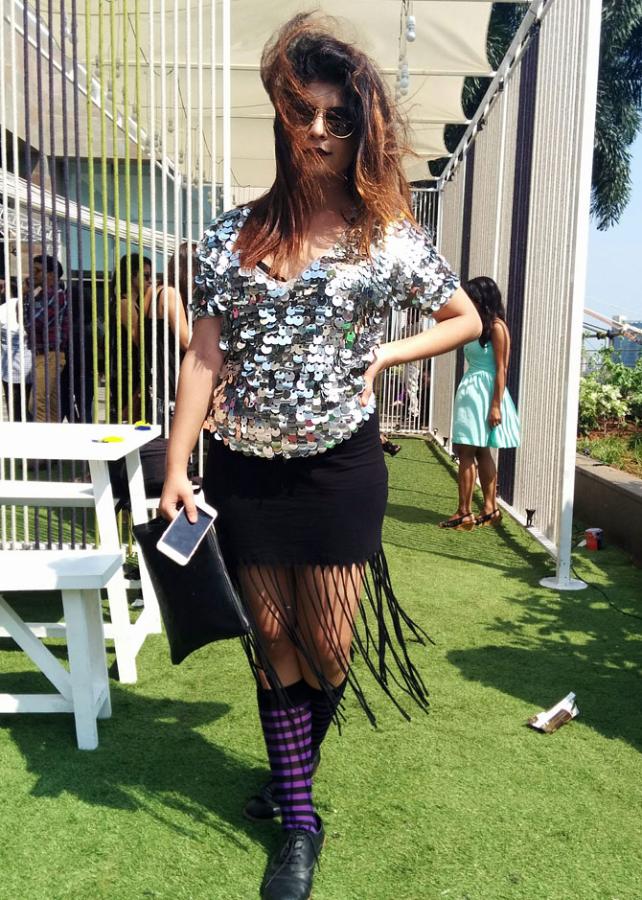 Her look
I am wearing a Zara Sequin top and a grunge tassled skirt from Koovs.
And I'm wearing socks, which are kind of Happy socks, but not really the same brand :) and my shoes are from Forever 21.
The socks add funk to the whole outfit.
My look is funky and edgy with a bit of femininity.
Style mantra
Well I've been told that I always dress like an immaculate diva. While I'd agree with that observation, I'd rather think of myself as the sophisticated kind.
***
Name: Isabel Yasmin Salehbhai and Sabrina Kwon (mother)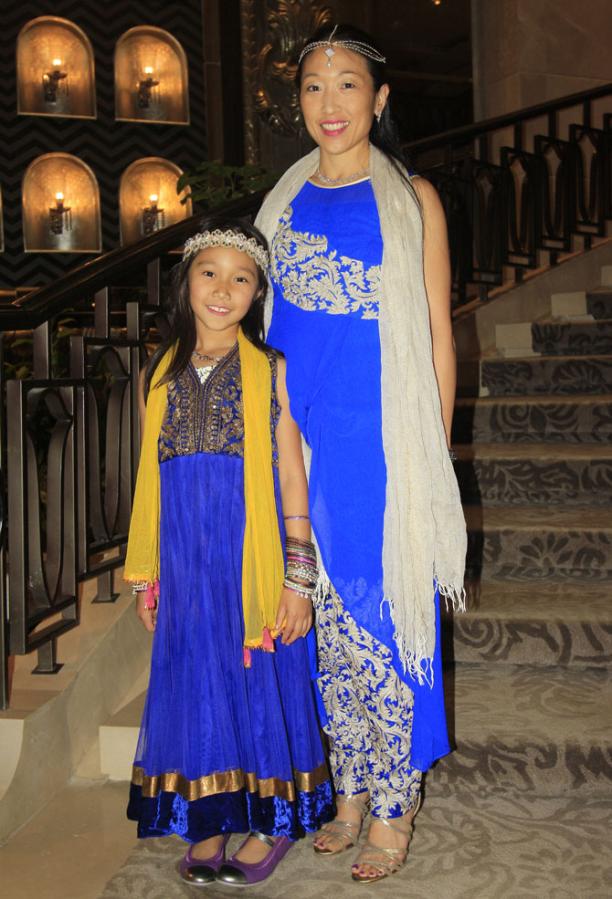 Text and photograph: Rajesh Karkera/Rediff.com
Isabel is studying second grade and loves school. She likes to dress up only sometimes when she can do her own look like she has done today.
Sabrina is a consultant coach with McKenzie USA and also does interior design. She happened to be at Lakme Fashion Week by chance. She was here to attend the sangeet ceremony of a wedding in the family.
Her look
I am not wearing anything that is mine. I have borrowed this outfit from my sister-in-law which she wore for her sangeet. I was very excited when she said I could borrow it.

I didn't know that there was a fashion week going on here. But looking at the well dressed people here I now know about it and I am glad I am here at this time.

Style mantra
My mantra is: 'less is more' although that is not the Indian way!

****

And yet again, 33-year old Nikita Kala, a fashion stylist from New Delhi impressed us with her quirky sense of style.
Age: 33
Job: Fashion stylist
Text: Tista Sengupta/Rediff.com
Photograph: Rajesh Karkera/Rediff.com
Her look
On the final day, I wanted something classy, yet fun. I am wearing a Bailou sari with a crop top that I have styled. I have teamed it with a pair of jeggings from Zara. The neck piece is handcrafted from brand EnIndea. The shades are from Vogue.
I got the earpiece from a flea market in Goa about 8-9 years ago. I still love it so much. The pumps are from Zara. The whole look would be around Rs 21,000.
Don't Miss our Special Coverage of Lakme Fashion Week Summer/Resort 2016