Looks like Indian skipper Virat Kohli is already a heart throb among our Indian models. And Sucheta Sharma -- a model for more than a decade -- gave us the right reasons as to why he's the favourite to all.
Text and photographs: Tista Sengupta/Rediff.com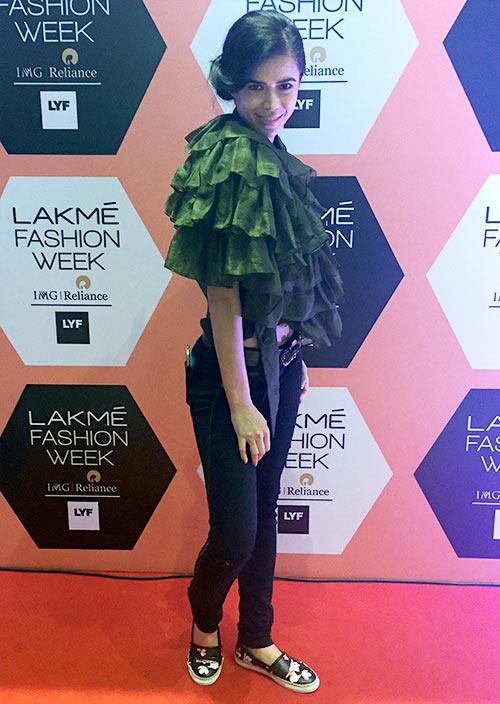 How do you prepare yourself before the fashion week starts?
I love working. So in my mind, I am very excited, happy and enthusiastic. I must have worked in this industry for more than 10 years, but I still take it as if I am new and have a lot to learn. To keep me physically fit during fashion weeks, I concentrate more on toning my body, like abs, so that my waist looks smaller.
Your fitness regime…
On a daily basis, I do a lot of free hand workout. I don't need any equipment or machine for exercising. My training is very rough and hard and activity based. At least five times a week, I train myself. Now that I am at LFW I workout for 20 minutes every day. Any exercise is better than no exercise.
Your beauty secret...
Cleaning and moisturising my face and eating healthy -- are my beauty secrets.
I am not that much into junk or oily food. And if I do indulge in junk food, I know how to balance it out. Fortunately since childhood, I was never inclined towards desserts. All these problems are out of my life :)
Sometimes I do cheat, I will eat aloo puri, aloo parathas or samosas at home. But I will make sure that I work out and balance it out.
Is there a particular diet that you follow during fashion weeks?
I don't follow a particular diet, because after a point you have to discontinue it. So I eat regularly as normal as you can, and you can continue this for the rest of your life.
Even during fashion weeks, I don't cut down on anything as such. I have my dal, chapati, rice. As I am a vegetarian, my body gets proteins from lentils. I have an apple or a bowl of fruits every day. And I never compromise on my workout.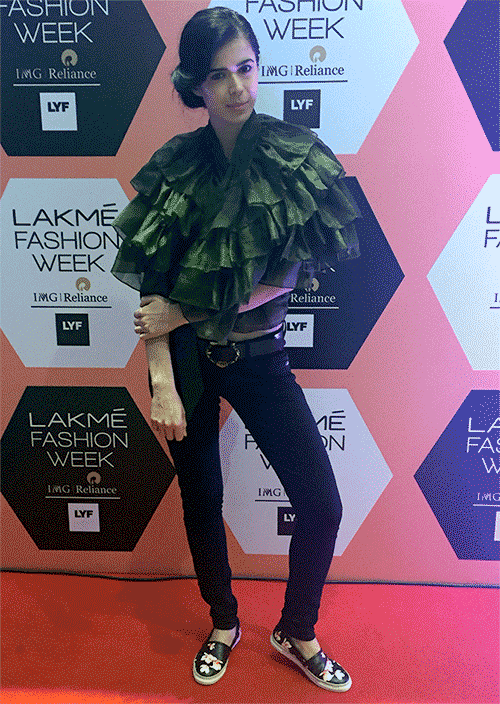 How many designers are you walking for this season?
I am walking for 15 designers. I walked for Pinakin, Gaurang Shah, Dhruv Kapoor, Amit Aggarwal, to name a few. I am walking for Aartivijay Gupta and a few others.
Which is the show that you have always looked forward to walk for and why?
I am so happy be on board at Lakme Fashion Week. This season there are so many good designers that it doesn't matter if you are already established or emerging. They have so much of talent. All my 15 designers are superbly talented. The garments are so beautiful, wearable and in trend.
What are the good things that you have come across in so many years of modelling?
I have seen so many people starting from the scratch, reaching to the top and still staying humble. They haven't forgotten their roots. So this is what makes me realise that life is greater than you.
Tell us about your first job/modelling assignment...
My first assignment was a fashion show with modelling agency Glitz in late 2003.
Aspiring models should ...
... stay punctual and stay committed to your job. Start modelling only if it's your passion. Remember in the end, every designer looks at your professionalism. Give your 100 per cent and wait for people to come and recognise your hard work.
Your plans after the fashion week...
I have more shows lined up. No plans to travel anytime soon.
The movie Ki & Ka (starring Kareena Kapoor and Arjun Kapoor) is based on house husbands. What do you think about it?
Human beings aren't men and women to me. I take everyone as an individual. There's no difference. Men and women should be equals. It's not about being better than anybody. It's about being good at what you do.
Virat Kohli stood up for Anushka Sharma on social media as he shut people who criticised her. Your comments...
It is a proud moment. Virat (Kohli) standing up for Anushka showed his respect for her. He is teaching the world to stay in their houses and to deal with their own problems.
Don't Miss our Special Coverage of Lakme Fashion Week Summer/Resort 2016