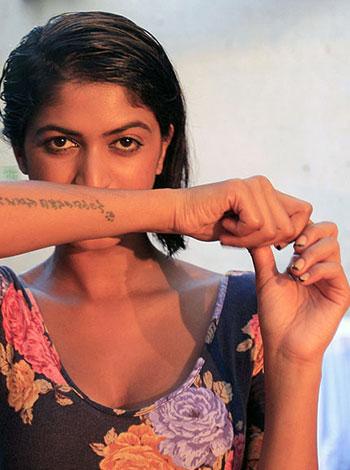 'I have always been a tomboy, even as a school girl.'
'I want to look good for myself; it's not for somebody else.'
'You have to be passionate about what you're doing, everything else will fall in place. I always stay grounded.'
An avid biker with tomboy looks, 23-year-old Radhika Bopaiah from Coorg, Karnataka, is taking the modelling world by storm.
Rajesh Karkera/Rediff.com chats up with this Kingfisher model about her two passions: modelling and biking and everything in between.
IMAGE: Blessed with an amazing body and striking looks, Radhika is a Coorgi at heart. Photograph: Kind courtesy Radhika Bopaiah/Instagram
How long have you been walking for the Lakme Fashion Week?
Lakme Fashion Week Summer/Resort 2016 was my first time at Lakme.
It was my first visit to Mumbai too.
How did modelling happen?
I was asked to walk the ramp when I was in my second year in college by (Bengaluru based fashion stylist and choreographer) Prasad Bidappa .
There was a model hunt and I thought I should give it a shot. I was confident of being selected because I had the height and body requirements.
However, I have always been a tomboy, even as a school girl. I'd go for rehearsals in my pullovers, a pair of loose jeans and sneakers and people would just not talk to me.
I was this weird kid but I guess that clicked with some -- they appreciated who I was and I started getting work despite, or should I say because of, a personality like that.
I moved to Delhi from Bangalore after my graduation. Delhi has been treating me well. I'm doing editorials, ad campaigns, etc.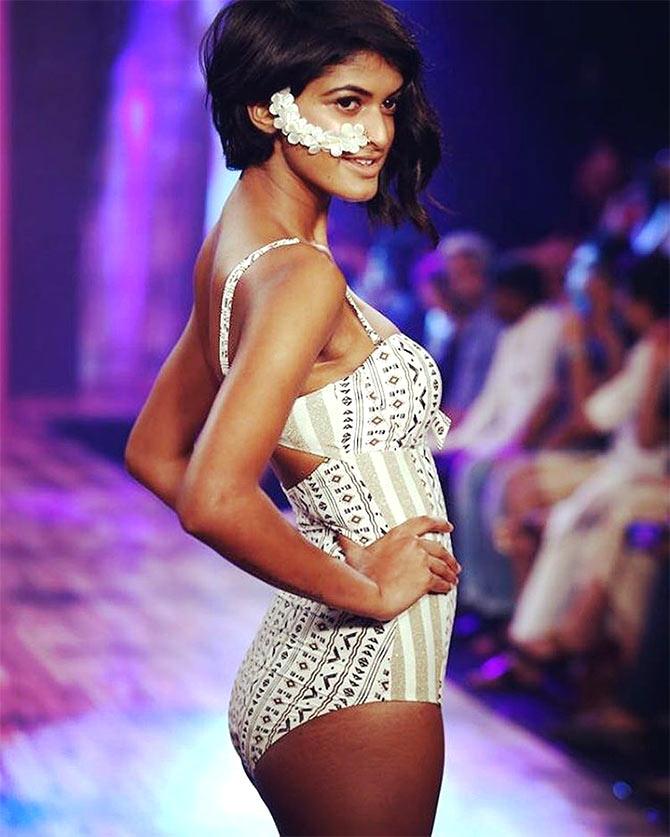 IMAGE: Radhika stirs a storm onstage at the India Beach Fashion Week 2016. Photograph: Kind courtesy Radhika Bopaiah/Instagram
How do you manage to stay so fit?
It is God's gift. I don't work out nor do I swim.
I eat all the time, but I eat the right food for my body. I have a good appetite but I don't eat in excess.
I think I'll chalk out a workout schedule soon.
Tell us about your diet.
I don't skip meals. I definitely don't overeat or load my plate just because there is a lot of good food in front of me.
I hate chicken and only eat red meat. Pork is my favourite! Obviously, it is in my blood; I am a Coorgi.
I avoid junk food and don't like carbonated drinks. I have a good metabolism, but I need to eat something every three hours.
Who are your favourite designers?
Amit Aggarwal and Manish Arora.
Their garments, I feel, are like engineering. They look like a sculpture -- a sculpture walking on the ramp.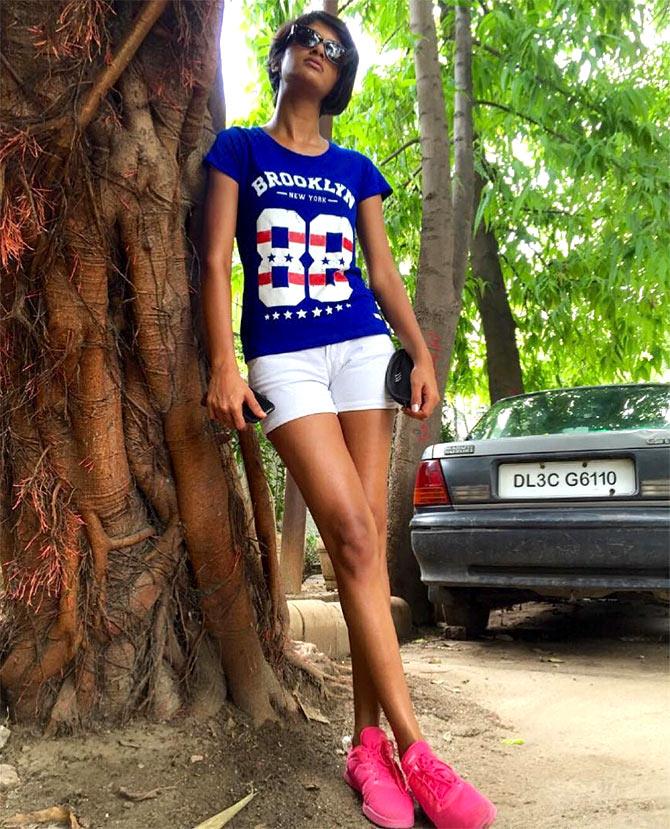 IMAGE: Want to know the secret behind her figure? Good metabolism, says Radhika. Photograph: Kind courtesy Radhika Bopaiah/Instagram
What's your personal style?
I like being a complete tomboy and I'm a biker. I never saw myself as the curvy, sexy type.
After I started modelling, I became aware of the fact that if I continue wearing loose clothes no one will notice me. So now you'll see me in body hugging outfits that accentuate my curves.
I have a dark skin tone so I prefer wearing dark colours.
What advice would you give aspiring models?
Don't be like me; like how I was before.
When you go for a casting, dress well, look tall and sit straight.
Don't think no one is watching you because someone always is observing you, right from the time you enter the room.
Even if you normally slouch and sit, see that you sit straight when when you go for castings.
For me, the advantage was that I always sit straight and walk tall. Even when I ride a bike, my posture is always straight.
How do you prepare yourself before stepping on the ramp?
It's completely crazy out there.
The moment you're on the ramp, you cannot think about anything else. Nor can you see anyone because of those bright lights aimed straight at you. So you just walk.
You know you're looking at the camera and you have to look good. You have to maintain that look on your face -- that poker face.
They ask you to look sexy, so you look sexy. You just forget about everything else for those 30 seconds on the ramp.
I've had some ups and downs... it happens to everyone. What is important is that you do your work well.
You have to be passionate about what you're doing, everything else will fall in place. I always stay grounded.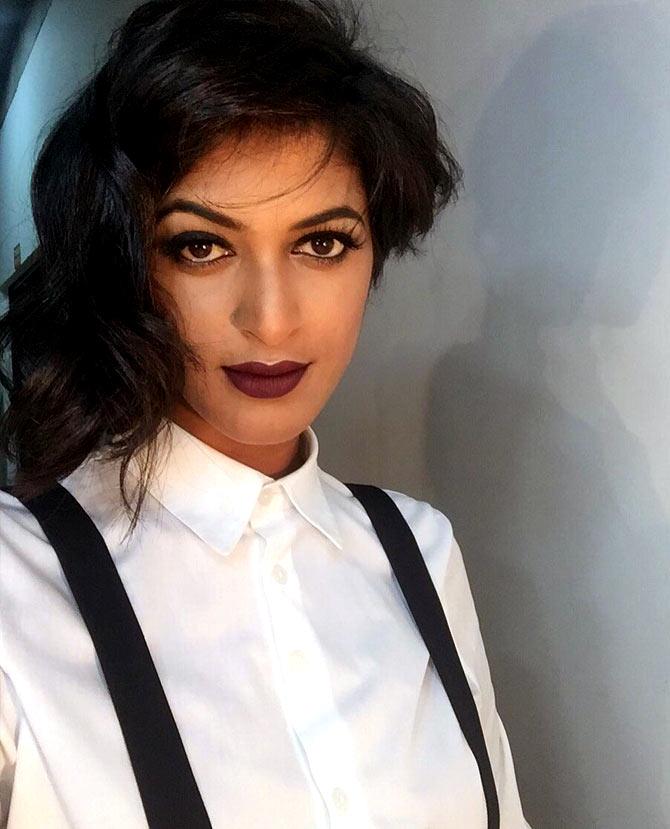 IMAGE: As she was a tomboy by nature, Radhika worked hard towards grooming herself. Photograph: Kind courtesy Radhika Bopaiah/Instagram
Did you always want to be a model?
I wanted to actually become a pilot, but I was not good at math.
I am not the first model in the family (Shubra Aiyappa is her first cousin). It was something that was always there at the back of my mind.
As I was a tomboy, I had to groom myself. Looking back, sometimes, I just sit and think, "How the hell did I do it?"
What were the challenges you faced?
A lot of people have put me down but I never really bothered about what they had to say.
I always made decisions for myself and I'm here today because of myself.
The best part is that these people (who put me down) know they made a mistake and now they call me for work.
I get compliments from cabwallas and autowallahs. It means a lot to me when they say, 'Madam aap aise hi rahiye, badaliyega mat. Bahut achhe ho aap (Madam, please remain the way you are. You're a very nice person).' And I feel so happy. I don't feel the same way when I know the compliment is fake.
I dress to please myself and usually end up either being overdressed or underdressed. People have a problem with it sometimes but it does not bother me. I want to look good for myself; it's not for somebody else.
Many times, people are jealous and tell me, 'Hey you know what, I think you shouldn't have worn that at this place.' I don't really care. I'm very comfortable with my body and I love to flaunt it. Because, hey, tomorrow can be a bitch.
What was your family's reaction to your career choice?
My family is pretty chilled out. They were always cool about my career choice.
They never saw it any other way. They just saw it as modelling -- a model wearing clothes and doing her job. I am thankful for that.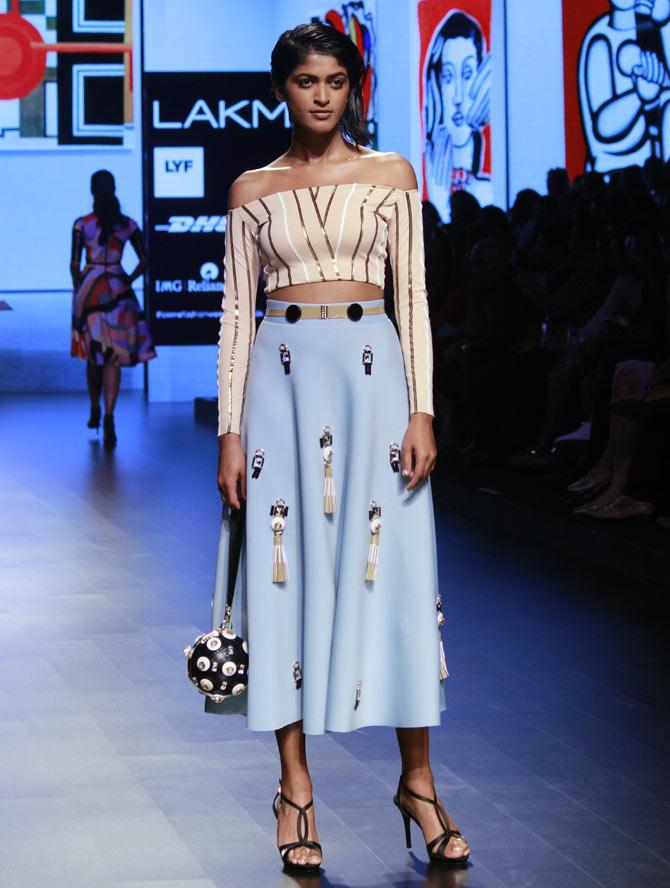 IMAGE: Radhika takes centrestage at a

Shivan and Narresh fashion show.

Photograph: Hitesh Harisinghani/Rediff.com
What's the best part about modelling?
Ssssshhhh... it's the food, I tell you.
Really, I don't remember any model saying that before.
As you see, I got to come to Mumbai and I love the food here.
I love the food everywhere I travel. And one does get to travel a lot.
Which would be your favourite travel destination?
Egypt, definitely!
Why?
It is a dream I have. I'll go to Egypt with my husband.
So you're married?
No! It's just a dream!
What are your passions?
I love biking. It is my passion. Biking comes first and then modelling.
IMAGE: Radhika flaunts her tattoo. Photograph: Kind courtesy Radhika Bopaiah
Which bike do you own?
I currently ride an Enfield Electra.
See this tattoo (showing me a Harley Davidson tattoo on her arm)! I'm a crazy Harley fan. One day, I would want to own a Harley Davidson Softail. I have never ridden a Harley and will ride one when I own it. I think it would be so cool and my kids will feel proud of me. I can imagine them saying, 'My mum is dropping me to school on a Harley!' All the other kids would be so jealous of them and say, 'Damn dude! Your mom is so cool. She is hot.'
I know I will still maintain the figure. But that won't be very soon for I'll be moving out of India for a while.
Where are you headed to?
I will be working abroad for a year-and-a-half and plan to move (back to India) in December. By then, I think I'd have saved enough to buy the Harley I want.
My dad did offer to pay half the money for the Harley, but I want to buy it myself.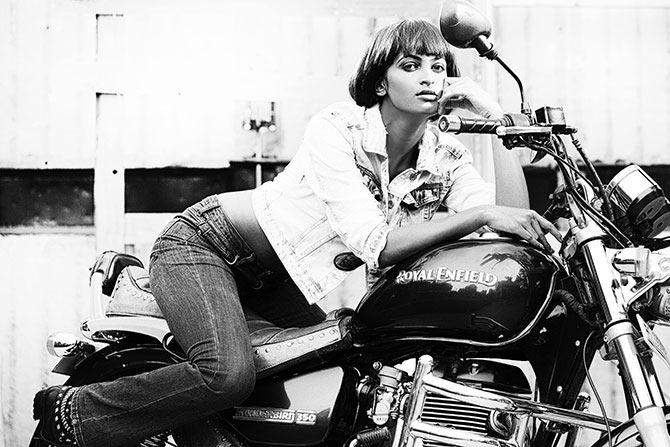 IMAGE: Bikes are her first love, modelling comes next. Photograph: Kind courtesy Radhika Bopaiah
Biking is your passion and modelling is something that you love to do. What's common between the two?
There's something about the wind when I ride; it's orgasmic.
I avoid looking at people when I ride, just the way I avoid looking at people when I'm on the ramp.
Because, in both these places, I want to do it only for the feel.
Do you like riding in the rains?
I don't like the rains because I dislike getting wet -- just like a cat. When it rains in the city, it gets so dirty.
I love the after effects of the rain though; when it's all green and clean. And there are less people outside.
The only time I enjoy the rains is when I'm watching it from a distance.
The best compliment you've ever received…
I don't want to boast but I get compliments every day.
Usually people compliment me for my body. Just yesterday, I had fittings with (fashion designers) Shantanu and Nikhil. I wore this very nice gown and Nikhil looked at me and said, 'How can you survive like that in this place? Looking so hot!'
Almost every second person tells me that I have a good body (laughs).
My make-up artistes have told me that I am polite.
IMAGE: Radhika strodes the ramp during the

third edition of India Beach Fashion Week, 2016.

Photograph: Kind Courtesy India Beach Fashion Week/Facebook
Future plans?
Modelling. I will be working outside the country very soon. Other than that, I have no plans.
I think it's better not to think much. I love doing something when I feel like it.
Any international shows in sight?
I've been shortlisted for Balenciaga Fashion Week to be held in October 2016. My agency sent me for an audition. In two days, I got a confirmation saying I got through.
You come from Coorg. Give us some travel tips.
Coorg is beautiful. There are so many homestays.
Look for a nice house to stay and have authentic home-cooked food. There's no better way to spend a holiday.
It's a very small place. You can actually see so many places in a day that you don't need a guide.
People usually know all the famous places there.
The best way to enjoy Coorg is by visiting its interiors -- stay in the estates, roam around in the fields, sit by the lakes and go fish.
It's fun living the simple village life.
Who is your favourite model?
Lakshmi Menon will always be my favourite.
I like Rikee Chhaterjee too.
But nobody can be like Lakshmi Rana. When she's on the ramp, I just can't see anybody else.