'There's something about Mary... she is badass, inspirational and unstoppable,' writes Priyanka Chopra in Elle's January 2020 edition.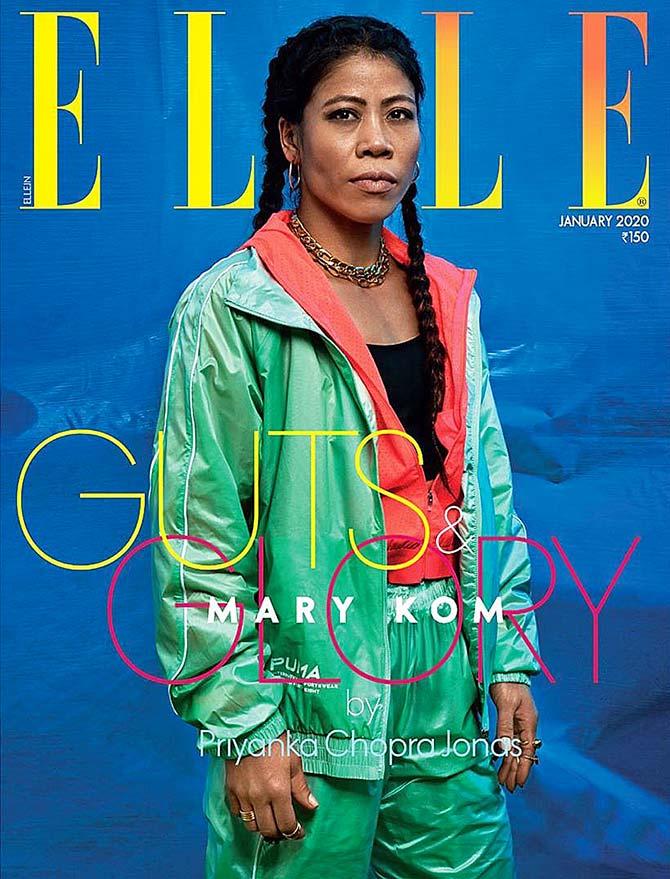 In Elle's latest issue Priyanka Chopra Jonas has shared some beautiful insights about Mary Kom.
'There is something about Mary,' the actor wrote. 'She is badass, inspirational and unstoppable.'
'It's the reason I immediately wanted to be a part of her story, when I got the opportunity to portray her on-screen.
'And getting to know her during the process of making the film just cemented that feeling.'
The mag's January cover star Mary Kom, who recently claimed a spot at the Tokyo Olympics 2020 qualifiers, strikes an imposing pose on the cover.
Dressed in green track pants with a matching jacket and a black sports bra, she completed the look with a brass necklace and plaited hair.
In Priyanka's words, the six time world champion 'is a genuine human being and an amazing lady… that's 'Magnificent Mary'.
'The remarkable thing about Mary Kom is that she has found a beautiful rhythm to her life: she is a great mum, an amazing wife, a fabulous cook, keeps an immaculate home and is truly passionate about and involved with the boxing academy she started. She does all this and still manages to train for a couple of hours every day,' the actor adds.