The actor has faced online abuse several times in the past.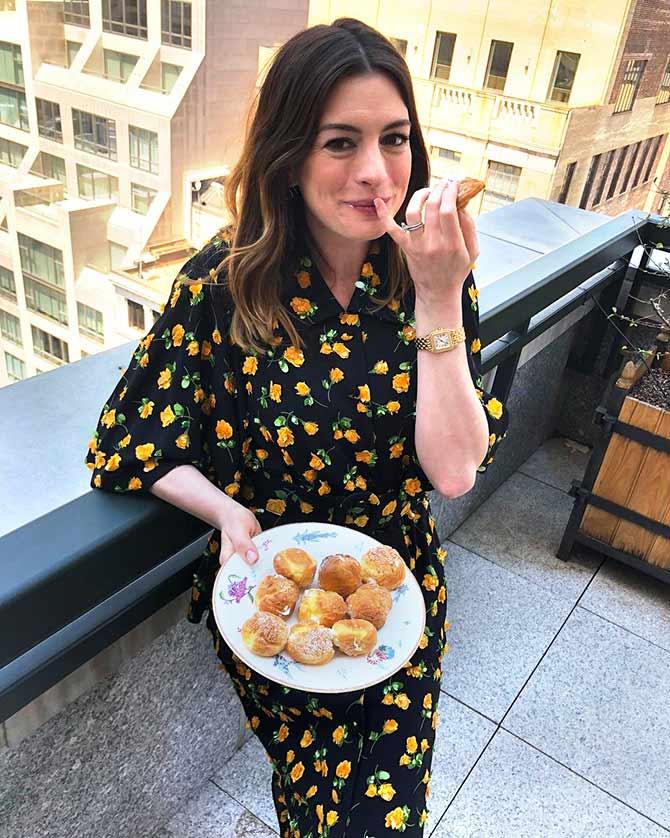 In an interview with Ellen DeGeneres, actor Anne Hathaway revealed that post the birth of her son, she did feel a little self-conscious about her weight.
'After I had my son, the weight was really slow to come off and so I was a different size than I normally am,' she revealed.
But it was due to the support of her co-stars including Sandra Bullock, Cate Blanchett, Rihanna, Sarah Paulson, Mindy Kaling, Awkwafina and Helena Bonham Carter that her insecurities were put to rest.
Talking about the times she would walk into the set feeling that her 'weight's a little up', her co-stars kind words would up her confidence.
'Sandy Bullock looks up and goes, 'You look good mama.' And then Cate Blanchett's like, 'Nice jeans, Hathaway.' And then Rihanna looks up and goes, 'Damn girl, you got an a**.''
The 35-year-old actor, who is currently in the process of putting on weight for a new part, says she has faced online abuse many times before.
'I am gaining weight for a movie role and it is going well. To all the people who are going to fat shame me in the upcoming months, it's not me, it's you,' she wrote on Instagram asking trolls to back off.
'It sounds kind of sad to say, I just wanted to enjoy my summer and let everyone know that I'm living in my body and I'm happy with my body.
'And if my body is different than what you're used to, or what you think it should be, that's (your experience).
'My experience is mine, and I'm loving it,' the actor told Hoda Kotb on NBC's Today show.
The Oscar-winning actor said the trolling has been consistent and overt in nature.
'All the time, and in the ways where it's overt and people say things to you and then there's kind of micro-ones,' she says.
The actor, who recently slammed trolls for fat shaming her, saying she is 'happy with her body', admitted that she is glad that people are 'becoming more conscious' about the language they use to engage with others.
'So maybe someone thought that it wasn't a big deal to say to a 16-year-old 'Congratulations, you got the part, you can't gain any more weight.'.
'Maybe they thought they were giving me some good advice but now, 20 years later, I'm able to say, actually, that could've been done more consciously and lovingly,' she says.
(With inputs from PTI)