The supermodel wore just a mini skirt as she flaunted some serious skin on the cover of Elle.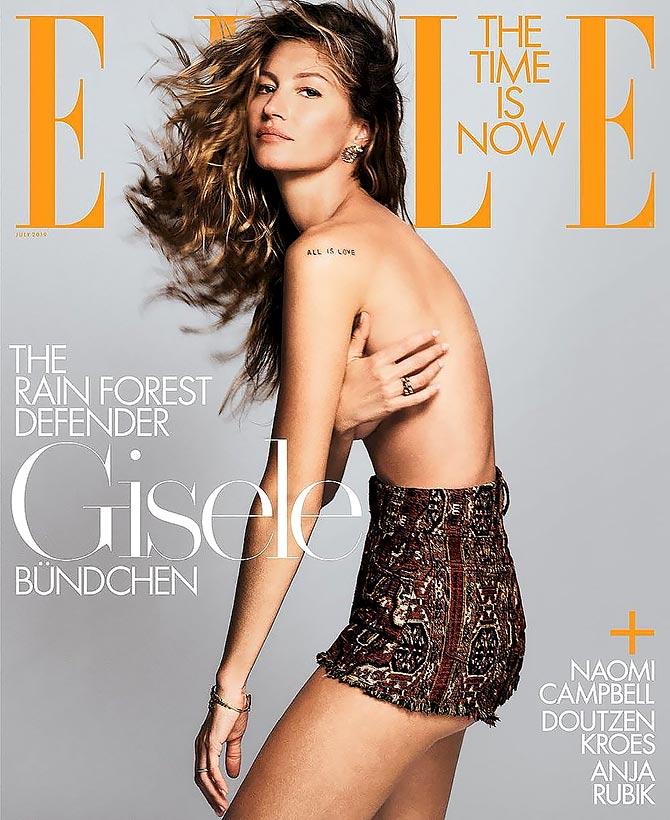 Is it hot in here? Or is it the Gisele Bundchen effect?
For Elle USA's July 2019 cover, the Brazilian supermodel ditched her top and sported just a printed mini skirt.
Flashing her tattoo 'All is love', she hopes to send across a message to her fans and highlight the urgency to act on global warming.
'During a visit to Brazil's Xingu region in 2004, I first witnessed the problems caused by river pollution and I've been advocating for social and environmental causes ever since,' Gisele shared on Instagram.
'The damage we are doing to our planet affects us all.
'It is a global issue that needs to be met with global action,' she added.
Gisele has been actively involved with various NGOs and has been doing her best to save the planet.
In 2008, she and her family founded Projeto Água Limpa (Clean Water Project) in Brazil.
For five years, they planted over 40,000 trees on the riparian margins of the stream and cared for the land until the trees grew strong.
Her efforts not only improved the water quality of her hometown, but also helped restore its wildlife.
Touted as the 'rain forest defender', Gisele captioned the cover, 'May love guide us.'
Other models who featured on the special Elle cover are Naomi Campbell, Anja Rubik and Doutzen Kroes.