The 18 year old from a small town of Rajasthan has been signed on by the international modelling agency that manages supermodels like Gigi Hadid and Miranda Kerr.
Kiyara took some time off blowing people's minds at Lakme Fashion Week to chat with Rediff.com's Rajesh Karkera.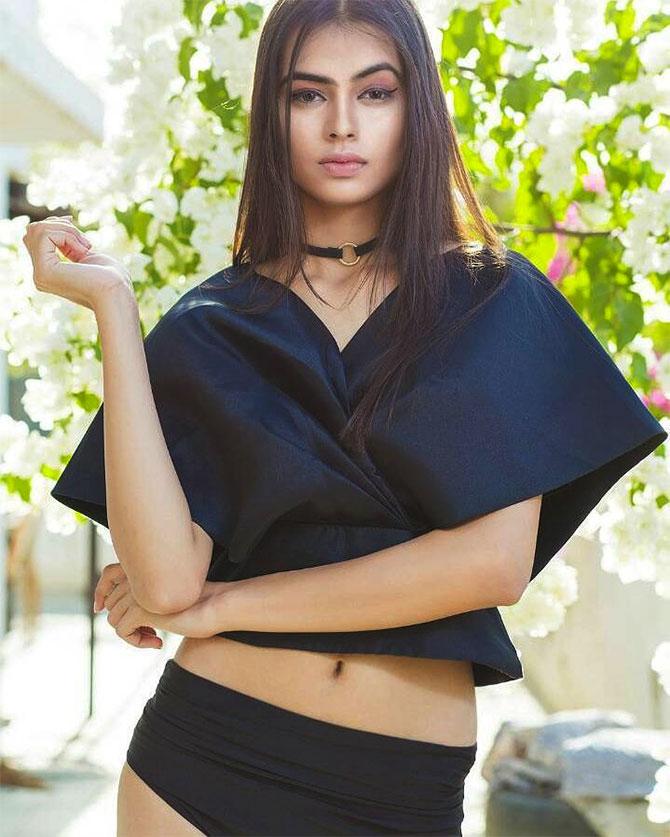 Kiyara's two-year contract with IMG Models states that she has representation in Paris, Milan, New York, London and Sydney.
Photograph: Courtesy Kiyara/Instagram.
She is from the small town of Sangaria in Rajashthan. She's 18. A kid still in many ways, she eats during her hair and makeup.
But put her on the ramp and she will blow you away.
Meet Kiyara, who not only won the Lakme Fashion Week Winter/Festive 2017 auditions but also the coveted global contract with IMG Models -- the agency that manages supermodels Gigi and Bella Hadid and Miranda Kerr.
How are you feeling today, Kiyara?
I'm feeling great to be here, sir.
Your name Kiyara...
Kiyara is not my given name. I gave myself that name. I thought its me.
It's my life. I wanna choose my name. I should have the right to choose what people call me. Now I'm me -- Kiyara
I know my parents gave birth to me. I love them very much. I respect them so much; they have let me live on my own terms. But I feel that if we have one life then why can't we choose our names ourselves (smiles).
What was your name earlier?
I don't want to mention that. I want everyone to know me as Kiyara. That's who I am.
Even a year ago did you imagine that you would be here today?
One year ago, I didn't think I'd be here. I still can't believe it. It's really surprising -- a dream come true for me. I'm still shocked, happy and excited.
I don't know… [I feel like] I'm still dreaming!
But I'm here at Lakme, and I'm doing it (she says with a jump)!
How is everyone treating you here?
They are all very professional. They are treating me very well.
I'm new here. I have little experience of all this. I mean, I do have some experience, but that's on a completely different platform. So, this is very different for me. They are teaching me everything, They are very nice.
When did you first start modelling?
The first time I told my parents that I wished to be a model; I was in plus 1 (11th std).
At that time, they thought it was just a liking I had taken to after watching television and going through magazines. They didn't know it would be my passion.
It was only in the beginning of 12th std that I told my parents firmly that I wanted to be a model.
By the time I was 16, the passion [to be a model] started burning inside me.
How did your parents react?
They were actually very supportive.
The only problem was that they were worried about what society would say. But I worked hard on convincing them that I would be fine, that it is a good profession, and they finally agreed.
You are from a small city in Rajashthan. Do you like travelling?
My first time out of Sangharia was [with my parents] when I was 4 or 5 years old. It was from Sangharia to Udaipur, Udaipur to Jaipur, and then back to Sangharia. I still remember that.
I knew then that I don't like to stay in one place. I like to keep moving.
I want to keep travelling.
What was your first modelling assignment?
My first show was with Nikhil Thampi in Mumbai
My first portfolio was made by Jiten Agarwal, a photographer from Jaipur.
Abhimanyu Singh Tomar, who runs a grooming academy and model management agency in Jaipur saw those pictures.
It was he who boosted my confidence. Mr Tomar is a very nice and caring person. He helped me in my journey. I will always be thankful to him. I respect him a lot.
He liked my pictures very much and passed them to Ms Alesia Raut. That is how I got shortlisted for the Nikhil Thampi show
That was my first time in Mumbai. I was here for a week and did 2 shows. I walked for Femina Craftsvilla after I did the Nikhil Thampi show.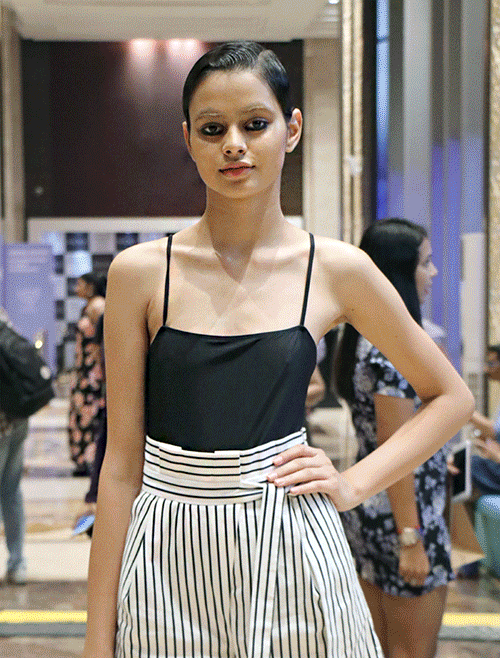 Kiyara in her element.
Photographs: Rajesh Karkera/Rediff.com.
She's very positive. When I saw her, I could sense that she was going to be a supermodel.
She was full of energy, full of life. Sometimes, I have to stop her and say, 'Kiyara, there are certain times where you need to be calm and relaxed.'
But she is so full of energy, she just keeps saying give me this, give me that... I will do it.
-- Abhimanyu Singh Tomar, fashion stylist, choreographer, catwalk trainer and director, Style Skool, Jaipur
How do you find Bombay?
At first, I was very scared.
And oh my god, it's so humid here! But now I really like it here. I love it.
I don't know anyone. Mumbai is new for me. Everything here is new for me here, (smiles) and I love new experiences.
How did you get to the Lakme auditions?
I got to know that Lakme was auditioning through Facebook I'd been following Lakme for the last 2 years.
I actually wanted to come for the auditions much before, but somehow it never really happened. I was too young then, but now when all this has happened I am so glad I didn't come earlier. I am glad I got to come at the right time when IMG was also here.
I am so happy I was I chosen for the IMG contract.So, so happy! I feel blessed!
How do you train yourself now?
I am working on myself everyday. Alesia Raut has also helped me during the shows. She was there at the Nikhil Thampi show, and also at Craftsvilla.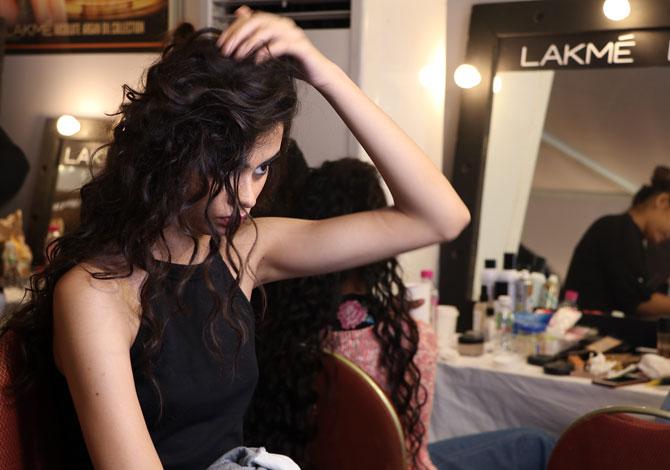 Kiyara in the LFW make-up room.
Photograph: Rajesh Karkera/Rediff.com.
She's definitely confident for the age that she is. Kiyara is somebody who creates an impression. She walks in and you will look at her.
She lives up to the expectations on the ramp for sure. Be it the garment, be it the attitude, she has it.
She still has a long way to go, but she's a learner and that you can see it from the show that she is doing.
-- Alesia Raut, model and trainer
Any other dreams apart from modelling?
Yes, I did have other dreams too, but I'd like to keep them to myself. Right now, I only want to think about modeling.
What about hobbies?
I like drawing and painting; I am very good at art.
I love dancing.
I like travelling. It's my dream to visit NASA someday; I like astronomy, and the supernatural also interests me.
Oh yes, I love to read.
And ummm wait... there is something I am forgetting... wait, wait... oh haan and sports! I am a state level basketball player
What about your studies, How were you in school?
I am a pretty good student, but my last highest score was in the 8th std.
That's bad i know, but my focus shifted to modelling then.
I am still studying. I'm doing my 2nd year through correspondence in my home town.
The IMG contract is for two years. What happens to your studies then?
I will continue my studies simultaneously. But just in case my modelling career goes really, really great, I will pause my studies and finish it after I come back from the IMG contract.
I will never ever quit my studies.
Which designer inspires you here at lakme?
(Reluctantly answers) Honestly, actually, I don't know anyone here. I really don't even know the designers. I only know the international designers, because I have read about them and seen their shows on TV.
I haven't been familiar with Indian designers. I know nothing about the industry here. I know the names of certain international models too, but not here. I know that's very bad, but I really don't know.
And the only name I know even now properly is Manish Malhotra. He, along with the other judges, chose me. He made me walk the ramp twice during the auditions. Maybe I did something wrong while walking. I don't know what they saw in me. But I am really thankful to him.
I hope they [the designers] all know me. That way I can know them too.
I am loving all the designers I have walked for today. They are amazing in the way they work, the way they concentrate on every aspect of their designs. I am just amazed by them.
Kiyara, second from left, with the other LFW audition winners and actress Kriti Sanon, center.
Photograph: Rajesh Karkera/Rediff.com.
She's lovely, confident, a good model.
We selected her because we thought she has potential. She's got a nice confident walk and nice face.
But this is just the first step. Let's see what she does. She's got to go out and get better.
-- Manish Malhotra, designer
You just walked for Ritu Kumar beside Disha Patani. How did that feel?
OMG! I really walked beside a movie star!
OMG! I'm so bad! There on the ramp I don't see anything other than the instructions they give me and the lights in front. I'm so sorry I didn't realise I was walking with a celebrity! God! Oh god!.
Any particular international designer you would like to walk for then?
Tommy Hilfiger, Karl Lagerfeld, Versace... there are so many! They all inspire me. There is not just one designer that I would like to walk for; I would like to walk for all of them (smiles).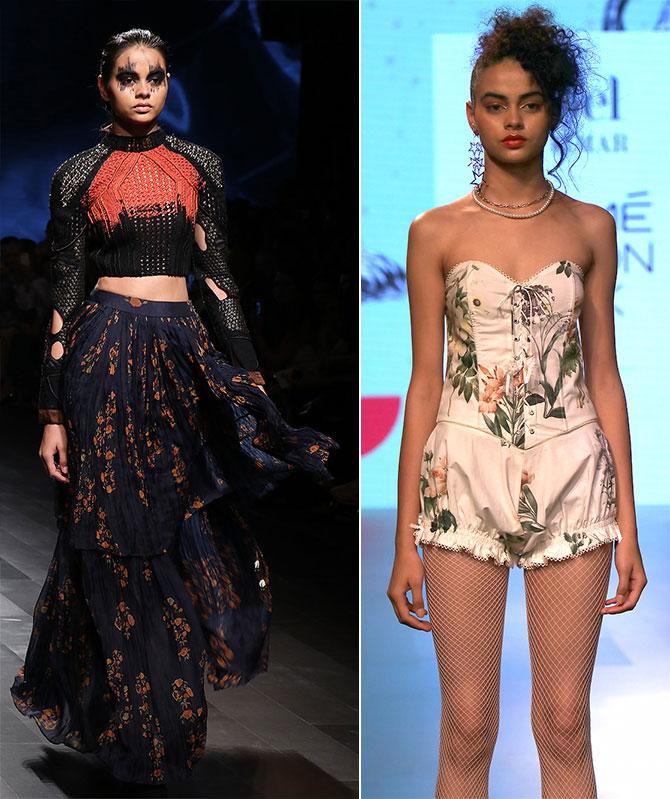 Kiyara walks for designers Saaksha & Kinni, left, and Ritu Kumar, right, at LFW.
Photographs: Hitesh Harisinghani/Rediff.com.
Kiyara is so confident. She's fantastic.! I was shit scared when I was walking for Lakme the first time.
-- Mitani Rannorey, model
Kiyara walks like she's made for the international ramp. I hope they don't make her change her walk. This girl is made for the international ramp.
-- Pema Nervo, model co-ordinator
What is your advice to aspiring models?
If you really feel like this is what you are made for, do a self talk. Talk to yourself; give yourself some time. And if your soul gives the approval that yes you have everything in you to be a model and you can go really high and you can be a supermodel, then this is what you should do.
Then just go for it. Don't give a damn. Just go for it it with your whole focus.
Keep trying. Work hard. And never stop.
Wondering how well Kiyara did at LFW? See for yourself!