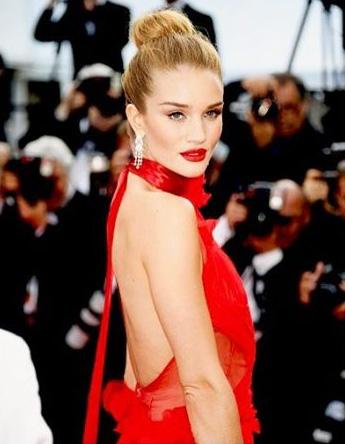 We present some of the good, bad and ugly looks of the week.
Take a look!
The Good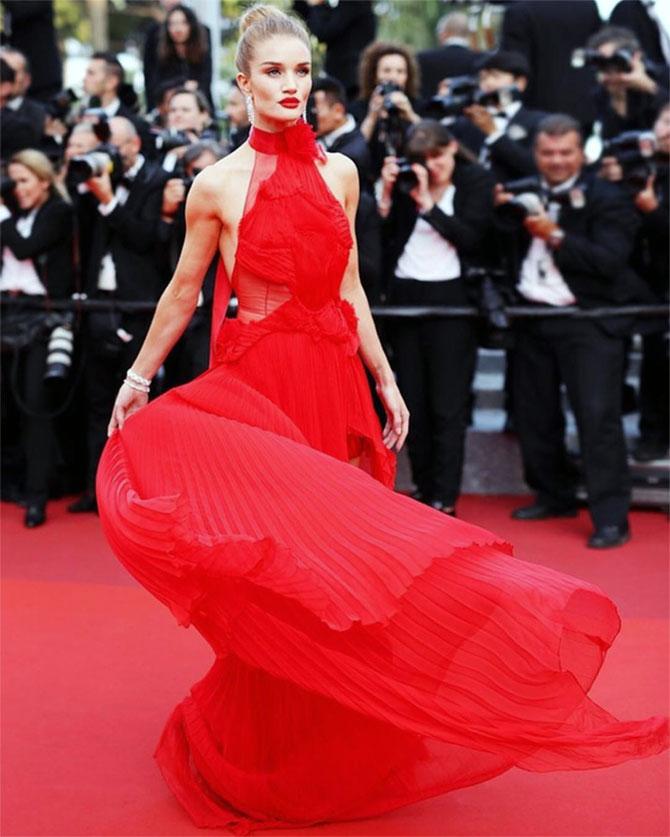 IMAGE: It's a red dress with red lips for Rosie Huntington-Whiteley onthe Cannes' red carpet. Photograph: Kind Courtesy Rosie Huntington-Whiteley/Instagram
Rosie Huntington-Whiteley looked ravishing in this scarlet red dress by designer Alexandre Vauthier.
He's the same designer behind Bella Hadid's red 'naked dress'.
ALSO SEE: Hot or HOT? Bella Hadid goes commando at Cannes
Rosie's pleated halter dress with ruffled panels and a high split accentuated her gorgeous figure.
We loved how she completed the look with a high bun and matching red lips.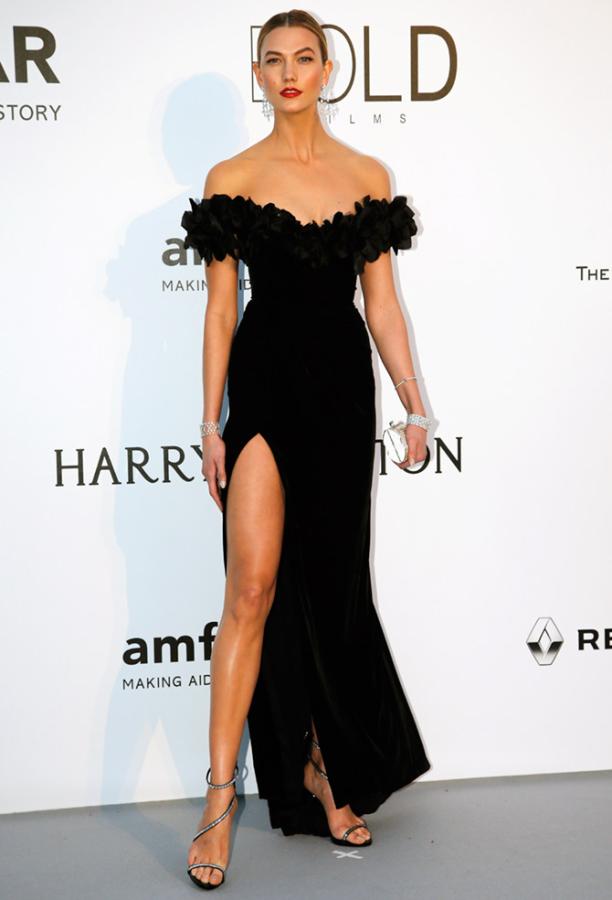 IMAGE: Karlie Kloss flaunted her runway ready pinsin an off-shoulder, thigh-high slit dress at Cannes. Photograph: Jean-Paul Pelissier/Reuters
Karlie Kloss flaunted her timeless body in a black Marchesa gown with petals scattered on the shoulder.
With hair tied in a tight bun, we loved how she added a hint of colour to her outfit with the red lips.
And those diamond-studded Giuseppe Zanotti Design shoes are so drool-worthy!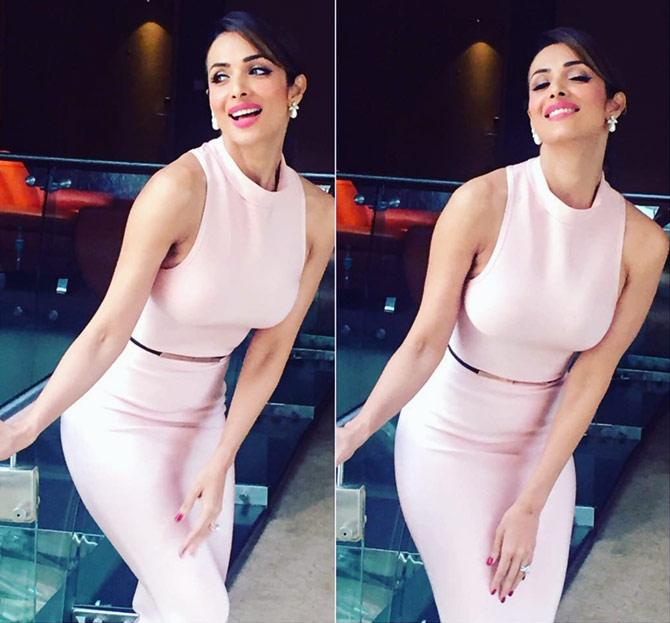 IMAGE: Lady in pink: Malaika Arora Khan's fashionable summer outing. Photograph: Kind Courtesy Malaika Arora Khan/Instagram
Rose quartz is the colour of the season, and Malaika Arora Khan looks like a million dollars in this rose tone dress.
The bodycon dress fitted Malaika beautifully, and we are totally crushing over the colour, which is so summer friendly.
She completed the look with pink nails and matching lips.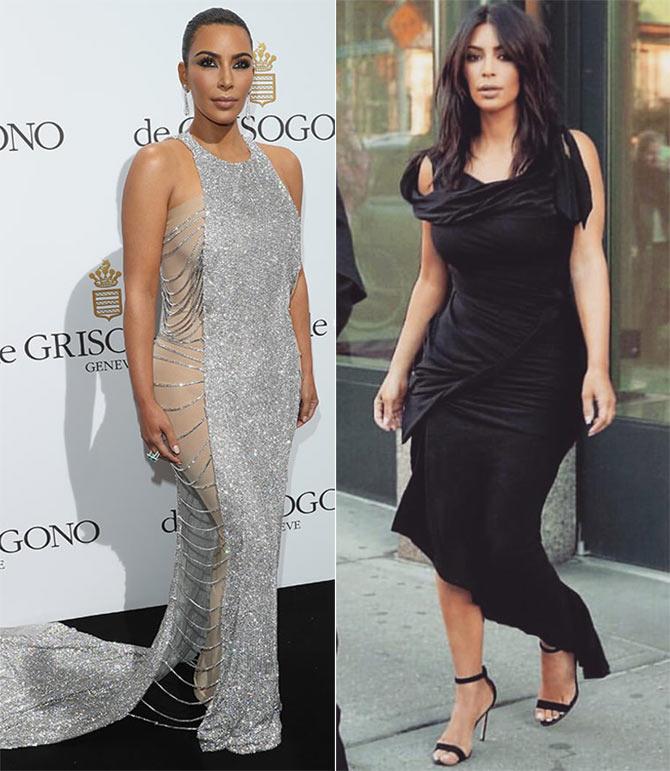 IMAGE: Two different outfits, two different looks. Photograph: (left) Andreas Rentz/Getty Images and (right) Kind Courtesy Kim Kardashian/Instagram
Kim Kardashian managed to nail both her recent looks with such ease.
At her Cannes outing (left), she chose a shimmering gown by Lanyu Couture; smokey eyes and a tied back slick bun never looked so good.
At the Webby's Awards function, she showcased her incredible figure and killer curves in a thigh-split black Vivienne Westwood dress.
No lashes, no hair extensions and no lipstick...that's Kim's look in a nutshell.
In fact, we can't decide which one we loved better.
IMAGE: It's a bedazzled black Miu Miu gown for Irina Shayk at Cannes. Photograph: Yves Herman/Reuters
We liked almost everything about Irina Shayk's glamorous entry on the Cannes red carpet.
It looked like a simple form-fitting black gown from the front.
But, we were blowed over when we saw the back of this stunning gown with its crystal chains and ostrich feathers, all the way down the back.
Zero accessories and minimal make up, and the gown with its fitted hourglass silhouette; we totally loved this look.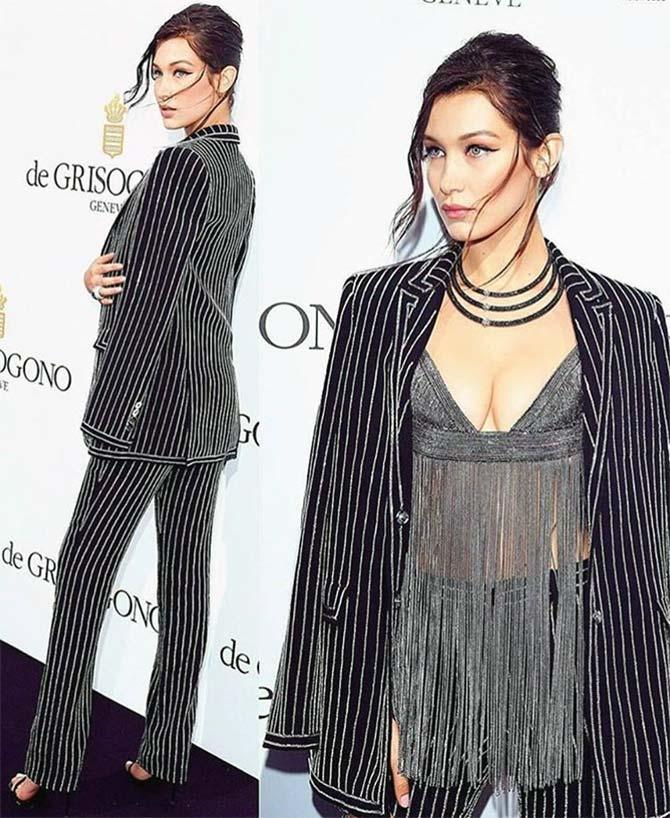 IMAGE: Bella Hadid's stripped power-suit is giving us serious fashion goals. Photograph: Kind Courtesy Bella Hadid/Instagram
We could do just about anything to get this black two-piece pinstripe Givenchy suit that Bella Hadid sported at a Cannes bash.
She looked stunning in this androgynous look; and the suit fit her like a glove.
The silver-fringed top with a delicate trim of dazzling silver chains just gives the much needed bling to the otherwise formal outfit.
Her smart heels and black three-tier necklace matched perfectly with the outfit.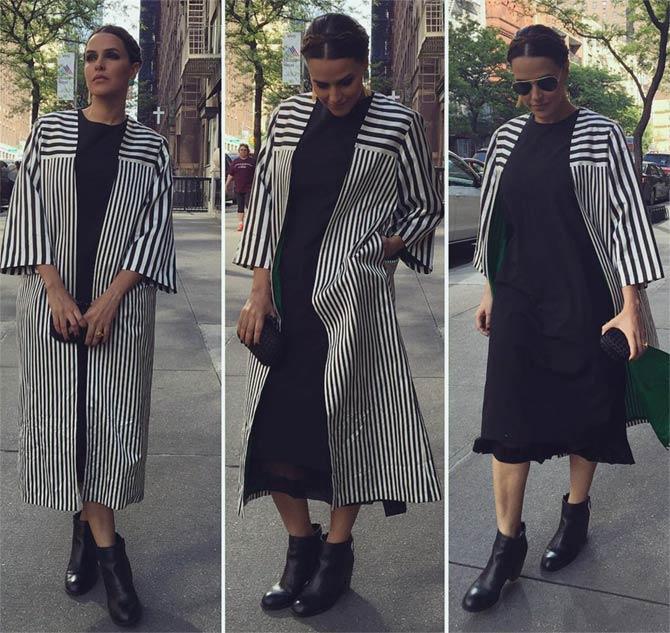 IMAGE: Neha Dhupia fashionable outing at NYC in black-and-white. Photograph: Kind Courtesy/Neha Dhupia/Instagram
Talking of stripes, next up is Neha Dhupia's chic outfit that she wore to a recent outing at New York.
She rocked the biker chic style in a knee-length black dress, matched to perfection with a black-and-white striped jacket and leather boots.
Between her striped jacket, leather boots and aviators, we are not sure which one is the most overwhelming.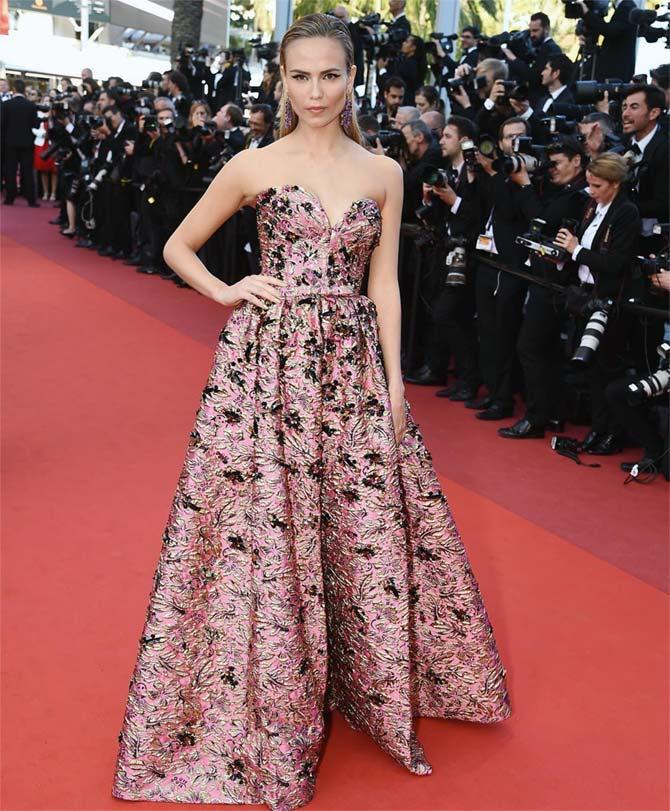 IMAGE: Natasha Poly's ethereal gown stole the spotlight at the Cannes red carpet. Photograph: Kind Courtesy Natasha Poly/Instagram
Natasha Poly worked every bit of that gown; she looked beautiful in it.
The winged eyeliner, slick hair and chandelier earrings complemented the gown perfectly.
The gown looked really exquisite and the model cut a dramatic figure in the off shoulder creation.
The Bad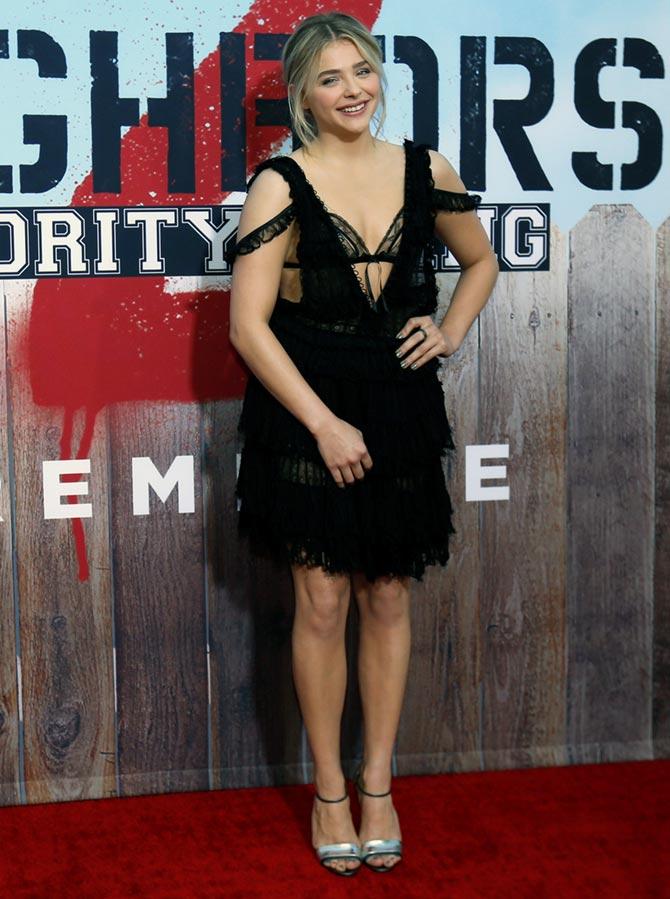 IMAGE: This is what Chloe Grace Moretz wore to a LA premiere, but herfashion risk didn't pay off! Photograph: Mario Anzuoni/Reuters
Chloe Grace Moretz's tiered Alexander McQueen dress is one lacy mess.
There's way too much happening here: lace, sheer, frills, a plunging neckline and a lace bra on display!
The 19-year-old actress left little to our imagination in this dress.
Also, her silver stiletto didn't work for us!
The Ugly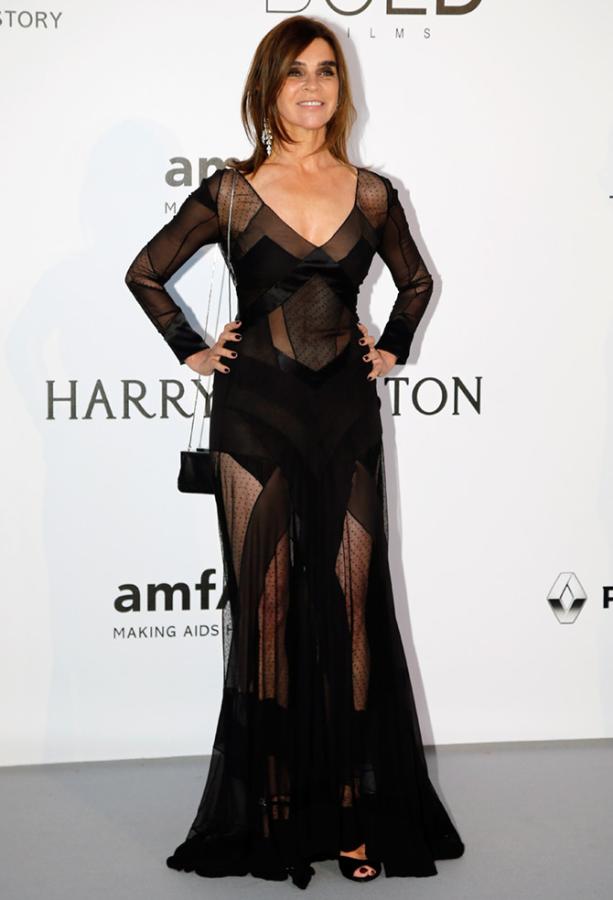 IMAGE: Carine Roitfeld's failed attempt at wearing sheer. Photograph: Jean-Paul Pelissier/Reuters
Nothing is right about this look...the Dracula-inspired make-up and the sheer floor-length dress collectively failed to impress.
We wonder what former fashion model Carine Roitfeld was thinking when she decided to step out in this disastrous look to attend an amfAR event.
Our closest guess is that she didn't take a look at herself in the mirror before stepping out. What do you think?