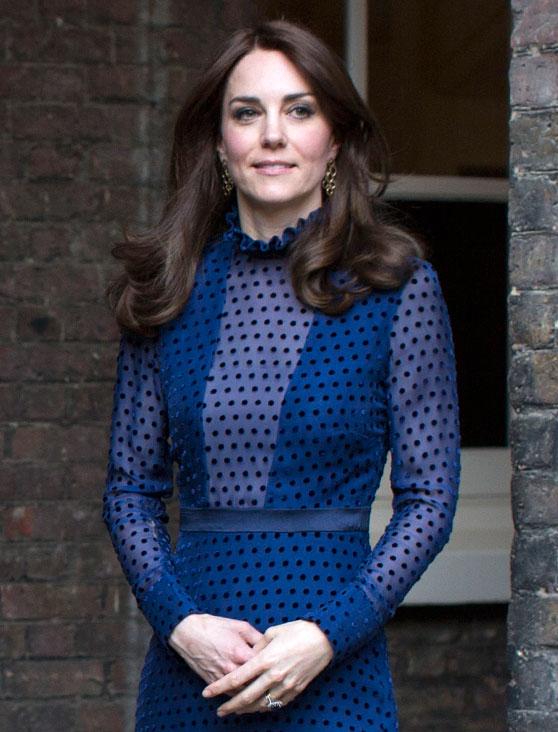 Right ahead of her first India tour, the Duchess of Cambridge Kate Middleton showed us how to dress diplomatically!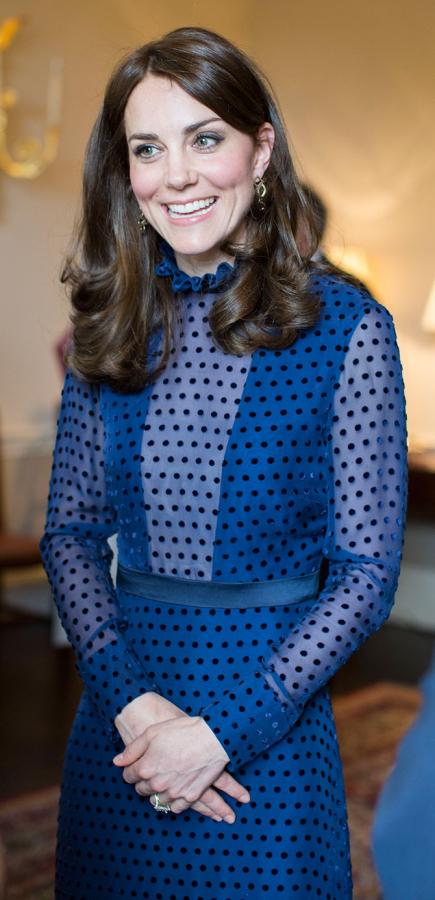 Image: Kate Middleton in a polka-dotted navy blue dress from India-born British designer Saloni Lodha. Photograph: WPA Pool/Getty Images
Britain's Kate Middleton has flaunted a sheer navy blue dress from India-born British designer Saloni Lodha's creations at a reception here for expatriates from India and Bhutan, days ahead of her visit to the two countries.
The Duchess of Cambridge joined husband Prince William to host a pre-tour reception for representatives of the Indian and Bhutanese expatriates at their home in Kensington Palace yesterday. The royal couple will be setting off on their six-day India and Bhutan tour from Sunday.
The high-collar, floor-length dress is called the Mary Illusion Dot Dress from Lodha's Pre-Fall 2016 collection. It featured polka dots all over, a high ruffled neck and long sleeves. It was also cinched in at the waist with a band-like belt. The dress gave an illusion of a plunging neckline and had a v-shaped cut-out detailing at the back. The dress gave a very Victorian vibe to the Duchess's style. The 34-year-old completed her outfit with diamond and sapphire earrings and navy high-heels.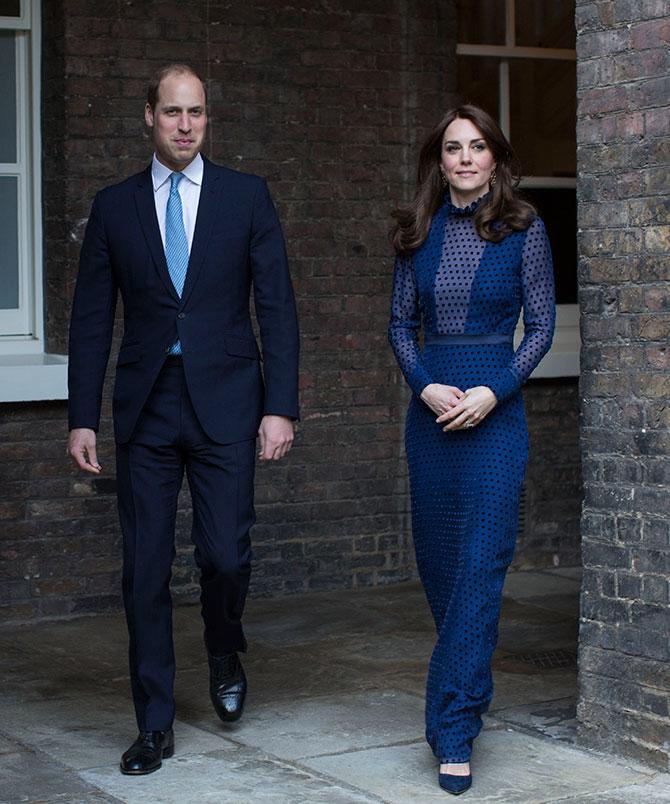 Image: Prince William, Duke of Cambridge and Kate Middleton, Duchess of Cambridge attend a reception ahead of their tour of India and Bhutan at Kensington Palace on April 6, 2016 in London, England. Photograph: WPA Pool/Getty Images
The Duke and Duchess of Cambridge are all set to embark on the Indian tour and as a taster met representatives from the Prince Charles' charity, British Asian Trust.
Lodha is among the favourites as the Duchess plans to showcase Indo-British designers during her South Asia visit, which will also include a visit to the Taj Mahal in Agra. Lodha founded her luxury label in London in 2007 and is known for her exotic designs.
Just a few days after it was announced the Duke and Duchess would be travelling to India, Kate wore a dress by Lodha for a function in London, hinting perhaps that she will also rely on the designer's print and colour filled collection for the upcoming tour.
Also read: Poll: Vote for the best dressed woman
Why we want to be Kate Middleton's BFFs!
Kate gets a haircut and we totally love it!