It was like an explosion of candy floss on the runway :)
Deepika Padukone flanked by designer duo Gauri & Nainika at the Kiran Nadar Museum of Art, Delhi. Photograph: Kind courtesy knmaindia/Instagram
Designer-duo Gauri and Nainika showcased their Spring Summer 2018 collection at the Kiran Nadar Museum of Art in the national capital.
Walking the ramp as the showstopper was the gorgeous Deepika Padukone, who strode the runway in a ruffled pink gown.
With her lips painted red and her hair tied in a loose bun, the actor looked elegant.
But one look at Deepika's gown and we were reminded (in a good way) of the candy floss we had in our childhood.
Maybe it was the play of colours! Or the ruffled effect of the gown.
But it goes without saying that Deepika Paukone pulled off the look effortlessly. Kudos to her for maintaining such a stellar runway record through the years.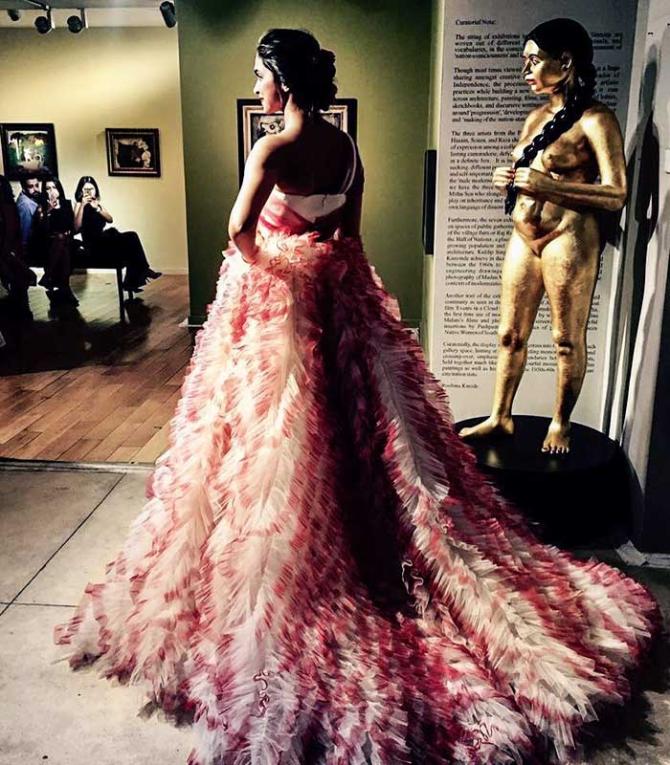 Bringing sexy back! Deepika flaunts the gown as excited members of the audience take pics.
Photograph: Kind courtesy

Gauri & Nainika/Instagram
(With inputs from ANI)