'When I see an unclothed woman, I do not see nudity; I see the beauty of nature, I see God in every female form.'
'Fortunately for me, my family always stood by me. My wife is my biggest supporter. She has always encouraged me to go after my dreams.'
'Initially, she was a bit apprehensive that I worked with nude models. But now she understands what my work means to me.'
'I am happy with the work I do.'
That's L Ramachandran from Kumbakonam, India's first Playboy photographer, in conversation with S Saraswathi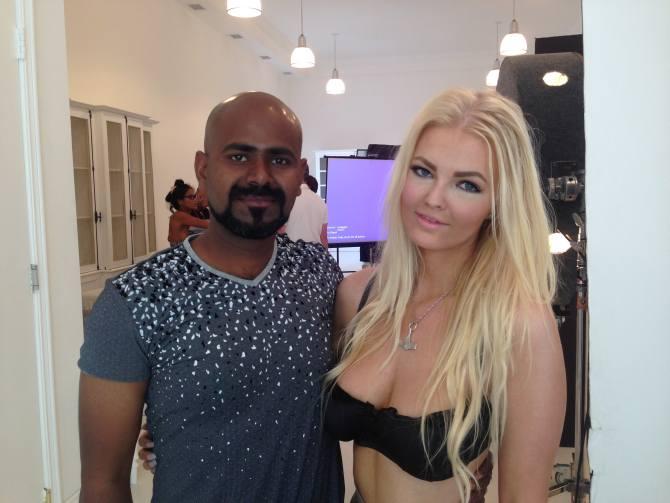 L Ramachandran with Playboy model Zienna Eve in Los Angeles; Photograph: Courtesy, L Ramachandran
Nudity may have been the principal subject of art since prehistoric times, but marred by ugly controversies, nude art even today faces the wrath of the so called protectors of righteousness.
34-year-old L Ramachandran, a creative glamour photographer from Kumbakonam was in the news recently for being the only Indian photographer to have worked with Playboy magazine.
In this interview with Rediff.com, Ramachandran talks about the unconventional path he chose to tread and how his passion for the sexy and glamorous brought him the recognition he deserved.
Passion for photography
From a very young age, I was interested in photography, but it became my passion only after I entered college.
I graduated in Art from the Government Art College, Kumbakonam. We worked on a lot of sketches. I kept looking at them from a photographic perspective. The play of light and shadows on the subject intrigued me.
What also fascinated me was the female form. Models often posed for us and I used to wonder how I could make them even more attractive, more glamorous.
From my college days, I believed in doing things differently. It was not a deliberate or planned effort, I was naturally different.
By the time I finished college, I knew what I wanted to be. Glamour photography became my passion, my life.
The move to Chennai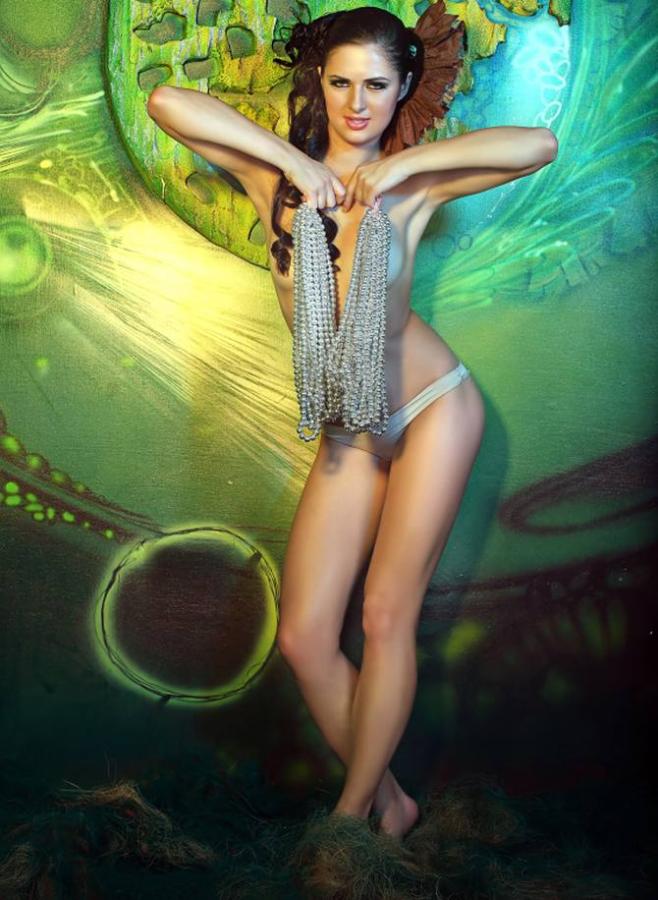 L Ramachandran's photo shoot titled 'Tribal Fantasy Queen' at Tharansia Studio; Photograph: Courtesy, L Ramachandran
I got a job at an advertising agency in Chennai. For a small town boy like me, moving to the city was a really big deal.
I could literally feel the city buzzing with excitement. I met many celebrities, art directors, artists and photographers.
I made a lot of contacts. I also got married. I moved to Chennai in 1998 and six years later, in 2004, I started my own creative studio, Tharansia.
From Chennai to Miami
We put together innovative concepts and designs to create the perfect shoot. We worked for several magazines and popular brands in Chennai like Megamart, Louis Phillipe and Van Heusen.
I was busy, but this was not the kind of work I really wanted to do. It was my dream to get into glamour photography.
I longed to work in magazines like Playboy that specialised in such shoots. In India, this kind of photography is strictly taboo.
I travelled and made contacts in Bangkok, Pattaya, Thailand, Indonesia and Cambodia. In Thailand I eventually got the breakthrough I was yearning for.
A friend, editor of a popular magazine, suggested my name to Jarmo Pohjaniemi, celebrated international photographer, who worked for Playboy.
He liked my work and invited me to a seminar conducted by Playboy.
I was given plenty of assignments. Since glamour photography has been my long time dream, my passion, I found the work relatively easy.
There were 120 participants from all around the world, yet my work stood out. I thought differently and this reflected in my work.
After I returned I was invited to another seminar, in Miami. I had the privilege to assist Jarmo Pohjaniemi.
That was when my real education began. I understood how Jarmo worked and the finer nuances of this beautiful art.
Conceptual photography
I had a team that helped me with the concept-based photo shoots I started to specialise in. Working on projects that convey a particular theme requires a lot of effort.
L Ramachandran's seasonal beauty concept shoot at Vaalpaarai, Kerala; Photograph: Courtesy, L Ramachandran
These days everything is based on a concept. Even businessmen use this tactic. Every strategy is planned around some particular concept or idea.
The plan is to convey an interesting idea through the medium of visuals. This can be achieved through perfect lighting, appropriate background, the model's pose, her expression, accessories, etc. Everything has to work in tandem, to convey the concept, while bringing out the harmony of the image.
At a recent photo shoot, Jarmo designed a concept in which he had the model standing inside a huge soap bubble made by a massive ring, six feet in diameter. He simply astounds me with his brilliant concepts. He is a huge inspiration.
I am currently toying with a new concept myself. I am trying to incorporate liquids like milk into the shoot along with a nude model.
Most of our work is trial and error. I once worked on a concept of using just light to represent the model. It was a huge success. It appeared so real that people actually wanted to touch the image.
A dream finally comes true
I continued to work on new concepts and ideas. I wanted to do a photo shoot on Indian terrain with international models dressed as brides in gold jewellery.
Playboy loved the idea and the shoot was a great success.
It was released in the October 2014 issue of Playboy South Africa.
It was an amazing moment for me. The dream of a lifetime had finally come true. To see my name in an international magazine is a feeling I cannot describe.
Working with celebrities
I have worked with several celebrities from the film industry, especially from the South.
For Southscope magazine's cover page, we shot with the gorgeous Taapsee Pannu (Read: Baby actress Taapsee Pannu visits Rediff).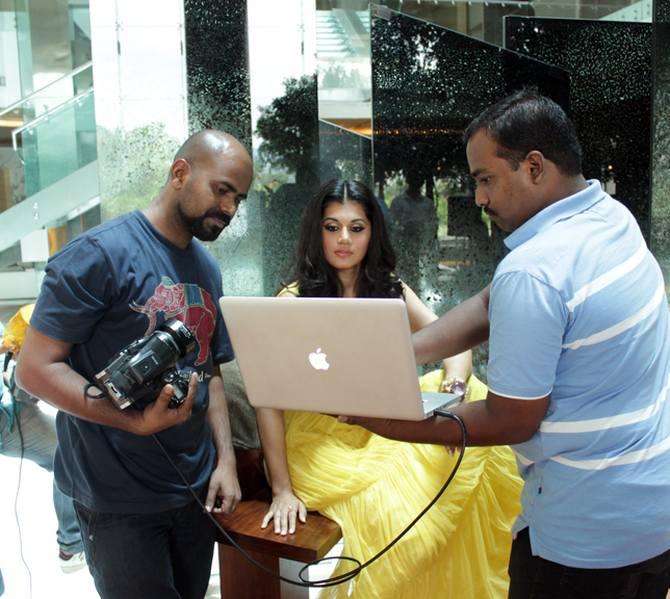 L Ramachandran in conversation with Taapsee Pannu between the photo shoot for Southscope magazine; Photograph: Courtesy, L Ramachandran
I have also worked with Rakul Preet Singh, Srikanth and G V Prakash (popular music composer/actor).
Nayanthara looks really good, but Trisha is my all-time favourite. From Bollywood, it has always been Shah Rukh Khan.
I also find Ranveer Kapoor, Katrina Kaif and Freida Pinto very photogenic.
I recently came across some images of Kangna Ranaut. In every picture, I could see a subtle difference in her. This is not something all models have.
No appreciation in India
To be frank, my work is not appreciated in our country. Initially, I sent a lot of my photos and ideas to people and magazines in India, but there was no response.
If my work was not up to the mark, then I can understand their reaction. But people abroad love my work.
It depends on the requirement of the brand. Here there is not much demand for the type of work I do.
People feel you have committed a grave offence. But what really hurts is that even your own friends do not support you.
Fortunately for me, my family always stood by me. My wife is my biggest supporter. She has always encouraged me to go after my dreams.
Initially, she was a bit apprehensive that I worked with nude models. But now she understands what my work means to me.
When I see an unclothed woman, I do not see nudity; I see the beauty of nature, I see God in every female form.
I am happy with the work I do. I am blessed with two lovely children and life is good.
Drawing the line between beauty and vulgarity
It is all in your mind, your way of thinking, your perspective. When I see a nude model, I do not see any vulgarity.
And finally it is what I see that is reflected in all my images. I have always portrayed the beauty and wonder of a woman.
Success is vulgar
Slowly, but steadily my work is being recognised. Last year, I was part of the Art Apart Fair in Singapore. It is an international art fair that encourages innovative artistic expression from around the world. My work received a very good response.
I recently worked on a shoot for world peace with different colours and a nude model for a Korean art gallery, which also received much appreciation.
Some of my work will soon be featured in Maxim, India.
L Ramachandran's work for Maxim with supermodel Taryn Walker at Photopia Studios, Miami; Photograph: Courtesy, L Ramachandran
We talk about nudity being vulgar, but I believe that it is success that is truly vulgar.
Now that my work has been acknowledged in the international market, I notice the change in people's attitude towards me.
Success boosts your credibility and brings with it respect; it is funny how the past is conveniently forgotten.
Secret to success
I faced my share of problems during the initial stages. But I was passionate about my work. I was not afraid of the unconventional and this brought me international fame and success.
Never be afraid to follow your passions, be dedicated and sooner or later, you will be successful. I believe that any problem you face will automatically take you to the next level.