Bobo, who is turning his paintings into 'arty fashion', wants his work to speak for the liberation of love.
'Queer all the way,' he tells Rediff.com's Anita Aikara.
Ayushman Mitra turned his art into fashion with the label Bobo.
Photograph: @bobocalcutta/Instagram.
Quiz Ayushman Mitra aka Bobo about what makes his collection so different from the other GenNext designers and pat comes the reply, 'I haven't been to a fashion school. I'm a fine art painter.'
So, how did a painter end up as part of Lakmé Fashion Week Summer/Resort 2018's GenNext batch?
He says, "I am a painter, so I wanted my art to translate onto the clothes. The exact print that you see on the painting, is what you'll find on the clothes. Each of my designs is developed from an original painting. The idea was to push art out of the gallery space and showcase it on the ramp."
Almost all his paintings and designs have a lip-lock, purely so that his work can speak of the liberation of love. "Queer, all the way!" he says without hesitation.
In this interview Bobo speaks about his creative process and how his paintings translate from the canvas to the fabric.
The journey
The idea started when Bobo was sitting in a gallery in London.
"I walked up to a painting and thought that in a million years I'd not be able to afford that painting, even though I love art. I thought how can I create something that moves out of the gallery space," he says. "I feel a painting doesn't serve a purpose when it is just hung in a rich person's house. Art has to interact with you."
He had been working with queer aesthetics for a long time, and thought "it was high time that people like you and me can afford something arty".
He continues, "So, I started doing my paintings on fabric and then the embroidery. I'd like to think that I'm creating art, but in such a manner that it is not intellectualised -- it is something fun that starts a conversation."
The collection
Bobo's collection showcased at Lakme Fashion Week Summer/Resort 2018 was titled Excessive Adapation.
This is probably the first time at LFW that a painter's own artwork infused the garments with a second layer. The result, in a season dominated by monochromes, is vibrant and colourful.
He says, "When I was in school, I was afraid to use watercolours. I used to draw tiny small lines and details in just black and white.
"But there was a point in life when I just smashed colour on the canvas and that experience was so mind blowing that I can't think of not dealing with colour now. We are Indians and our history has a lot of colour. I would like to break the minimalist wave that has come in now, because I maybe fond of it, but I know I am not good at it."
He adds, "I'm a Bengali from Kolkata, and there's no way I can do white."
In addition to borrowing from his paintings, Bobo has also used other design and graphic motifs to create his collection. The embroidery has been done by hand and his silhouettes are straightforward and clean, so that people can notice the effort that's gone into the design.
Each look is envisioned as a second skin, so as to embrace different kinds of love and sexuality.
The inspiration
Bobo, who was born in Kolkata and studied in a boarding school in Ajmer, believes he got lucky and inherited his talent from his grandfather, who was an artist.
He says, "I started painting and I was heavily into mythology and culture. That's when I came across the works of Pablo Picasso and Frida Kahlo and decided to mix it all together with Jamini Roy (whose paintings can be easily identified by the eyes). All these people's works have influenced everything I do."
The eye, like in Jamini Roy's paintings, is also very evident in all of Bobo's work "because it is a very Bengali thing".
VIDEO: Boho talks about how his paintings translate from the canvas to the fabric.
Photograph: Afsar Dayatar/Rediff.com.
Queer influence
Bobo's work is also deeply inspired by his sexuality.
He says, "I'm openly a homosexual man and my family never had any problem with it. That I wanted to translate to other people; my family and friends saw my homosexuality as something completely normal. I decided my work has to talk about this because there are people out there who are not as lucky as I am."
He adds, "I like breaking boundaries.
"In India, people have become very colour specific now, but that was not the case earlier. Pink was to a man as it is to a woman.
"What we are going through and experiencing as an artist community in India, I do not want to be apologetic about it. I want to have conversations about it, and I hope I can do that through my work."
Challenges
Bobo was a featured GenNext designer at LFW this year, but the transition from painter to designer wasn't simple. In fact, it is still a challenge, he says.
He elaborates, "I never knew how to stitch and cut patterns. I didn't know about the fabrics. I never went to design school, so I didn't know the technique. All I knew was the image in my head. I knew how I wanted the outfit to look like at the end. So, the drama came first and then the outfit.
"For the last few years, I have been learning and unlearning the things that I learned. It is vice-versa...
"I have learnt so much about fabrics and unlearned things about paintings. Both these genres of my work are kind of complementing and helping each other to grow."
"My work can sometimes be done in 24 hours and at times it can take four months."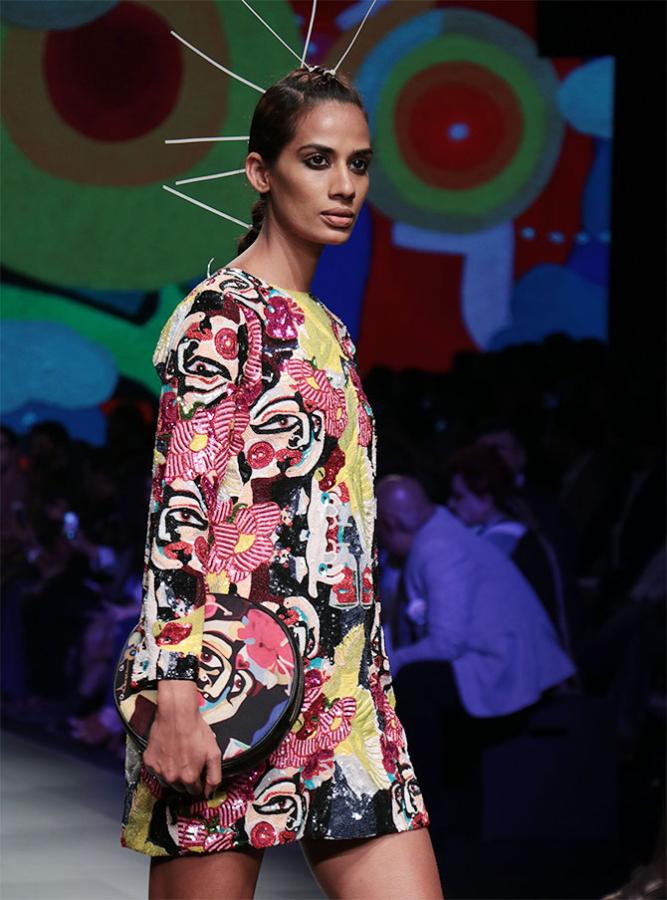 The bags you see in Bobo's collection were painted when his mother was in hospital: "I had nothing to do and these bags came about there."
A celeb you would like to dress
Bobo says he'd love to dress actor James Franco: "My brand is cocky, and I feel he is a little cocky as well.
"I like people who can wear Bobo Calcutta and be completely cocky about it."
Trends for 2018
Bobo says, "Individuality! I feel the entire generation has understood that you can't just follow a trend. It is about standing out and doing your thing."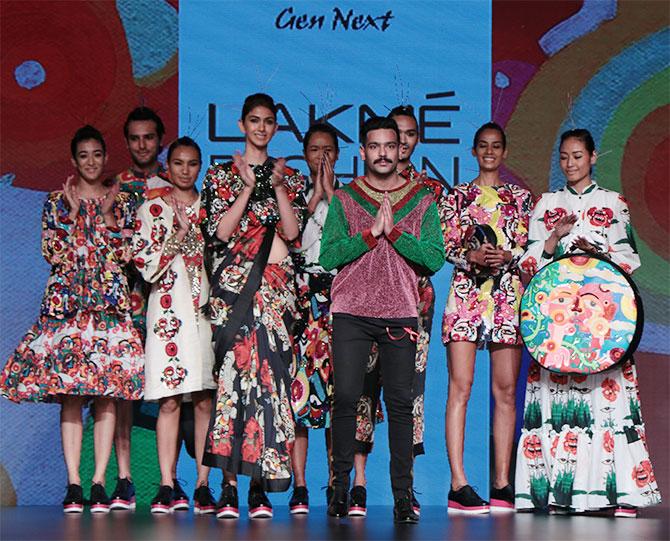 Bobo takes his Lakme Fashion Week debut bow.